15 Reasons You Need to Downsize Your Home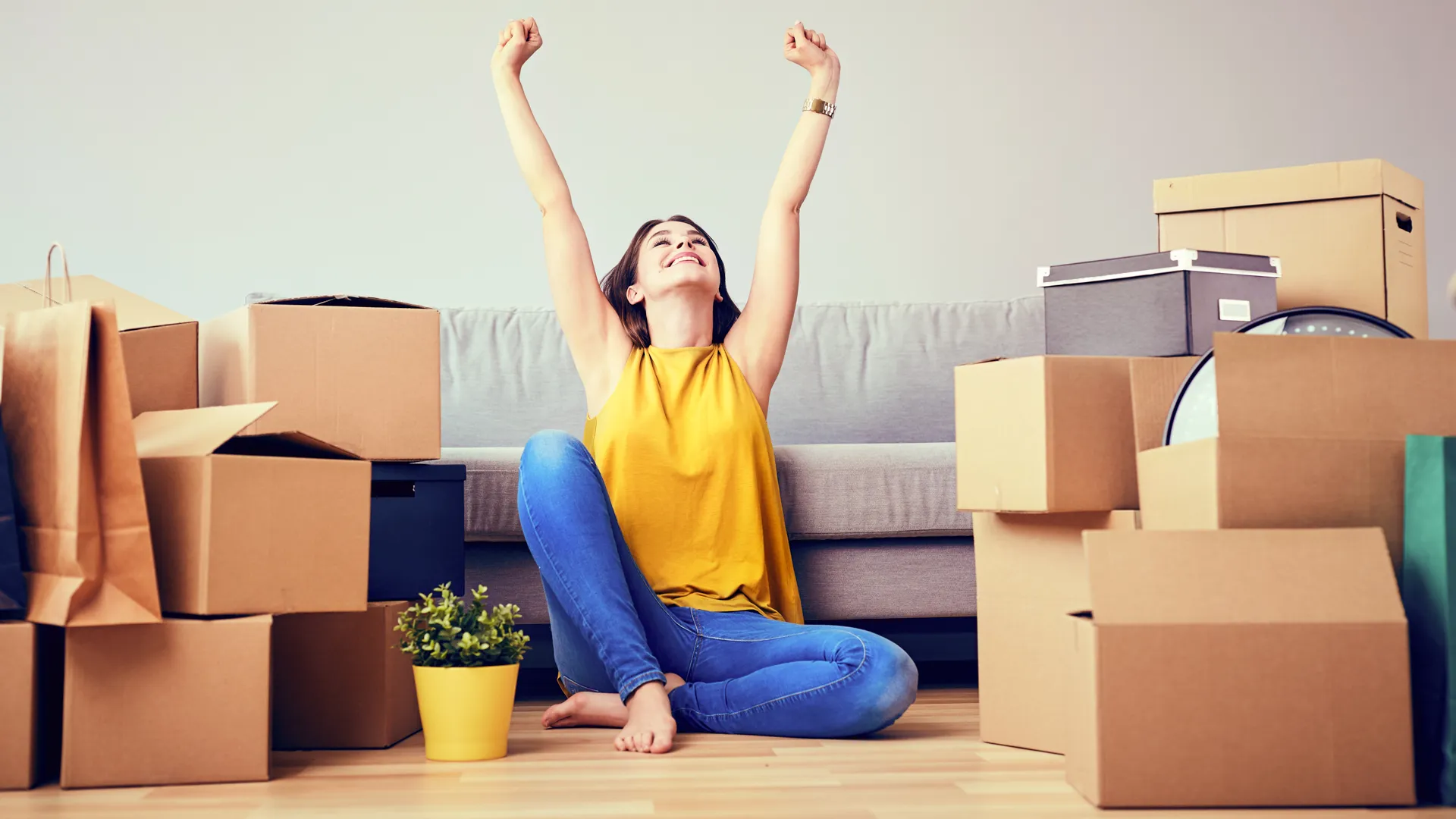 Declutter and Make Money
If you're thinking about downsizing, a home with less square footage might not accommodate all your belongings. To make a smaller space work for your family, you'll likely need to eliminate items you no longer need or use. That could put extra cash in your pocket.
"Keep only the necessities and items you use on a day-to-day basis, and throw away any items that are outdated and cannot return a profit," said Natasha-Rachel Smith, consumer affairs editor with Top Cashback. "Sell all furniture and belongings that you no longer use and put the profits toward a down payment or savings account."
However, don't make the mistake of assuming everything you own is worth a lot of money, warns the blog Living on the Cheap. "For every person who finds a Jackson Pollack in their attic there are millions of people who have nothing of value piled up all over their homes. Don't spend time calling auctioneers or trying to determine if your old stuff is valuable. Unless you know it is, get rid of the unwanted items and move on."
You might be surprised by the money you earn selling items that are collecting dust in your closets, garage, attic or basement. Even if you only make $500, that's money you could apply to moving expenses.
Get It Done Cheap: 26 Home Makeover Ideas That Each Cost Less Than $500
Save on Up-Front Mortgage Costs
If you decide on a property with less square footage, you'll potentially spend less than you would buying a home with more square footage. You will save on both the actual price and on mortgage-related costs, such as the down payment and closing costs, since those are based on a percentage of the sale price.
Depending on your mortgage program, your down payment can be as little as 3.5 percent to 5 percent of the sale price. If you have the choice between a larger home at $300,000 and a smaller home at $200,000, this is a difference of $3,500 in money out of your pocket, assuming a down payment of 3.5 percent.
However, according to Discover.com, be careful that you're not subject to capital gains tax on your profits, or those savings might get eaten up.
Reduce Utility Expenses
The savings that come with downsizing don't stop there. Typically, the smaller your property, the less you pay for home utilities such as electricity and gas.
"A major saving that comes with downsizing your home is the cost of utility bills," said Charlotte Local, director of conveyancing operations at Enact, based in the United Kingdom. "The fewer/smaller the rooms in a home, the less money you need to spend on heating them because the heat will be much better contained in a smaller space. Similarly, you will be saving money on electricity, having fewer rooms to light, also meaning you will have fewer electrical items to clutter up each room."
According to a 2016 Forbes article, downsizing from a 3,000-square-foot house to one with 1,000 square feet could reduce your monthly electric bill by as much as $200.
Think About This: Renovations To Make — and Skip — Before Selling Your Home
Spend Less on Home Maintenance
Home maintenance is inevitable. Eventually, you'll need to replace the roof, appliances and flooring. You might even need new landscaping. In fact, it costs more than $1,200 to maintain the average home.
"Homeowners should expect to pay between 1 and 4 percent of the home value on maintenance each year," said Elizabeth Dodson, co-founder of HomeZada, which offers digital home-management solutions. "So downsizing makes it easier to reduce regular maintenance and cleaning, which reduces costs and leaves more time for fun."
Rather than spend a minimum of $3,000 a year on a $300,000 property, you could reduce your maintenance costs by at least $1,000 when you buy a $200,000 property.
If you're thinking about leaving your single-family home, consider townhouses or condominiums. These properties typically have smaller yards, and association fees often include the cost of maintaining the roof, fence, siding and outdoor landscaping. You also might enjoy interior home perks, said Joan Kagan, sales manager at Triplemint, a real estate brokerage in New York.
"Some people may choose an apartment building with an elevator and a superintendent, so they do not have to be worried about maintaining a home and even [receive] help to change a light bulb," she said.
Build Your Emergency Fund
Housing is likely your largest monthly expense. And depending on how much you shell out each month, you might have little left over to put into an emergency fund. In fact, according to a recent GoBankingRates survey, nearly half of Americans have less than $300 in savings.
A three- to six-month emergency fund is essential to surviving after a job loss or during another emergency. But if all your money goes toward your mortgage payment, increasing your account can seem impossible. Downsizing, however, creates an opportunity to build your personal fund.
Let's say downsizing your home reduces your mortgage payment by $400, and you're able to save $200 a month on home maintenance and utilities. That's a savings of $600 a month, which can grow your personal savings to $7,200 in just 12 months.
Enjoy More Life Experiences
Some people are all work and no play, and they're perfectly happy with this lifestyle. But if you want more out of life and feel stuck because of a large mortgage payment hanging over your head, downsizing can help you afford more experiences.
"A nice benefit of spending less of your income on a mortgage, home maintenance and property taxes is that you now have additional funds for life experiences, whether that's travel, good cuisines locally at restaurants, wine events or investing in your hobbies," said Marty Basher, home organization expert for Modular Closets in Lakewood, N.J., an affordable custom-closet company.
Here's an option: Take the money you save after downsizing and split it into two separate accounts. For example, put half the savings toward building your emergency fund, and the other half toward creating memories and enjoying life to the fullest. Think of how many new adventures you'll be able to enjoy each year with thousands of dollars accumulating in the latter fund.
Better Prepare for Retirement
Retirement creeps up fast. So if you haven't saved enough over the years, now's the time to get serious. But what if you don't have a lot of disposable cash? In this case, reaching your retirement goal might require reducing your expenses. However, be aware that in order to get the best price for the home you're selling, you might also have to invest a little into upgrades and repairs, according to Investopedia.
"Perhaps the biggest financial benefit of downsizing is that it provides people with more capital to invest in marketable securities for retirement," said Dr. Robert R. Johnson, president and CEO of The American College of Financial Services, a nonprofit, accredited, degree-granting institution founded in Bryn Mawr, Pa.
Maybe you're currently only investing 2 percent or 3 percent of your income into a retirement account. With money freed up after downsizing, you could potentially double or triple your current investment, allowing you to play catch-up and build a bigger retirement nest egg.
Pay Off Your House Faster
There is no rule that says you have to pay off a house over 30 years. There's the option to accelerate mortgage payments and pay it off sooner.
If you're older and want to get rid of a house payment before retirement, or if you're a millennial looking to be mortgage-free in the next 15 to 20 years, consider downsizing into a home with a much lower mortgage payment. But instead of paying the new lower amount every month, continue paying the higher amount and apply the difference to your principal balance.
If you purchase a $150,000 house at 4 percent interest, making an extra $400 principal-only payment every month could reduce your mortgage term by nearly half and help you save more than $50,000 in interest.
Get Rid of Credit Card Debt
Credit card debt can hang over your head for years and cost you thousands in interest. But if you were to downsize — either by renting or buying a smaller, cheaper home — the extra cash flow could be the answer to your financial prayers. Debt keeps you chained to the past, and prevents you from achieving your financial goals, according to The Balance.
Let's say you're able to save $500 a month after downsizing your home. That comes to $6,000 a year. This could put a serious dent in your balances.
Once the debt is gone, put the savings toward building a stronger cash reserve, which can help you avoid future debt.
Use Proceeds to Pay Cash for Another Home
If you're approaching retirement and don't want to worry about a mortgage in your later years, downsizing is another way to live mortgage-free.
"Assuming that you will be moving into a smaller home with a lower price tag and value and still paying a mortgage, then it is possible that by downsizing, you will lower your mortgage payment or even be able to buy the property in cash," said Sam Harris of Massada Home Sales, a boutique real estate brokerage in Brooklyn, N.Y.
This approach might work if you're currently living in an area with strong home values and you're contemplating downsizing and moving to a location with a lower cost of living. If you sell your current home and walk away with a $200,000 profit, this could be enough to pay cash for a smaller home in another area.
Break Free of Materialism
Some people buy bigger homes because they think it's what they're supposed to do as their income increases. This mentality, however, can keep you in debt and minimize your savings. On the other hand, if you're strong enough to go against the status quo and downsize, your bottom line will improve.
"Finding a smaller home reduces financial stress, lessens upkeep and allows you to have freedom from any materialistic burdens," Smith said.
Additionally, researchers have found that experiences, not things, bring greater happiness over time. "Our experiences are a bigger part of ourselves than our material goods," Dr. Thomas Gilovich, a psychology professor at Cornell University, told Fast Company. "You can really like your material stuff. You can even think that part of your identity is connected to those things, but nonetheless they remain separate from you. In contrast, your experiences really are part of you."
This doesn't mean you have to live in a one-bedroom apartment. Everyone's situation is different, so determine the minimum amount of space needed to accommodate your family, and then look for properties within this range.
Spend Less on Furniture
The bigger the house, the more space you have to furnish. So if you're moving into another house and thinking about starting over with all new furniture, downsizing is an excellent way to save money and complete decorating projects sooner.
The cost to furnish a room depends on your taste and where you shop. Assuming you'll spend an average of $2,000 per room for furniture and home accents, it'll cost about $12,000 to decorate six rooms. But if you only need to decorate four rooms, you'll save $4,000.
Or, if you do want to replace some of your furniture but not break the bank, consider shopping at some online locations that the website Apartment Therapy considers the best, such as Etsy, Urban Outfitters, One Kings Lane, Revival Rugs and Rejuvenation.
Retire Sooner
If you've been putting off retirement because of a large mortgage, downsizing could help you retire sooner. Some people continue working past retirement age because their retirement income won't be enough to support their current lifestyle.
If you're energetic and don't mind working in your later years, there's nothing wrong with putting in extra time on the job. On the other hand, if you're ready to wave goodbye to your employer, moving into a smaller, cheaper home could reduce your monthly housing expense by several hundred dollars and make early retirement a reality.
Work Fewer Hours
The more bills you have, the more costly your mortgage is and the more maintenance you have to do, odds are you have to work more hours to afford these expenses. If you fall into a trap of thinking you need a massive house, you could end up working long hours and eventually burn out.
Understandably, your home might be your pride and joy. But if you're working 50 or 60 hours a week and you don't have any free time to enjoy your family, seriously consider how long you'll be able to keep going at this pace.
Whether you're looking to slow down, reduce financial burdens or become a stay-at-home parent, downsizing to a smaller, cheaper home can allow you to work fewer hours.
Live Cheaply in the City
Although you can usually get more square footage for your money in the suburbs, you might have dreams of living in the city. But after comparing city homes with your suburban home, moving to the city and getting the same space for the money might be unrealistic.
Rather than give up on your dreams of city life, consider downsizing to a smaller space. You could end up paying roughly the same or perhaps a little less than what you pay now. Whereas $1,500 per month might get you a spacious Ranch-style home with 1,800 square feet in the suburbs, this same amount could help you score a trendy studio or one-bedroom apartment/condo in the heart of downtown.
Whether you're a retiree, a millennial or somewhere in the middle, downsizing your house can be one of the best financial decisions you make. Yes, you'll lose some square footage, and your new home might lack a few upscale features. But at the end of the day, your bank account will thank you.
More From GOBankingRates
Jordan Rosenfeld contributed to the reporting for this article.
About the Author