Richard Branson Sells $300M in Virgin Galactic – Should You Worry About Your Investment?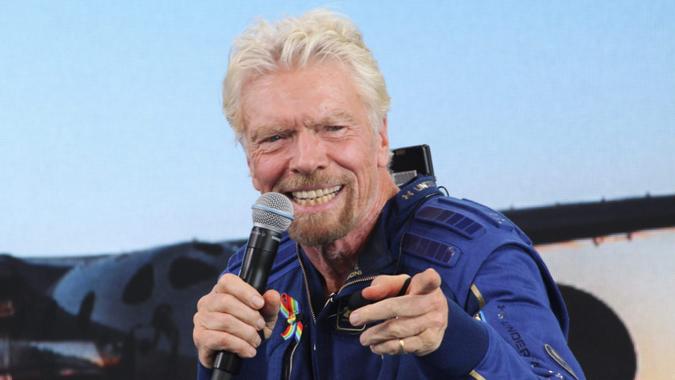 Susan Montoya Bryan/AP/Shutterstock / Susan Montoya Bryan/AP/Shutterstock
Richard Branson sold a portion of his stake in Virgin Galactic for nearly $300 million. More than 10 million shares — about 4% of the spaceflight company — were sold, leaving Branson with only an 18% stake, according to a regulatory filing and as reported by Bloomberg. Meanwhile, Branson is still the company's biggest shareholder.
Follow Along: 31 Days of Living Richer
The Economy and Your Money: All You Need To Know

A Virgin Galactic representative stated that the proceeds will support Branson's travel and leisure businesses, added Bloomberg, as well as go towards the development of new and existing ventures. During his last selloff in April, Branson sold roughly $150 million in stock to support his other businesses and raised more than $300 million during the first half of 2020. Following Branson's sale on Friday, Virgin Galactic shares fell by nearly 3%, Reuters reported.
CNBC reported that sales came as some Wall Street analysts downgraded the stock, citing a lack of planned flights as the company begins a maintenance update. Morgan Stanley said in a note to clients on Wednesday that the excitement around Virgin Galactic should cool off as the flight schedule enters a quieter period.
Read More: 4 Investing Lessons the Pandemic Has Taught Us
Money: 13 Toxic Investments You Should Avoid
Virgin Galactic is also planning to introduce commercial tourism flights next year, with seats starting at $450,000 apiece, according to Business Insider. Around 600 people have already purchased tickets worth $200,000-$250,000, Virgin Galactic has said and as reported by Insider, and another 1,000 have placed deposits for future seats.
Virgin Galactic shares closed at $25.40 on Friday.
More From GOBankingRates
Last updated: Aug. 16, 2021