Best Penny Stocks To Buy: Find the Best Ones To Watch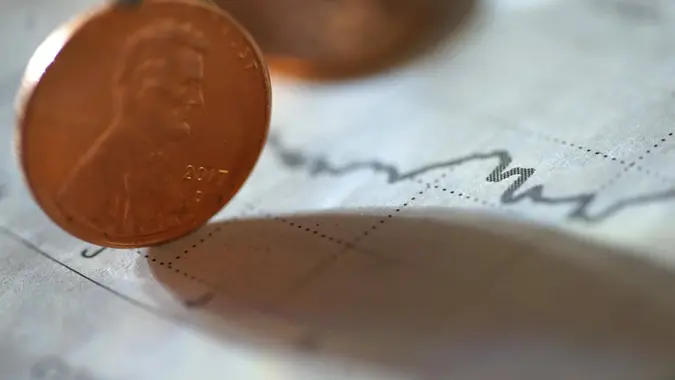 Kameleon007 / iStock.com
Despite their high risk and poor reputation, penny stocks are highly popular among investors. And while they are notoriously volatile, that doesn't mean you can't find a hidden gem once in a while. If you're interested in trying your luck investing in penny stocks, here are some worth keeping an eye on. Many of them are in the biotech, pharmaceutical, energy and tech industries.
5 Penny Stocks To Keep on Your Watchlist
Last year was great for the penny stock market. The popularity of this kind of trading was heavily influenced by the meme stock phenomenon. With this trend having faded in 2022, it might become more challenging to find success with penny stocks. Yet, there are still some investors willing to take the risk.
If you're one of them, here are five of the best penny stocks to keep on your radar this year.
Pitney Bowes (NYSE: PBI)
IRSA Inversiones y Representaciones Sociedad Anónima (NYSE: IRS)
Bolt Biotherapeutics (NASDAQ: BOLT)
Ring Energy Inc. (NYSE: REI)
Pixelworks Inc. (NASDAQ: PXLW)
1. Pitney Bowes (NYSE: PBI)
Pitney Bowes is a clear exception to the rule that penny stocks represent obscure, here-today-gone-tomorrow companies. This global shipping and mailing mainstay was founded in 1920. It trades at a moderate 21 times earnings and pays a robust 5.18% dividend yield.
Currently trading at less than $4, the stock's average analyst target is $4.75, and analysts rate it a "buy."
| Statistic | Price |
| --- | --- |
| Market Cap | $657.74 million |
| Share Price | $3.78 |
2. IRSA Inversiones y Representaciones Sociedad Anónima (NYSE: IRS)
U.S. penny stocks are risky, and foreign penny stocks can be even more so. But IRSA has been around since 1943, so it has a long track record. The company says it's the most diversified real estate company in Argentina, involved in retail malls, office buildings, hotels and residential properties. Its headquarters are in Buenos Aires.
Analysts rate IRSA a "strong buy" and have an average price target of $6.70. The company's P/E ratio is a low 1.92, and its dividend yield is 4.06%.
| Statistic | Price |
| --- | --- |
| Market Cap | $755.26 million |
| Share Price | $4.75 |
3. Bolt Biotherapeutics (NASDAQ: BOLT)
This clinical-stage immuno-oncology company is known for developing tumor-targeted therapies that take advantage of the inherent adaptability of the immune system. It's most famous for its immune-stimulating antibody conjugate, which uses immunostimulants that activate myeloid cells to kill tumor cells.
Analysts give BOLT a "buy" rating with an average price target of $6. Bolt Biotherapeutics was founded in 2015 by Dr. Edgar G. Engleman of Stanford University.
| Statistic | Price |
| --- | --- |
| Market Cap | $52.73 million |
| Share Price | $1.39 |
4. Ring Energy Inc. (NYSE: REI)
Ring Energy is an oil and gas exploration and production company based in Texas. Following earnings and revenue surprises in the third quarter, REI has a "buy" rating and an average price target of $5.50. The P/E ratio is just 2.24. Yahoo Finance calls the stock undervalued and predicts an annual return of about 152% on shares held for five years.
| Statistic | Price |
| --- | --- |
| Market Cap | $402.89 million |
| Share Price | $2.31 |
5. Pixelworks Inc. (NASDAQ: PXLW)
Pixelworks is a semiconductor company that focuses on providing "end-to-end," optimized video delivery. Its research and development activities center around video enhancement, with the goals of increasing performance and functionality while conserving power. Products include a cinematic video platform, mobile displays, projectors and video streaming technology.
While Pixelworks isn't yet profitable, and shares have underperformed the market, improved earnings and revenue contribute to analysts' average price target of $3.33 and consensus "buy" rating.
| Statistic | Price |
| --- | --- |
| Market Cap | $75.7 million |
| Share Price | $1.38 |
What Exactly Is a Penny Stock?
Historically, in the United States, penny stocks were those traded for less than one U.S. dollar per share. However, in recent years, that definition has evolved to include all shares trading under $5. It's important to know that, for those trading outside the U.S., the definition of these types of stocks can vary. For example, in the U.K., stocks priced over £1 are not considered to fall under the penny stock umbrella.
In general terms, penny stocks are classified as microcap stocks. These are usually associated with smaller-scale companies that have a market cap of under $250 million.
Penny stocks are typically traded over the counter, meaning all exchanges are performed through decentralized dealer networks with no need for an exchange regulator's supervision. Yet, there are some occasions when penny stocks are traded on large stock exchanges like the New York Stock Exchange.
Final Take
Penny stocks can be a good alternative for traders who lack the capital to make more substantial investments. Although they involve a higher risk than other options available, there's always the possibility of stumbling upon a hidden gem. Just remember to always do your due diligence and tread carefully.
Advice

Penny stocks can make investors a lot of money, but they can also make them lose a lot. Before trading these high-risk shares, it's essential to do some research to avoid any unpleasant surprises in the long run.
Penny Stock FAQs
Here are the answers to some of the most frequently asked questions about penny stocks.
Can you get rich by trading penny stocks?

While penny stocks represent a high-risk investment option and could potentially make shareholders lose a lot of money, that's not a golden rule. Some penny stocks could have high percentage returns.
For example, if you purchase 10 shares of a stock at $1 per share and the price jumps by $1, your investment will double, as opposed to buying 10 shares at $100, in which case you'd only get a $10 profit from your $1,000 investment.

How do I pick a good penny stock?

Before investing your hard-earned money in penny stocks, you need to take the following actions:
— Use only funds you can afford to risk.
— Understand the market conditions.
— Do some research on the company.
— Learn about share pricing and valuation.

How high can a penny stock go?

There is no limit on how high a penny stock can go. However, when reaching over $5 per share, it would cease to be considered a penny stock.
Daria Uhlig contributed to the reporting for this article.
Information is accurate as of Dec. 7, 2022.
Our in-house research team and on-site financial experts work together to create content that's accurate, impartial, and up to date. We fact-check every single statistic, quote and fact using trusted primary resources to make sure the information we provide is correct. You can learn more about GOBankingRates' processes and standards in our editorial policy.