Best Penny Stocks To Buy: Find the Best Ones To Watch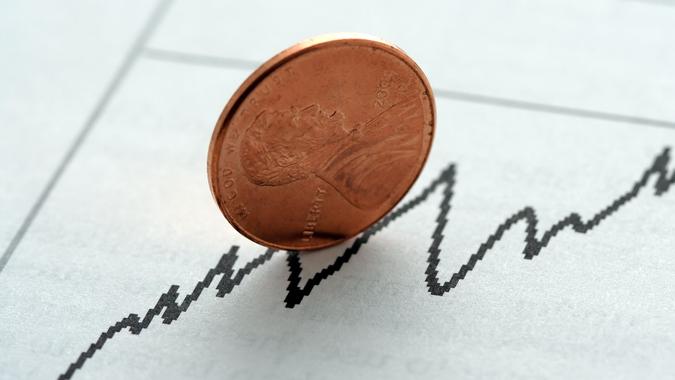 arekmalang / iStock.com
Despite their ongoing high risk and poor reputation, penny stocks are highly popular among investors. And while they are notoriously volatile, that doesn't mean those interested can't find a hidden gem once in a while. If you're interested in trying your luck investing in penny stocks, here are some worth keeping an eye on in the new year. 
5 Penny Stocks To Keep on Your Watchlist
Last year was great for the penny stock market. The popularity of this kind of trading was heavily influenced by the meme stock phenomenon. With this trend slowly fading in 2022, it might become more challenging to find success with penny stocks. Yet, there are still some investors willing to take the risk.
If you're one of them, here are the five best penny stocks to keep on your radar this year. Many of them are in the biotech, pharmaceutical, energy and tech industries.
1. Playstudios Inc. (NASDAQ: MYPS)
This technology services company, headquartered in Las Vegas, NV, is a games publisher, developer, and operator. It specializes in free-to-play casual games for mobile and social platforms. Formerly known as Acies Acquisition Corp, this company's many titles are powered by playAWARDS, a loyalty marketing platform that rewards players in real life. Playstudios is partnered with over 290 retail, tech, travel, entertainment, leisure and gaming brands across the globe. If you're interested in tech investments, this might be a good penny stock to get started. 
| Statistic | Price |
| --- | --- |
| Market Cap | $562 million |
| Average Share Price | $4.46 |
2.  Sesen Bio (NASDAQ: SESN)
Companies in the clinical field are also becoming quite popular among penny stock investors. Sesen Bio provides targeted fusion protein therapeutics for cancer treatment. The company's flagship drug is Vicinium, which is a bladder cancer treatment that consists of an anti-epithelial cell adhesion molecule antibody fragment tied to a form of Pseudomonas exotoxin A.
| Statistic | Price |
| --- | --- |
| Market Cap | 156.94 million |
| Average Share Price | $0.79]. |
3. Bolt Biotherapeutics (NASDAQ: BOLT)
This clinical-stage immuno-oncology company is known for developing tumor-targeted therapies that take advantage of the inherent adaptability of the immune system. They're most famous for their Immune-Stimulating Antibody Conjugate which kills tumor cells by using immunostimulants that activate myeloid cells. Bolt Biotherapeutics was founded in 2015 by Dr. Edgar G. Engleman of Stanford University.
| Statistic | Price |
| --- | --- |
| Market Cap | $147.63 million.  |
| Average Share Price | $3.96.  |
4. Ambev SA (NYSE: ABEV)
Although it's currently looking a little undervalued, this Brazil-based company is causing a stir among penny stock investors. Formerly known as Inbev Participações Societárias SA, Ambev produces, distributes, and sells beer and carbonated soft drinks, as well as other non-alcoholic beverages. The brewing industry company markets products under brands like Corona, Budweiser, Lipton and other renowned names. Ambev is a subsidiary of Interbrew International BV and sells products across the Americas.
| Statistic | Price |
| --- | --- |
| Market Cap | $40.8 billion |
| Average Share Price | $2.73 |
5. Sundial Growers Inc. (NASDAQ: SNDL)
This Canada-based company is engaged in the up-and-coming cannabis industry. It cultivates, distributes and sells cannabis for recreational and medical use all over Canada. It also handles financial operations like capital deployment and investment opportunities in the cannabis industry. Sundial Growers Inc. has a joint venture with SunStream Bancorp Inc to offer growth capital and support to the global cannabis industry. Some of this company's best-known brands are Grassland Cannabis, Palmetto Cannabis, Sundial Cannabis and Top Leaf.
| Statistic | Price |
| --- | --- |
| Market Cap | $1.16 billion |
| Average Share Price | $0.57 |
What Exactly Is a Penny Stock?
Historically, in the United States, penny stocks were those traded for less than one U.S. dollar per share. However, in recent years, that definition has evolved to include all shares trading under $5. It's important to know that, for those trading outside the U.S., the definition of these types of stock can vary. For example, in the U.K., stocks priced over £1 are not considered to fall under the penny stock umbrella.
In general terms, penny stocks are classified as microcap stocks. These are usually associated with smaller-scale companies that have a market cap of under $250 million. Penny stocks are typically traded over the counter, meaning all exchanges are performed through decentralized dealer networks with no need for an exchange regulator's supervision. Yet, there are some occasions when penny stocks are traded on large stock exchanges like the New York Stock Exchange. 
Final Take
Penny stocks can be a good alternative for traders who lack the capital to make more substantial investments. Although they involve a higher risk than other options available, there's always the possibility of stumbling upon a hidden gem. Just remember to always do your due diligence and tread carefully. 
Advice

Penny stocks can make investors a lot of money, but they can also make them lose a lot. Before trading these high-risk shares, it's essential to do some research to avoid any unpleasant surprises in the long run.
Information is accurate as of Jan. 14, 2022.
Our in-house research team and on-site financial experts work together to create content that's accurate, impartial, and up to date. We fact-check every single statistic, quote and fact using trusted primary resources to make sure the information we provide is correct. You can learn more about GOBankingRates' processes and standards in our editorial policy.