8 Best Tech Stocks To Buy in 2023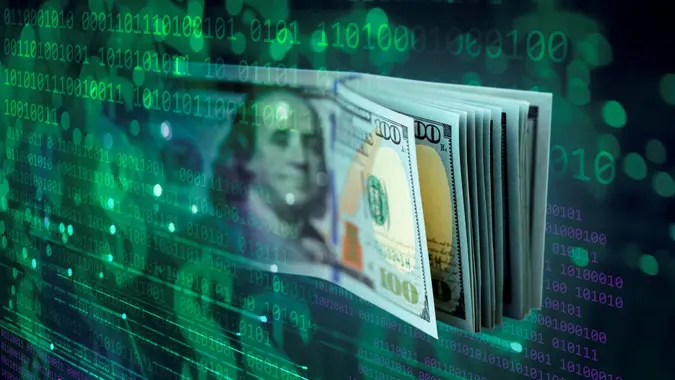 Viorika / Getty Images/iStockphoto
It's no secret that tech stocks faced a decline last year. While some investors have seen this as a deterrent, others say the rise over the last six months indicates an opportunity to capitalize on. Whether you're new to tech investing or looking to get back into it, here's what you need to know about the best tech stocks to buy.

Learn:
What Are the Best Tech Stocks To Buy Now?
These eight tech stocks are worth considering for your portfolio.
1. Alphabet
Price: $123.67
Market Cap: $1.57 trillion
As a resident giant of the tech industry, Alphabet (Nasdaq: GOOGL) includes the entire plethora of Google services. Among 43 analysts following this stock in June, it has a consensus rating of strong buy.
2. Tesla
Price: $256.79
Market Cap: $813.98 billion
Elon Musk's pride and joy Tesla (Nasdaq: TSLA) faltered before an uptick that started last month, but the electric car industry thrives. TSLA has a consensus rating of buy from 23 analysts in June.
3. Meta
Price: $273.35
Market Cap: $700.52 billion
Meta Platforms (Nasdaq: META), formerly Facebook, has been enjoying a recent rebound from its drop last year. This contributes to its consensus recommendation of strong buy from 57 analysts in May.
4. Nasdaq
Price: $51.16
Market Cap: $25.10 billion
This American financial corporation is mostly known for owning and operating three United States stock exchanges, including its namesake exchange. Nasdaq (Nasdaq: NDAQ) has, like many other tech stocks, suffered declines over the last six months, but it still has a buy rating from 13 analysts in June.
5. Western Digital
Price: $40.46
Market Cap: $13.03 billion
Western Digital (Nasdaq: WDC) is a staple in the world of data storage, including hard drives and solid-state drives. Its consensus rating from 29 analysts in June is buy.
6. Nvidia
Price: $429.97
Market Cap: $1.06 trillion
Nvidia (Nasdaq: NVDA) is the world's biggest manufacturer of graphical processing units, and it recently achieved two important milestones — record-high share prices and a $1 trillion market cap. It has a consensus strong buy rating from 38 analysts in June.
7. Seagate Technology
Price: $65.29
Market Cap: $13.52 billion
Seagate (Nasdaq: STX) is a hard drive and storage supplier. Western Digital and Seagate together dominate this space, and both remain equally stable over the long term. Seagate has a consensus buy rating from 27 analysts in June, but an increasing number of analysts are rating it a hold.
8. Taiwan Semiconductor Manufacturing Company
Price: $107.41
Market Cap: $557.07 billion
TSMC (Nasdaq: TSM) was the first and is still the largest creator of chips in the world, currently holding over sixty percent of the market share. Only six analysts follow this stock in June, but it earned a consensus strong buy rating.
What Companies Are Considered Tech Stocks?
Any company that sells products or services in the technology sector is considered a tech stock. It's a big sector, so there are a lot of companies to choose from.
Why Have Tech Company Stocks Fallen?
In 2022, tech stocks in the S&P 500 stock market index fell 10% more than the index as a whole. The decline continued into the first half of 2023. The war against Ukraine, fluctuations in wages for workers, rising interest rates and the looming fear of a recession all played a part in the dip.
Why You Should Invest
In this technology-heavy world, it's unlikely that demand for the newest tech will drop in the long term. Despite seeing some numbers fall last year, tech companies continue to march forward, and some of the best tech stocks may present a solid buying opportunity.
Does Warren Buffett Invest in Tech?
Warren Buffett, chief of Berkshire Hathaway, invests in tech stocks in a big way. Apple accounts for more than 47% of his stock portfolio. In 2022 he also bought shares in Taiwan Semiconductor Manufacturing (TSM), Activision Blizzard (ATVI) and Paramount Global (PARA), but according to a May 15 filing with the Securities and Exchange Commission, he no longer owns TSM.
How a Tech Company Can Be Profitable
There are multiple models that a technology company can pursue in order to be profitable. It's important to know what model a potential investment uses and how those types of models are doing in the current market. 
Licensing agreements
Cloud computing fees
Monthly charge streaming services
Hardware, including semiconductor chips
The more diverse the profit sources are, the more the potential for success.
Final Take
Technology stocks, while not the high-flyers they once were, are again on the rise, showing they can be solid long-term investments. The products and services they provide keep businesses running and have become irreplaceable in our personal lives. Despite some lows in the overall market earlier this year, this sector will continue to innovate and their stocks should provide solid returns over the long run.
FAQ
Learn more about tech stocks with these frequently asked questions.
What is the best tech stock to buy?

If you're unsure which stock best fits your investment goals and risk tolerance, consider following Warren Buffett's lead: Apple stock comprises over 47% of Berkshire Hathaway's portfolio.
Just keep in mind that the best tech stock for one investor isn't necessarily the best for another, so it's a good idea to consult with a financial advisor if you're not sure how to invest.

What defines a tech stock?

A tech stock is a share in a company involved in technology. As GOBankingRates' roundup illustrates, they include many different types of businesses, from search engine and cloud services like Alphabet, to electronic vehicle manufacturers, to companies that make components. Additional tech areas include artificial intelligence, software, e-commerce and platforms that power everything from video streaming to online mortgage lending.

Is tech a good long-term investment?

Tech stocks can be an important part of a diverse portfolio. They're often valued on potential future growth, J.P. Morgan notes, which can lead to poor performance if a company fails to meet expectations. However, tech stocks are generally growth stocks, and as such, can produce significant gains for investors. Always research companies before you invest, and never invest more than you can afford to lose.
Karen Doyle and Daria Uhlig contributed to the reporting for this article.
Stock pricing is accurate as of market closing on June 14, 2023. Information is subject to change.
Our in-house research team and on-site financial experts work together to create content that's accurate, impartial, and up to date. We fact-check every single statistic, quote and fact using trusted primary resources to make sure the information we provide is correct. You can learn more about GOBankingRates' processes and standards in our editorial policy.