Best EV Stocks To Buy Now in 2023: Top Electric Car Companies To Invest In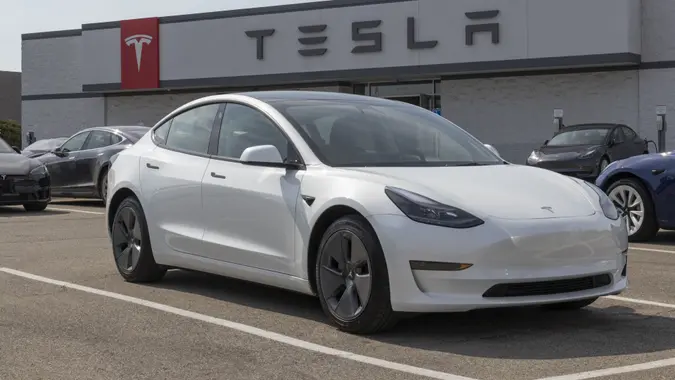 jetcityimage / Getty Images
In early 2022, as gas prices rose, electric vehicle registrations also surged. New EV registrations totaled 158,689, or 4.7% of all new car registrations in the U.S., according to data from Experian reported by Automotive News. This growth is promising for those looking to invest in the industry.
What Are Good EV Companies To Invest In?
A look at sales totals on EVs in the U.S., with Tesla's four models dominating the top 10 list, can point you in the right direction. Especially after the stock's split in August 2022, Tesla could be one of the best values in EV stocks if you're looking for a long-term investment.
But there are many other EV stocks also showing promise right now, encompassing both domestic and international EV manufacturers and one conventional auto manufacturer heavily vested in EVs. Also included below is one EV exchange-traded fund for more risk-averse investors seeking to invest in the EV market while maintaining a diversified portfolio.
How To Identify the Best EV Stocks To Buy Now

When you're evaluating EV stocks, as with stocks in any industry, it's important to look at the company's growth potential vs. its current value. Look at the company's cash flow, earnings and other fundamentals.
Tesla (TSLA)
Despite growing competition — especially from Chinese EV companies, according to CEO Elon Musk — Tesla is the undisputed industry leader when it comes to electric vehicle sales in the U.S. in recent years, with 54% of EV market share, according to Axios.
Trading at $244.40 on June 9, Tesla represents a buy-and-hold stock likely to pay off over time. Thirty-five analysts reported by Yahoo Finance give Tesla an average 12-month target of just $182.24, with a low estimate of $24.33 and a high of $280. However, investment houses RBC Capital and Wedbush expect Tesla to outperform the market. TSLA has remained a "buy" among the majority of analysts for several months.
Ford Motor Company (F)
A legacy automotive manufacturer with a solid history, Ford trails behind Tesla and Kia in EV sales — in the case of Tesla, by orders of magnitude.
Even so, the Ford Mustang Mach-E, which hit showrooms in December 2020, outsells models from Chevrolet, Hyundai and Volkswagon, according to a February ranking from Kiplinger. Ford's F-150 Lightning all-electric pick-up truck also shows promise, especially since Tesla has yet to deliver on its much-publicized — and highly anticipated — Cybertruck.
Naming recent improvements in supply chains and industrywide sales, Ford reaffirmed its guidance for 2023 in its first-quarter earnings release on May 2. Revenues were up 20% for the quarter, thanks to a 9% increase in vehicle shipments. Profits rose from a net loss in 2022 to $1.8 billion.
Closing at $13.74 on June 9, the stock has a consensus price target of $13.61. Gains over the next five years are expected to be a modest 3% annualized, but the stock yields dividends of 4.42%, which can make it desirable for investors seeking income from stocks they hold. According to MarketBeat, the stock has six "buy" ratings, five "hold" ratings and only three analysts who recommend you sell now.
Nio (NIO)
Nio, a Chinese EV manufacturer specializing in luxury autonomous vehicles, was named "top China EV pick" by a Deutsche Bank analyst.
The recent launch in China of the midsize ET5 electric sedan, along with the release of the ET7 full-size sedan and the ES7 electric SUV in 2022, has created positive vibes for the company amongst investors. In addition, Nio is taking preorders for the EC7 and the new ES8, with deliveries for the EC7 beginning in China in May and the ES8 expected to deliver in June.
NIO is not yet profitable, but its revenues have climbed in each of the last four quarters. It's still down 20% since the beginning of the year, putting it firmly in buy-and-hold territory.
XPeng (XPEV)
NIO's main rival in China is XPeng Motors, which produces the G3 SUV and P7 four-door sports sedan. XPeng's revenues jumped 28% year-over-year in 2022, compared to NIO's 36%. Given supply chain challenges and growing competition, this is nearly phenomenal growth for both companies.
From an investor's standpoint, there is a lot to like right now about XPeng. Deliveries on the new G9 SUV, which the company is claiming to be "the world's fastest charging EV," according to Electrek.co, began last September.
In spite of the company's promising future, shares have fallen 11% since the beginning of the year and 68% over the past year. XPeng traded at $8.87 on June 9. It has a "hold" rating and an average price target of $15.05.
ChargePoint (CHPT)
With 30,000 charging station locations, ChargePoint is the largest and most open electric vehicle charging network in the world. It currently operates in 15 countries, including across the U.S. and Europe. ChargePoint has delivered 172 million charges, according to its website.
Even so, ChargePoint stock has stayed below $10 lately, well below its 52-week high of $19.92. SeekingAlpha recently said the company has a "long runway for growth," which means you'll be getting shares "on sale" right now. The stock is recommended for growth investors with a long-term horizon. And, if you follow the investment advice of Warren Buffett, you don't want to hold any stock for 10 minutes that you wouldn't hold for 10 years.
That longevity is one element that makes the EV market so enticing. And ChargePoint is one to buy or hold, right now, in the eyes of investors. MarketBeat analysts give it a "moderate buy" rating, with eight analysts saying buy and another four saying hold. It has a consensus price target of $15.58 and plenty of room for growth.
iShares IDRV ETF
If you're interested in investing in the EV market but prefer to steer clear of taking a chance on one company, an ETF is a way to build a diversified portfolio around a strong and rapidly growing industry. Save time and avoid sifting through all the options of EV manufacturers, EV charging station suppliers and companies that create components like batteries or chips with an exchange-traded fund like IDRV.
IDRV from iShares tracks the stocks of companies that stand to benefit from growth and innovation in and around electric vehicles, battery technologies and autonomous driving technologies. Its holdings are diversified across 86 companies, including Li Auto, Volkswagen and Tesla.
U.S. News & World Report gives IDRV a high ranking in the industrial sector, calling it a "Best Fit" fund in the category. The fund has net assets of 420,963,479 and was trading at $38.59 per share when the market closed on June 9.
Why Invest In an EV Stock?
EV stocks are appealing for their growth potential, as well as to investors seeking to support sustainable companies. Stock investing should not be an emotional play, but it is fun to invest in brands you believe in and, in nearly every case, EV manufacturers are seeking to build a better, more eco-friendly world with their technology solutions.
How To Get Started Investing In EV Stocks
Indexes such as Fidelity Electric Vehicles and Future Transportation Index and S&P Dow Jones' S&P Kensho Electric Vehicles Index show about 17% and 31%, respectively, negative growth for EV stocks over the past year. But that doesn't mean you shouldn't invest. EVs are here to stay, and price dips often present good buying opportunities.
Once you've done your research on your favorite EV companies, as well as those showing promise in the industry and in related industries, you can purchase shares through an app from almost any stock brokerage.
Pay attention to the fees and commissions they charge, as well as account minimums, when you choose a brokerage. Many stock trading apps offer commission-free trading. If you are interested in ETFs or foreign stocks, you'll want to make sure you can trade those on the platform you choose.
Investing in EV stocks is a way to support future sustainability efforts while building a portfolio with plenty of room for growth.
Top Stocks To Invest In

Best Energy Stocks

Best Tech Stocks
Daria Uhlig contributed to the reporting for this article.
Data is accurate as of June 9, 2023, and is subject to change.
Our in-house research team and on-site financial experts work together to create content that's accurate, impartial, and up to date. We fact-check every single statistic, quote and fact using trusted primary resources to make sure the information we provide is correct. You can learn more about GOBankingRates' processes and standards in our editorial policy.