Thinking of Switching to Electric Vehicle? 6 Ways They Still Aren't Worth the Investment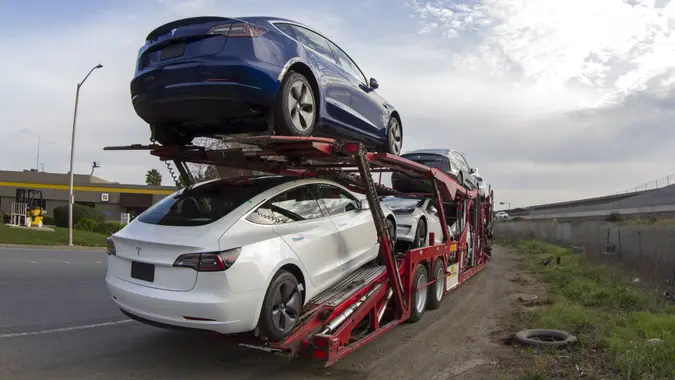 hapabapa / Getty Images
There's no two ways about it: Electric vehicles are the future and will likely soon gain position in the automobile industry regardless of individual opinions.
See: Unplug These Appliances That Hike Up Your Electricity Bill
Find: 3 Ways Smart People Save Money When Filing Their Taxes
As Forbes reported, according to a 2021 UBS forecast, 20% of all new cars sold globally will be electric by 2025. This figure will increase to 50% by 2030 — and by 2040, virtually every new car sold globally could be electric, per said forecast.
The revolution is already long underway. Every big auto brand has already switched to electric or hybrid model manufacturing to compete with EV giant Tesla (as well as new startups like Bollinger, Fisker, Lucid and Rivian), who have been electric since day one.
As with every new technology, there will be growing pains. EVs will become more popular in the coming days, but for now, there are still a number of common complaints that may persuade potential converts that they aren't worth the investment… yet.
Make Your Money Work for You
Complaint No. 1: EVs Are Too Expensive
Even EV enthusiasts have to admit that electric cars are expensive — and because they are growing in demand, even used models will sell at a premium. Once EVs overtake the market, prices will fall, but in the meantime, expect to pay anywhere from around $28,000 to well over $40,000 for a new EV, per Edmunds.
Electric vehicles are pricey because their main component, lithium-ion type batteries, are costly to produce. New types of batteries (e.g.: solid-state batteries) may invade the EV market in due time, but for now, if you have to replace your electric car's battery, it will cost you thousands of dollars.
Complaint No. 2: Charging Takes Too Long
Fully recharging an EV battery pack can take three to 12 hours, and even an 80% capacity fast charge can take 30 minutes. If you're at home without any pressing errands to run, charging is convenient and done without stopping at a charging station. If you're in a hurry or are taking a long road trip, a lengthy charge time isn't as user-friendly.
Complaint No. 3: A Lack of Charging Stations
Charging infrastructure is growing, but at the present time, it can be difficult to find available, functioning charging locations in the U.S. As of Nov. 2022, USAFacts reported that there are over 56,000 EV changing stations with approximately 148,000 charging ports throughout the U.S. This number needs to triple to meet expectations of EVs on roads in 2030.
Make Your Money Work for You
Complaint No. 4: EV Range Anxiety
Although drive ranges will improve as time marches on, EVs have a shorter driving range than most conventional vehicles and need more frequent stops to "fuel up." Unless you have the bankroll to buy a luxury model with longer EPA range estimates — like the Lucid Air (520 miles, according to Car and Driver), the Tesla Model S (405 miles), or the Mercedes EQS (350 miles) — you are looking at an average range of 240 efficient miles for today's electric vehicles, per FuelEconomy.gov.
Complaint No. 5: The Future Is Not Only Electric
ICE vehicles will likely be phased out in due course over the next 15-20 years, but there might be other options available besides going electric in the near future. The automotive industry could see alternative vehicle technologies, like hydrogen fuel-cell cars, to be more widely developed over time.
Take Our Poll: What Are Your Financial Priorities in 2023?
More: 25 Sneaky Car Dealership Tricks To Avoid at All Costs
Make Your Money Work for You
Complaint No. 6: EVs Could Catch On Fire
By all accounts, the risk of accidental or accident-related fire coming from electric cars is no more likely than for traditional ICE vehicles (and some analysts argue EVs are less likely to combust). However, recent high-profile stories of spontaneous lithium-ion battery fires and model-wide recalls have sparked public interests and bold headlines. The truth is — not enough data has been analyzed to table any firm conclusions.
More From GOBankingRates
Make Your Money Work for You