Clover Health Stock (CLOV): Is Now the Time to Invest?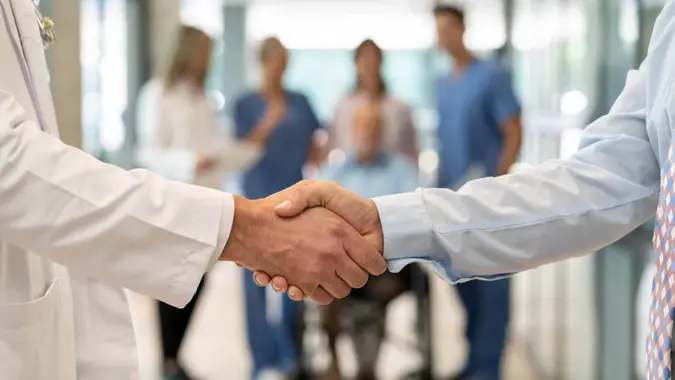 Hispanolistic / Getty Images
Clover Health offers Medicare Advantage health insurance plans to seniors and data-informed treatment approaches to doctors. Medicare Advantage is a program that allows private companies to issue enhanced coverage, with a wider range of benefits than the federal government's basic Medicare plan.
As part of its focus on preventive care, the company deploys the Clover Assistant, a "clinical support tool" that relies on new medical data technology to assist physicians in their recommendations to patients. Clover promotes the Assistant as a means of achieving high-value, low-cost coverage for customers concerned about future health care costs.
Reported and Projected Earnings
Founded in 2014 and headquartered in Tennessee, Clover is expanding its membership, doubling its coverage area and losing money. For the third quarter of 2021, the company reported a 111% medical cost ratio, meaning it paid out 11% more in medical costs than it earned in premiums . The loss was not unexpected, as Clover is concentrated in underserved areas where COVID-19 and the Delta variant have been hitting all insurance companies with high costs.
Revenues for the third quarter came in at $427 million, beating analyst estimates, while net losses reached $61 million. Clover projects continuing fast growth in membership as well as operating losses for its full-year 2021 and 2022 reports. Higher member numbers would bring cost efficiencies and contribute to net earnings, which is a big mover of any stock price.
SPAC Merger to Meme Stock
After merging with Social Capital, a special purpose acquisition company, Clover listed on the New York Stock Exchange in early 2021. The stock quickly climbed to the mid-$20s when a Reddit stock board, WallStreetBets, promoted it as a "meme stock."
Meme traders drew on high short interest in the stock as a catalyst for a fast run-up. After a negative report on Clover by Hindenburg Research, Clover had attracted short traders, who sell shares when they believe a company's stock is overpriced. Eventually the shares have to be bought back, and if "longs" get in early they can profit from the "short squeeze" that occurs if shorts panic and quickly close their positions, forcing the stock price skyward.
But the steady losses reported by Clover Health took the shine off its brief meme stock bubble. Meme traders lost interest and Clover fell back to about $7 a share by November. Analysts were bearish in that month, with CNN Business reporting two hold, one underperform and two sell ratings.
Is It Time To Buy Clover?
Investors with patience and an appetite for risk may see Clover as an underpriced value play. With an aging population facing high medical costs, Medicare-focused health insurance is a growing business. The Medicare Advantage insurance sector is growing fast, with total market value estimated to double from $270 billion to $590 billion by 2025. The company is expanding at a good clip, and executives are showing a determination to scale up membership and reign in cost ratios.
Clover also attracts investors with a taste for new technologies as they're applied to traditional businesses. The Clover Assistant is based on the idea that artificial intelligence and "big data" can more efficiently recommend tests, medications and referrals. Vivek Garipalli, the Clover CEO, marks his company as a pioneer in a "fundamentally different approach to Medicare Advantage that focuses on driving affordability and partnering closely with physicians to deliver the best possible health outcomes for members."
Good To Know

When evaluating a new Clover Health investment, consider that the health sector attracts major institutions with the funds and the patience to support the stock while waiting for a turn toward profitability.
Risk and Opportunity
Clover is operating in a high-growth, high-opportunity business. Certainly there's also a risk that a young, small company will continue to struggle in this competitive sector. There has been an investigation of the company's marketing practices by the Department of Justice and the immediate future for Clover doesn't look rosy, with the company forecasting net losses into 2022.
There's also a chance that while the stock remains under $10, investors are getting in cheap and will be seeing healthy gains once Clover begins projecting some positive earnings quarters.
This article was republished on April 26, 2022. Information is accurate as of Dec. 15, 2021.
Our in-house research team and on-site financial experts work together to create content that's accurate, impartial, and up to date. We fact-check every single statistic, quote and fact using trusted primary resources to make sure the information we provide is correct. You can learn more about GOBankingRates' processes and standards in our editorial policy.