Coca-Cola vs. Pepsi: Coke Beat Earnings Expectations But Is Pepsi the Better Buy?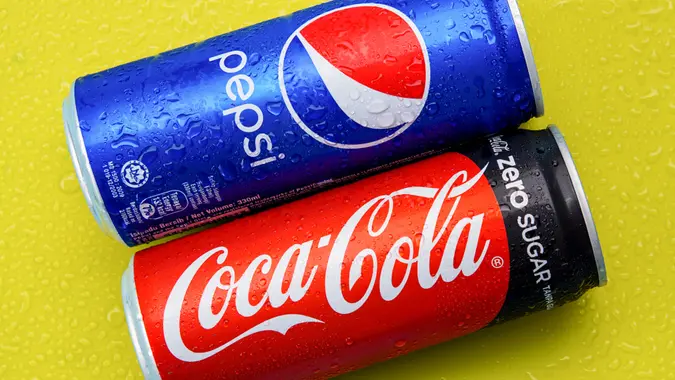 kiraziku2u / Shutterstock.com
Coca-Cola (KO) reported earnings this morning and beat Wall Street expectations to the tune of earnings at 58 cents a share against expectations of 55 cents and revenue of $8.25 billion against expectations of $8.17 billion — fueling a gain of 2.52 percent on the day.
As consumers turn away from sugary drinks, both Coke and Pepsi (PEP) are in the process of expanding their brand portfolios and finding new ways to reach a more health-conscious audience — it was strong sales on diet sodas that helped Coke beat street predictions this most-recent quarter. But will it be Coke or Pepsi stock that will ultimately pay off the faith of its investors in the end?
Here's a look at the two biggest soft drink companies and which might make the best investment.
Coca-Cola vs. PepsiCo Stock Comparison
Here's a basic comparison of Coca-Cola and Pepsi:
KO
PEP
Share Price

$47.63

$113.77

Market Cap

$202.6 billion

$160.6 billion

2017 Revenue

$35.4 billion

$63.5 billion

2017 Profits

$1.2 billion

$4.9 billion

2017 Revenue Growth

-15.41%

1.16%

2017 Profit Growth

-80.88%

-23.26%

GOBankingRates' Net Worth Evaluation

$64.4 billion

$51.5 billion

P/E Ratio

85.36

32.82

P/S Ratio

6.11

2.48

Stock Gain/Loss Last Month

3.12%

1.76%

Stock Gain/Loss Last Year

7.49%

7.10%

All market data accurate as of market close on Oct. 30, 2018.
Why You Might Pick Coca-Cola:
Coca-Cola's PB ratio of 11.06 suggests it's selling at a better price for its tangible assets than Pepsi with its PB ratio of 15.62.
Coca-Cola has significantly more cash on hand with $19.35 billion to Pepsi's $13.9 billion.
Coca-Cola boasts a much stronger operating margin of 29.58 percent to Pepsi's 16.29 percent.
Related: Walmart, Coca-Cola Plan Price Hikes Due to Tariffs
Why You Might Pick PEP:
Pepsi investors are getting a much better price based on each company's revenue, with a PS ratio of 2.48 to Coke's hefty 6.11.
Pepsi has the much better return on equity at 41.99 percent to Coke's 10.61 percent.
Although Pepsi has posted stagnant revenue growth in recent years, it's a significant improvement on Coca-Cola, which has seen revenues decline each year since 2014 for a total of 24.6 percent.
More Stocks to Compare: Microsoft vs. IBM — Can a $34B Acquisition Help IBM Return to Glory?
The Final Word on KO vs. PEP
Coke is an industry stalwart with strong operating margins and plenty of resources, but anyone concerned about the $10 billion-plus in revenue that's disappeared over the last four years might consider investing in Pepsi and its nearly-identical dividend yield of a little over 3.5 percent.
Click to keep reading a comparison of UPS versus FedEx stock.
More on Investing and Stocks
We make money easy. Get weekly email updates, including expert advice to help you Live Richer™.
This article is produced for informational purposes only and is not a recommendation to buy or sell any securities. Investing comes with risk to loss of principal. Please always conduct your own research and consider your investment decisions carefully.