Crown Jewels of Investing: Exploring the World of Dividend Kings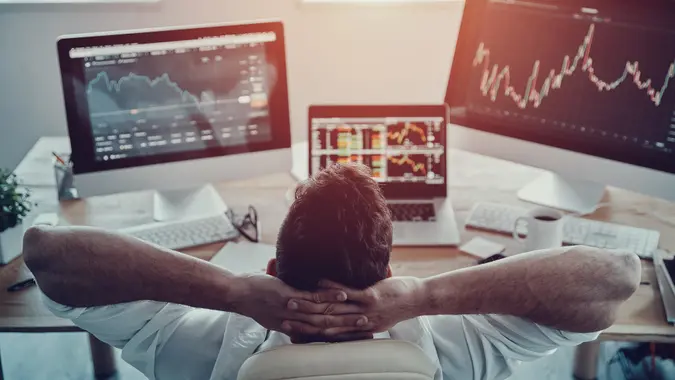 g-stockstudio / Getty Images/iStockphoto
When exploring the crown jewels of investing, sometimes it's not about the newest and flashiest stocks available. True success in the bull markets or bear markets can mean looking at more than high yields, interest rates, market caps, total returns and payout ratios, but rather long-term success from firms and consumer staples. 
The Dividend Kings are a group of stocks that've been growing their dividend payouts so consistently and for so long that investors flock to them both for the income and the stability they provide.
What Are Dividend Kings?
Dividend Kings are a select group of stocks listed on the S&P 500 Dividend Aristocrats index. Coveted for their stability and long records of growth over time, they're all big, well-established U.S. corporations and, as the name suggests, they're all dividend-paying stocks with high dividend yields.
If you are looking to invest in Dividend Kings, it's important to note that not just any old dividend stock can join the club. To earn a spot among the Aristocrats, each stock has to meet the strict criteria of paying an increasing dividend consistently for 50 consecutive years. 
Dividend Kings vs. Dividend Aristocrats 
In order to become a Dividend Aristocrat, a stock must be listed on the S&P 500 index, which tracks the 500 largest U.S. corporations. To qualify, a company must have not only paid shareholders a dividend but increased its dividend payment every year for at least 25 consecutive years.
A Dividend King, on the other hand, has proven itself a bit longer as it has paid a consistently increasing dividend for at least 50 years. This amount of years of dividend returns can feel like a security blanket to investors. 
Are Dividend Kings Safe?
There is, of course, no such thing as a guarantee in investing. But the Dividend Kings are thought of as being safe even among the blue chips, which have long been considered as safe a bet that exists in the stock market. 
Since the Dividend Aristocrats are the most stable and entrenched companies on the S&P 500 they tend to outperform the S&P and the market as a whole. That goes both ways. The Dividend Kings tend both to gain more when the market is up and lose less when the market is down.
Therefore, the Dividend Kings have emerged as a sort of stock market all-star team, a best-of-the-best collection known for performance, security and dividend payouts.
Ranking Dividend Kings of 2023
Here are Dividend Kings ranked by the number of years they've been increasing their dividends, starting with the longest. Below are the current top 20 Dividend Kings.
| Dividend King | Years of Dividend Increase |
| --- | --- |
| American States Water (NYSE:AWR) | 68 |
| Dover Corporation (NYSE:DOV) | 67 |
| Northwest Natural Holding (NYSE:NWN) | 67 |
| Genuine Parts(NYSE:GPC) | 67 |
| Procter & Gamble (NYSE:PG) | 66 |
| Parker Hannifin (NYSE:PH) | 66 |
| Emerson Electric (NYSE:EMR) | 66 |
| 3M (NYSE:MMM) | 65 |
| Cincinnati Financial (NASDAQ:CINF) | 62 |
| Coca-Cola (NYSE:KO) | 61 |
| Johnson & Johnson (NYSE:JNJ) | 60 |
| Lancaster Colony (NASDAQ:LANC) | 60 |
| Colgate-Palmolive (NYSE:CL) | 60 |
| Nordson (NASDAQ:NDSN) | 59 |
| Farmers & Merchants Bancorp (OTH:FMCB) | 57 |
| Hormel Foods (NYSE:HRL) | 57 |
| ABM Industries(NYSE:ABM) | 56 |
| California Water Service Group (NYSE:CWT) | 56 |
| Stanley Black & Decker (NYSE:SWK) | 55 |
Final Take To GO: Dividend Kings Are More Than Just Dividends
While many of them can make good income stocks, the attraction to the Dividend Kings by many smart and skilled investors goes beyond the dollar amount of the dividend payouts themselves. Companies that can endure the ups and downs of the market through decades of recessions, bubbles, crashes, corrections, wars and pandemics without ever failing to increase their dividends are rare and special. 
Only the biggest, best-run and most dominant corporations can go beyond a quarter-century without ever hitting a stretch where cash was so tight that bigger shareholder payouts just weren't an option. Either way, the Dividend Kings have a long and impressive track record of beating the market, weathering financial turbulence and, of course, paying dividends.
Andrew Lisa contributed to the reporting of this article.
Our in-house research team and on-site financial experts work together to create content that's accurate, impartial, and up to date. We fact-check every single statistic, quote and fact using trusted primary resources to make sure the information we provide is correct. You can learn more about GOBankingRates' processes and standards in our editorial policy.