7 Best Fintech Stocks To Buy in 2021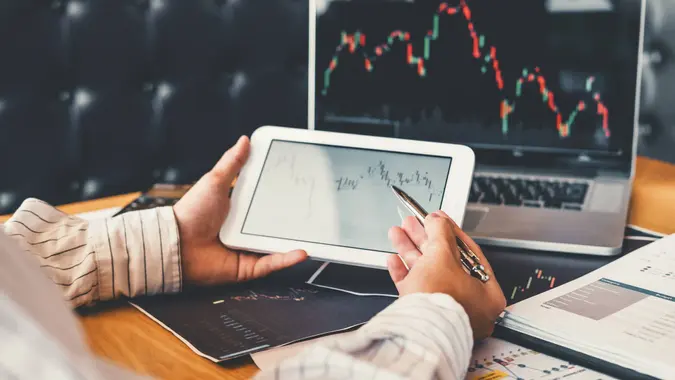 ©Shutterstock.com
Fintech is an abbreviation for financial technology. These financial hybrids are a niche market — they're not quite banks, but they often offer similar services, such as the following types:
E-commerce
Payment networks
Online lending
Money transfers
B2B payments
Personal finance
Banking
What makes fintech companies appealing to investors? Well, if you've been paying attention to the news lately, you've probably seen a lot of buzz surrounding Bitcoin and cryptocurrencies. Fintech companies offer an opportunity for consumers to invest in cryptocurrencies while banks don't.
In 2020, fintech companies proved that they are here to stay. During the COVID-19 pandemic, fintech stocks have maintained their value better than some legacy stocks. Read on to learn about some of the best investment options and the risks you should consider before investing.
What Are the Best Fintech Stocks?
If you're looking to invest in 2021, these are the seven fintech stocks to key an eye on.
1. Zuora (ZUO)
A little different than other fintech companies, Zuora is a software service. It offers a scalable solution for businesses that have subscription-based services. Keep an eye on this stock because:
It has experienced explosive growth despite the COVID-19 pandemic.
The company's trending as the model for subscription services of the future.
Zuora's stock is currently undervalued but is predicted to increase steadily.
2. PagSeguro Digital Ltd.
(PAGS)
This long-term investment option is located in Brazil and is well known for accelerating digital commerce growth in Latin America. The company's offerings are geared toward consumers, and its stock makes a great investment because:
PagSeguro offers card-based and mobile payment solutions.
It is working to modernize its payment solutions in an area that primarily deals in cash.
The company led the way in the digital transition that took place during the COVID-19 pandemic.
3. Mogo (MOGO)
This Canadian-based company made the list primarily because of its involvement in Bitcoin transactions. As the demand for cryptocurrency grows, many people are watching the companies that facilitate transactions early on. Other reasons to watch Mogo include the following:
It saw an increase of 141% in new Bitcoin accounts in just one month.
It experienced a 323% increase in Bitcoin transactions in one month.
Mogo's stock increased 160% from the same time last year.
The company recently launched Carta in Japan with a multicurrency debit card.
4. Green Dot Corp. (GDOT)
Green Dot has served as a long-time financial alternative to banks. It led the way with prepaid cards before digital banking technology took over the market.
Green Dot remains the largest prepaid card network in the world and partners with companies like Google, Uber and Walmart. You may be tempted to overlook this company, but here's why you shouldn't:
Its stock has grown 220% since March 2020.
The company recently released a new mobile bank that is tailored to the needs of consumers who live paycheck to paycheck.
5. Fiserv Inc. (FISV)
Fiserv is a vendor that many banks and credit unions partner with to offer digital banking services. In previous years, it showed consistent growth, and it has trended upward in the last 12 months. Don't miss out on this fintech stock in 2021 because:
Fiserv stock has increased by 42% in the last year.
Its most recent quarterly revenue was $3.83 billion.
The acquisition of Ondot expands Fiserv's product offerings.
6. PayPal Holdings Inc. (PYPL)
PayPal was one of the first fintech companies to emerge and has proven its place in the financial industry. Serving more than 300 million customers globally, its stock has shown a consistent increase in value over the past 12 months. Reasons to keep an eye on PayPal include the following:
Its customer commitment, waiving fees during the COVID-19 pandemic
Its position as one of the largest automatic payment systems in the world
A recent expansion of services to include virtual check-cashing services
A reported payment volume of $277 billion at the end of 2020 — a 39% increase compared to the previous year
7. Square Inc. (SQ)
Square began as a mobile payment solution for merchants but has expanded its reach in recent years. Headquartered in San Francisco, Square has seen a lot of growth with Cash App, a person-to-person digital payment solution for consumers.
Square's dedicated to consistently evolving service offerings to meet the demands of changing technology. Square is a great fintech stock to invest in because:
It has seen a 200% increase in stock value over the last 12 months.
A recent quarterly report shows a gross profit of $794 million.
Its profit margins show 59% growth compared to the previous year.
Understanding the Risks
You can bet that, as a niche, fintech companies will be around for years to come. As demand for better financial technology increases, these companies are expected to lead the way with cutting-edge offerings. While fintech stock is highly recommended, it doesn't come without risk.
Restrictions
Any company in the financial industry has to meet rigorous requirements from the Financial Industry Regulatory Authority and the Securities and Exchange Commission in order to protect consumers. This can lead to types of accounts and services not being approved by the Federal Deposit Insurance Corp.
Mergers
It's common in the financial industry for larger companies to acquire smaller companies. Small and midsize companies also merge to form larger entities in an effort to be more competitive in the market. Mergers and acquisitions may affect your stock's value in the short term.
Risk Tolerance
As you learn about the stock market, you'll establish a tolerance for your investments. Do you prefer stocks that are safe and consistent, or do you like to take risks? Fintech companies tend to fall more on the risk-taking end of the spectrum.
You should look at fintech companies as long-term investments. If you have questions concerning how much to invest and where, talk to a financial advisor before making any changes to your portfolio.
Advice

Don't get too nervous if you see fluctuations in your fintech stock value. Try to maintain a long-term outlook.
Our in-house research team and on-site financial experts work together to create content that's accurate, impartial, and up to date. We fact-check every single statistic, quote and fact using trusted primary resources to make sure the information we provide is correct. You can learn more about GOBankingRates' processes and standards in our editorial policy.