How Much Money Should You Have in the Stock Market if You're 25?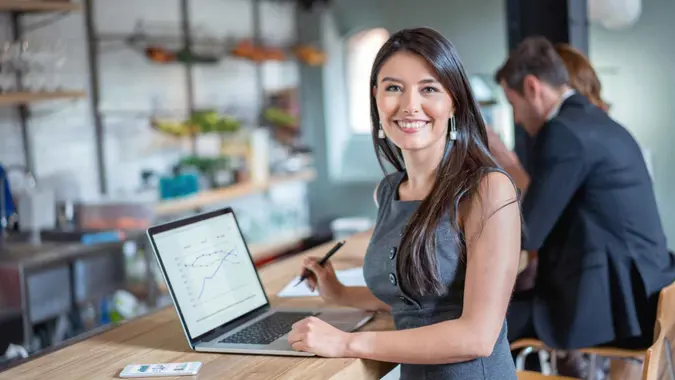 andresr / iStock.com
If you're 25 years old, you might find yourself with a few years of work experience and the ability to start saving more money. But as you build up a nest egg, should you be keeping your savings as cash? Or should you invest most of it in assets like stocks?
The answer depends significantly on your circumstances and preferences, but there are some general guidelines and benchmarks you might consider.
Do Young Men and Women Keep More Money in Stocks or Cash?
If you want to compare yourself to the average user of the financial tool Empower Personal Dashboard, for example, then consider that the average investor in their 20s has about half of their money in stocks. Specifically, people in their 20s have an average of $76,824 in U.S. stocks and $9,429 in international stocks.
However, these numbers may seem high due to the fact that these are users of Empower's personal finance tool, meaning these are people who are potentially more serious about tracking their finances. If you average those who don't keep track of their finances, the amount of money the average 25-year-old has in stocks might be lower.
Consider Your Personal Financial Goals
Since averages can sometimes be skewed, a better way to approach this question could be to consider your financial goals.
For example, some people prefer to build up an emergency fund worth around three-to-six months of living expenses before investing for retirement — or in a regular brokerage account. Emergency fund assets are meant to be highly liquid and stable, so stocks generally aren't an appropriate place to park your emergency savings.
However, once you build up a sufficient emergency fund, you might then start putting extra savings into the stock market. Or, you might decide to initially contribute a little less to your emergency savings to simultaneously save for retirement, such as if you have an employer match that you can take advantage of.
When investing for retirement in your 20s, there's a good chance that you'll want to heavily allocate to stocks. Within retirement portfolios, T. Rowe Price, for example, recommends an asset allocation of 90-100% stocks for investors in their 20s and 30s.
Expert Opinions On Investing vs. Saving in Your 20s 
Expert opinions on how much to save overall by age 25 also vary. As one example, in a recent GOBankingRates article, Alice Rowen Hall, director of Rowen Homes, suggested saving at least 20% of your annual income by age 25. This could be through a combination of retirement savings and emergency fund savings, she said.
Others in the article suggested different amounts, though. Really, it depends on what you're trying to accomplish and what's realistic.
If you're in college until you're almost 25 — due to receiving an advanced degree, for example — then you might barely have any savings that you can put into the stock market. But if you start working part-time in school and have a few years of full-time work by the time you're 25, you might be able to have an emergency fund along with tens of thousands of dollars in stocks.
So, while it might be nice to have a clear amount that every 25-year-old should aim for, the reality is more nuanced. In general, being 25 means you can have a heavier allocation to stocks, especially in your retirement portfolio, given your long time horizon to wait out volatility and hopefully enjoy long-term growth. But it's ultimately up to you — potentially with the help of a trusted advisor — to decide what the right dollar amount and the right asset allocations are.
More From GOBankingRates