How Much Money Should You Have in the Stock Market if You're 50?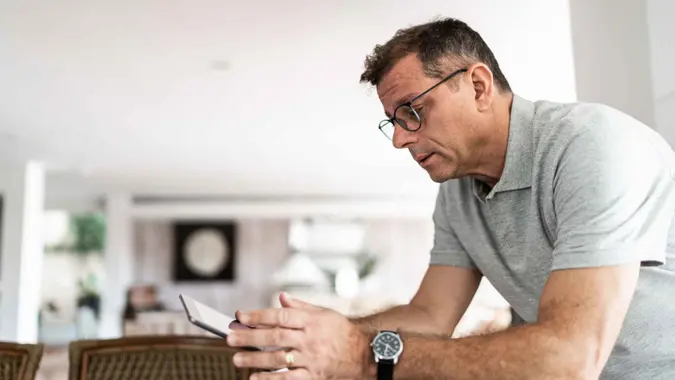 FG Trade / Getty Images
Investing in the stock market is one of the most effective ways to build wealth over the long term and earn significant financial gains. The earlier you start, the more your investments can compound, leading to long-term financial growth.
Gallup explained that 61% of Americans report that they own stock, which is up from 56% in 2021 and 55% in 2020. 61% is also the highest percentage since 2008.
Stock Values By Age 50
Of course, as investors age, the value of their financial portfolio grows overall until they reach retirement age. Once regular withdrawals are made, the value of the average financial portfolio starts to lessen. Here's the breakdown of what your financial portfolio should look like by age 50, according to Empower.
Investors in their 50s and 60s keep between 35% and 39% of their portfolio assets in U.S. stocks and about 8% in international stocks.
U.S. stocks: $372,364
International stocks: $64,477
Investors in their 50s are more geographically diversified, with 85% of their stock exposure in the U.S. market.
U.S. stocks: 85.24%
International stocks: 14.76%
Investors in their 50s have a total bond allocation (domestic and international) of about 8.9%. At the same time, the allocations and percentages of their alternative portfolio investments are different.
Median allocation of alternatives: $18,104.35
Percentage of alternatives in overall portfolio: 3.48%
Advice To Improve Your Stock Portfolio
Below are three tips to help improve your stock portfolio performance overall, regardless of age:
Portfolio Monitoring
Consistently monitoring the performance of your stock portfolio is crucial. It's important to continually evaluate your risk tolerance, revise your target asset allocation based on your risk level and number of years until retirement, and compare your current portfolio against your target goal. These steps ensure you're on track with a diverse portfolio that satisfies your financial needs.
Asset Allocation
Choosing the right asset allocation and investment mix based on your individual investing goals is an important aspect of creating a portfolio that generates sustainable long-term returns. Time frame and risk tolerance are also to be considered. A well-diversified portfolio is important, including a healthy blend of assets across stocks, bonds, cash alternatives, and other investments like real estate.
Portfolio Rebalancing
Reviewing your financial portfolio periodically and rebalancing when necessary is key. Various stock market ups and downs can shift your asset allocation, which might no longer align with your goals. To balance your portfolio, you could sell a portion of your stocks and use the proceeds to purchase other assets, including bonds and cash alternatives.
With age comes the need to closely evaluate (and reevaluate) your stock portfolio. While investing in stocks is a major pillar of long-term wealth accumulation and financial security, it's important to note that it comes with risk. Consider your financial needs and circumstances before and during the investing process.
More From GOBankingRates