How Can I Identify Stocks That Are Going To Rally?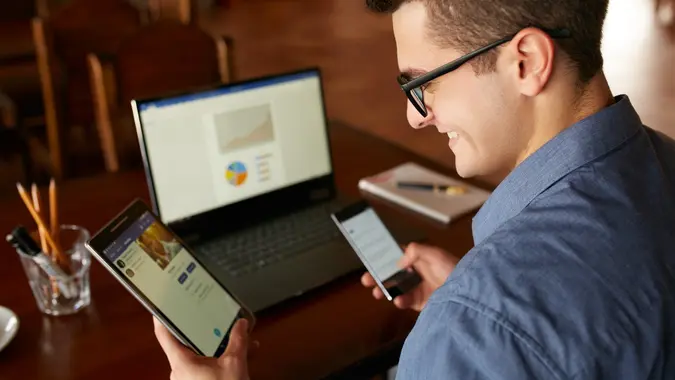 artiemedvedev / iStock.com
The only good thing about a down stock market is that it usually goes back up again — and that's what some experts predict will happen in 2023 after last year's market slump.
Based on historical data, there's a good chance the U.S. stock market might record gains of 20% or more this year after the three major indexes closed 2022 with their worst yearly losses since 2008, MarketWatch reported, citing research from Fundstrat Global Advisors.
In a note released last week, Fundstrat Head of Research Tom Lee wrote that stocks are five times more likely to rise 20% in 2023 than be flat. More than half of Fundstrat's model projections show the stock market climbing higher than 20%.
Among the factors that could contribute to a stock market rally in 2023 are a decline in the inflation rate and a subsequent slowdown in interest-rate hikes from the Federal Reserve.
In purely technical terms, a stock market rally reflects a broad and rapid rise in share prices — typically a gain of at least 20% from recent lows, according to Forex.com. While stock market rallies reflect the performances of major indexes like the Dow and S&P 500, a "stock rally" refers only to the shares of a single publicly traded company.
Identifying a single stock that is poised to rally is never easy. Otherwise, everyone would get rich doing it.
But a good place to start is to find industry sectors that have seen an increase in both trading volume and share price, whether it's technology, retail, biotech, banking or something else. The theory here is that a rising tide will lift all boats — and the stocks with the best financial performances will rise the highest.
Beyond that, there are certain events to keep an eye on that often lead to rallies. These include better-than-expected earnings reports, changes in management, new product launches, and a loosening of industry regulations. In some cases, a single event can send a stock soaring in a matter of minutes, such as when a pharmaceutical company gets regulatory approval for an important new drug.
There are also stock-chart fundamentals that indicate whether a stock might be getting ready to rally, or "break out." When a stock breaks out, it is "escaping the gravity of a current range," according to Admiral Markets. This means it is moving above the trading range it has been stuck in for an extended period of time.
When you see a stock finally start rising above its normal range, it could signal the beginnings of a rally — especially if other stocks in its peer group remain flat.
Another thing to keep an eye on is a flat base, which essentially means a stock has been in a holding pattern for several weeks, with a very narrow range up or down. This could be a sign of "hidden strength" because it reflects pressure on the stock to run higher, according to Investors.com.
In this case, try waiting to buy the stock until it rises 10 cents above the highest price in the flat base so you can catch it on the way up during rallies.
More From GOBankingRates