Investing During Pride Month: The LGBTQ100 Index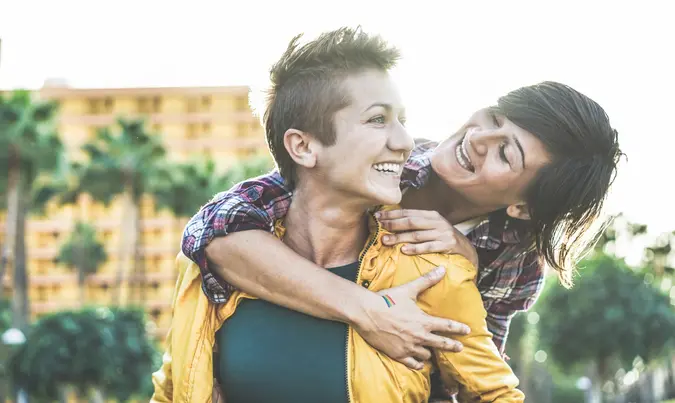 DisobeyArt / Getty Images/iStockphoto
As we celebrate Pride Month, it's a great time to look at how far investing has come with regards to LGBTQ issues. Many major companies now make LGBTQ workers a priority, with policies that go far beyond mere nondiscrimination language. In fact, enough companies are now supportive of LGBTQ values and principles that an index exists to track the top 100 equality-driven U.S. companies. If you want to support and invest in these types of companies, a new exchange-traded fund, the LGBTQ + ESG100 ETF, came to market on May 18, 2021.
Read: Homeowner Stimulus Checks Are Coming – How to Get Your Money From This $10B Fund
See: Two New Stimulus Checks May Be on the Way – Here's Everything You Need to Know
What Is the LGBTQ + ESG100 Index?
The idea behind the LGBTQ + ESG100 Index is that employers that embrace equality in the workplace build better brands and outperform their competitors in the marketplace. The companies are also screened to ensure they are ESG-compliant (ESG stands for environmental, social and corporate governance, and is also known as socially responsible investing).
Only stocks that score a 100 and are deemed a "Best Place To Work for LGBTQ Equality" on the annual Human Rights Campaign's list are considered for inclusion. Companies are then screened by the RBICS Industry Group to exclude those in the business of pornography, tobacco, guns or weapons of mass destruction. From there, managers screen for fundamentals and liquidity to select the 100 components of the index.
Check Out: Socially Responsible Investing in 2021: How Can You Invest Responsibly?
As of June 5, 2021, the top 10 components of the index, along with their respective weightings, are as follows: 
Tesla (TSLA): 5.92%

Amazon (AMZN): 4.35%

Apple (AAPL): 3.82%

Microsoft (MSFT): 2.98%

Marriott (MAR): 1.86%

Estee Lauder (EL): 1.65%

Facebook (FB): 1.63%

Starbucks (SBUX): 1.60%

PayPal (PYPL): 1.54%

Visa (V): 1.51%
Learn: Sustainable Mutual Funds: What They Are and How To Find the Best Ones
The technology sector has the largest weighting in the fund, at about 25%. Healthcare comprises 16%, while consumer staples and financials each make up just over 12.3% of the fund.
What Is the LGBTQ + ESG100 ETF?
Investors can't buy shares of an index directly. Rather, they must invest in a mutual fund or ETF that tracks the index. LGBTQ Loyalty, a financial methodology and media company, devised the LGBTQ + ESG100 in conjunction with ProcureAM to give investors the opportunity to invest in the LGBTQ + ESG100 index. The ETF trades on the NASDAQ market under the symbol "LGBT." It came to market at $25 per share and trades at $25.38 as of the close of business on Friday, June 4, 2021. The annual management fee of the ETF is 0.75%.
More: The Complete Guide to ETFs
How Has the Index Performed?
During its short time in existence, the LGBTQ + ESG100 index has fared quite well when compared with the typical proxy for the market overall, the S&P 500 index. For the 18 months from November 2019 to April 2021, the LGBTQ + ESG100 index returned 43.84%, versus 37.65% for the S&P 500 index. It also achieved this performance with 66 basis points of lower volatility. This means that the LGBTQ + ESG100 index was 0.66% less volatile than the S&P 500 while posting higher returns over that 18-month period.
Hypothetical backtesting shows that the index would have returned 69.55% over the past three years and 141.34% over the past five years, better than the S&P 500's 57.90% and 102.45% returns over the same time periods.
Past performance — particularly hypothetical backtesting — is no guarantee of future results, however, so consult with your financial advisor to determine if this index is a good match for your investment objectives and risk tolerance.
More From GOBankingRates
Last updated: June 8, 2021