Nio Stock Price Forecast 2022-2025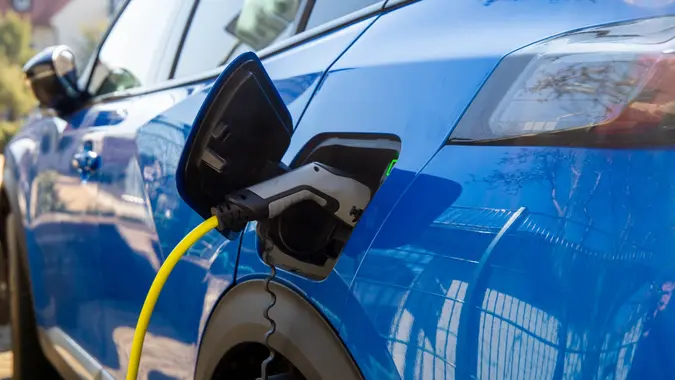 U. J. Alexander / iStock.com
NIO (NYSE:NIO) is an electric vehicle manufacturer that specializes in premium smart electric vehicles. The company, headquartered in Shanghai, China, was founded in 2014.
The company also develops innovative technology around electric vehicles such as Battery as a Service or BaaS, a battery-swapping technology, and proprietary autonomous driving technologies.
Here's what you need to know about NIO and where its stock could go over the next few years.
How Much Will NIO Stock Be in 5 Years?
According to Coin Price Forecast, in five years, NIO stock will be valued at $49.69 by the end of 2027. Current projections say that NIO will end 2022 at $14.73, will rise to $21.20 by the end of 2023, and trade at $30.50 at the end of 2024.
Where Will NIO Stock Be in 2025?
NIO is expected to close out 2025 at $36.66, according to Coin Price Forecast. These prices indicate a double-digit — 52% — increase in the stock price in 2022, and triple-digit increases, ranging from 118% to 278%, in the ensuing three years.
What Is the 12-Month Price Target for NIO?
The average analyst 12-month price target for NIO is $30.89. Targets ranged from a low of $18.85 to a high of $66.45.
What Do Analysts Say About NIO Stock?
NIO was followed by 12 analysts in September. Of these, 18 rated it a buy and 8 rated it a strong buy. The remaining two recommended holding. In October, just eight analysts weighed in on the stock, with the majority — five of them — recommending holding it. Two rated it a buy and once rated it a strong buy.
NIO History
NIO has had a little bit of a bumpy ride, not unlike other electric vehicle companies.
The company had its initial public offering on Sept. 14, 2018, pricing 160 million shares at $6.26. On its first day of trading, it closed at $6.60, up over 5%. In January 2021, it rose as high as $61.25 but has taken a big hit since then. It began in 2022 at $33.52 but closed on Oct. 28, 2022, at just $9.69. Amid a sell-off of Chinese stocks on Oct. 28, NIO dropped as much as 7.2% on that date.
What Type of Cars Does NIO Make?
The company currently has six models:
ET5 mid-size sedan
ET7, the company's flagship five-seater sedan
EC6, a five-seater coupe SUV
ES6, a five-seater high-performance SUV
ES7, a mid- to large-size five-seater SUV
ES8, a six- or seven-seat SUV.
NIO and Vehicle Deliveries
As of Sept. 30, 2022, the company had delivered 249,504 vehicles, all of them in China and Norway. Customers must order the vehicle, and the company will make it per their specifications, which keeps NIO's inventory costs low.  The cars sell for 50,000 to 90,000 euros, depending on the model and whether the customer rents or buys the battery.
NIO's Expansion
NIO is expected to launch in Germany, Sweden, the Netherlands, and Denmark this year, but its cars will only be available to rent, not to buy. Customers can lease a car for a month or longer, at a cost of 1,199 to 1,295 euros, depending on how long they lease it for. The leased vehicles will come with a 75-gigawatt-hour battery. The lease-only strategy is interesting and could be a differentiator for NIO if customers warm up to it. It will be interesting to see if other electric vehicle manufacturers adopt this strategy.
What Battery Does NIO Use?
Another market differentiator for NIO is its swappable battery. The battery is the most expensive part of an electric vehicle, so NIO gives customers the option to buy or to rent the battery for their vehicle. The battery's range and charging time provide some of the greatest objections to consumers as they consider making the switch to an electric vehicle.
NIO's plan is to allow customers to swap out their depleted battery for a fully charged one, reducing the time it takes to get back on the road, and making it similar to the time it takes to fill a gasoline-powered vehicle at a gas station.
What To Consider Before Investing in NIO Stock
NIO is a relatively young company in a volatile sector, so predicting its future performance is a challenge. There are several factors that should be considered when analyzing NIO's potential over the next several years.
Why Nio Might Be a Good Investment
There are two factors that work in the company's favor. One is that they have already shipped nearly a quarter of a million vehicles, so they have a track record. Many companies in the electric vehicle and autonomous vehicle markets are still pre-revenue, making it difficult to determine who will come out on top.
The other tailwind for NIO is their Battery as a Service technology. The company is betting that the ability for consumers to swap out their battery rather than wait for it to recharge will be an advantage for NIO.
Did You Know?

One of the biggest objections for consumers when considering an all-electric vehicle is so-called "range anxiety." This is the fear that they will be unable to find an available charging station, or that charging will take too long, once their vehicle's battery is nearly depleted.
NIO also operates in a growth sector. The demand for electric vehicles continues to rise, and all indications are that it will continue to do so, as more and more consumers move away from vehicles that operate on fossil fuels.
Are There Downsides To Investing in NIO?
The biggest headwind for NIO is that it is a Chinese company, so it may struggle to gain a foothold in the U.S. if it decides to try to do so. The current administration is promoting American-made electric vehicles by offering significant tax incentives, and, unless NIO partners with an American company to produce vehicles in the United States, they will not benefit from these incentives.
What Is the Long-Term Forecast for NIO Stock?
There are a lot of unknowns when it comes to the future of NIO, and these should be carefully considered when deciding whether or not to purchase the stock. Investors may have limited visibility into the company's prospects, as the accuracy of reporting is not as stringent in China as it is in the United States, which can sometimes result in inaccurate results being publicized. The impending de-listing of Chinese stocks is also concerning.
From an investing perspective, the fact that NIO is a Chinese company has even greater implications. NIO, like other Chinese companies, faces a 2024 deadline to be de-listed from U.S. stock exchanges. This could limit investors' ability to sell NIO stock that they own at the deadline, which will surely be reflected in the stock's price leading up to that event.
Our in-house research team and on-site financial experts work together to create content that's accurate, impartial, and up to date. We fact-check every single statistic, quote and fact using trusted primary resources to make sure the information we provide is correct. You can learn more about GOBankingRates' processes and standards in our editorial policy.