KO vs. COKE Stock: What's the Difference and Which Is the Better Investment?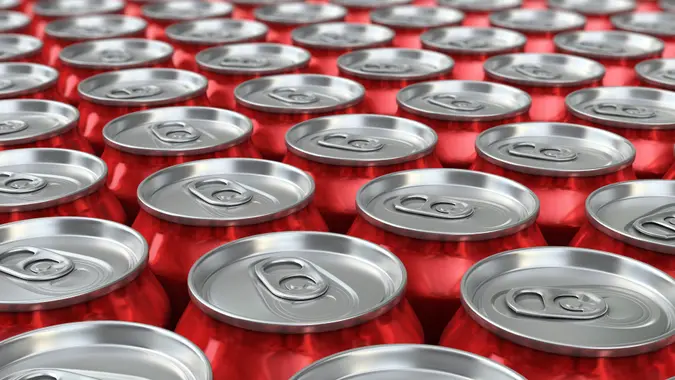 spawns / Getty Images/iStockphoto
Coca-Cola brand soft drinks are an American icon, from the fuzzy polar bear that serves as the company mascot to the 1971 "I'd Like To Buy the World a Coke" ad campaign. Atlanta, the birthplace of Coca-Cola back in 1886, even has a museum for Coke enthusiasts and many tourist sites, including Disney Springs in Florida, have Coca-Cola retail stores.
Read: 3 Things You Must Do When Your Savings Reach $50,000
As an investment, Coca-Cola feels like a solid place to hold your money long-term. It's a favorite of billionaire investor Warren Buffett, whose firm, Berkshire-Hathaway, began investing in the soft drink brand in 2012, purchasing $21.6 billion worth of shares. To date, he's earned a return of 64% buying and selling shares.
The investment stands as a testament to Warren Buffett's philosophy that his favorite holding period for a stock is "forever." It also exemplifies his philosophy to invest in companies you know and understand; in a CNBC interview, Buffett confessed to drinking five Cokes a day.
Investing in KO vs. Coke Stock
But, if you're not Warren Buffett, understanding how to invest in Coca Cola stock may create some confusion. That's because there are two Coca-Cola companies listed on the New York Stock Exchange: NYSE: KO, and NYSE: COKE.
What's The Difference: Coca Cola Stock vs. KO?
If you're looking on the stock exchange for Coke, you'll likely find COKE, which is the Coca-Cola Bottling Co. Consolidated. But if you're looking for the "real thing," — the original Coca-Cola parent company — it trades under the ticker symbol KO.
It wasn't always this way, however. In the 1900s, Coca-Cola sought to keep pace with demand for their beverages, increasing productivity, efficiency and profitability. Coca-Cola licensed its formula and packaging to bottling companies across the world.
By 2020, the soft drink giant had 225 bottling partners in over 200 countries across the world, with 85% of their sales coming from international bottlers. Coca-Cola Bottling Co. Consolidated, COKE on the stock market, is the largest in the U.S., selling soft drinks in 14 states and Washington, D.C.
Which Investment Is Smarter: KO vs Coke Stock?
With all this in mind, you are probably wondering which is the better investment: KO or COKE? KO is a multinational company that earns a lion's share of the profits from its bottling partners worldwide. Local bottlers cover the expenses of manufacturing and shipping products.
The Coca-Cola Parent Company (KO) pays for advertising campaigns and some marketing, in order to maintain brand consistency. But it's up to the bottlers to line up distribution agreements with grocery stores and big box retailers, restaurants, theme parks and other places that sell Coke products.
In 2019, Walmart accounted for roughly 19% of COKE's profits, while Kroger sold 12%. That same year, according to Finmasters.com, COKE earned $4.8 billion but paid $1.3 billion to the parent company, primarily going toward materials, equipment and marketing costs.
If you're evaluating a stock based on the company's profitability, parent company KO has a net margin of 24%, while COKE struggles to maintain a 2% net profit margin, Finmasters.com reported.
KO also carries a much higher market cap, valued at $234 billion compared to COKE's $6.17 billion. KO also has higher revenues to go along with its enhanced profitability.
It looks like KO is the better investment, and it also comes at a value price according to some analysts at Tickeron — exactly the kind of investment Warren Buffett seeks out. Both stocks are rated a "Strong Buy" at Tickeron.com.
KO Stock Price vs. COKE Stock Price
If you're seeking a value stock with a bit of risk behind it, KO could be your best choice. Trading at just $53.72 in mid-October 2023, it's down roughly $10 from its one-year high.
COKE, on the other hand, is trading at a hefty $659 and rising steadily. Its 52-week low was $429, and its high was $745, so there's plenty of room for growth. That could make COKE look like the better investment. In fact, analysts at Yahoo! Finance give COKE the "undervalued" rating, while pegging KO as "overvalued."
Is KO Stock a Good Buy?
At less than $54 a share, KO has an entry point that appeals to most beginning investors. You won't have to buy a fractional to claim your share of this revered multinational company. Coca-Cola also has a strong brand story behind it. Whether you prefer Coke or its closest competitor, Pepsi, or even if you're trying to be healthy and drink more water, you've heard of Coke and likely have memories built around the beverage.
What Was KO Stock Price in 1990?
Had you invested in KO stock back in 1990, you'd have paid less than $5 a share. You'd be looking at 10 times your investment, today, which explains the appeal the stock has for Buffett.
Final Take: KO vs. Coke Stock
When you're debating between KO and COKE stock, it's important to consider that the food and beverage industry is down, as a whole, in the past six months. Experts are attributing it to the growth of the weight loss drug Ozempic, which helps curb people's appetites. Hand-in-hand with taking the injections, people tend to be incorporating intermittent fasting into their routines and trying to make healthier choices.
PepsiCo, Coca-Cola (KO), Conagra Brands, and Campbell Soup stocks have all fallen much faster than the average for all S&P 500 stocks in the past six months.
However, healthy eating, just like so many other trends, tends to follow cycles. It's possible that as the holidays approach and family and friends gather for parties, these processed food and beverage companies will recover.
Noting that these stocks are household names with a consistent history of sales, Yahoo Finance wrote, "[I]nvestors could be wise in getting out a shopping list of possible buys." Depending on your investment budget, you might do well to put KO or COKE — or both — on your list.
Information is accurate as of Oct. 11, 2023.
Our in-house research team and on-site financial experts work together to create content that's accurate, impartial, and up to date. We fact-check every single statistic, quote and fact using trusted primary resources to make sure the information we provide is correct. You can learn more about GOBankingRates' processes and standards in our editorial policy.