These Are the Top Stocks That Warren Buffett Owns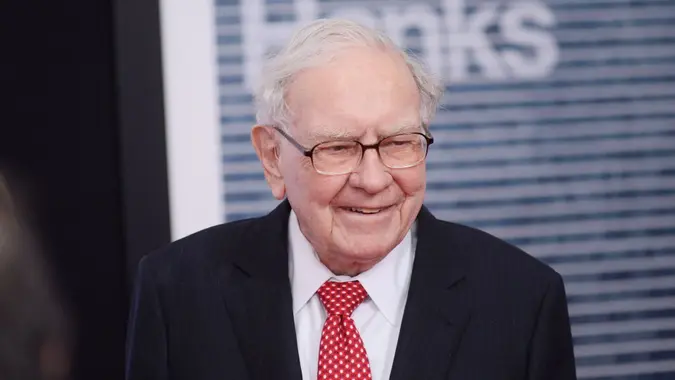 Erik Pendzich / Shutterstock
Warren Buffett is widely regarded as the most successful investor ever, and that's not hyperbole. The Oracle of Omaha, as he's sometimes called, is smart, patient and unemotional when it comes to picking the companies his conglomerate, Berkshire Hathaway, invests in.
See: 3 Things You Must Do When Your Savings Reach $50,000
Nearly every investor can learn something from Buffett, and the lessons are fairly simple. "Be fearful when others are greedy, and be greedy when others are fearful" is an oft-quoted maxim of Buffett's. He also suggests that investors buy what they know, a philosophy he clearly lives by as he famously refused to invest in technology stocks for years, claiming that he didn't understand the product offerings.
What Are Warren Buffett's Top Stocks?
Keeping an eye on Buffett's positions is another way to learn from the master. Here are the top five positions in Berkshire Hathaway's portfolio:
Apple (AAPL)
Bank of America (BAC)
Kraft Heinz (KHC)
Coca-Cola (KO)
Occidental Petroleum (OXY)
Apple (AAPL)
Clearly, Buffett has changed his mind about technology stocks — either that, or he's learned enough about Apple to justify holding a huge amount of its stock. Berkshire Hathaway has owned Apple stock since 2016 and currently owns 5.86% of the company, a position valued at over $163 billion.
Apple is the inventor, manufacturer and marketer of technology products like the iMac personal computer, the iPad tablet, the Apple Watch smartwatch and, of course, the ubiquitous iPhone smartphone. The company has expanded into media and other sectors with Apple TV and other product and service lines.
Bank of America (BAC)
Berkshire Hathaway is the single largest holder of Bank of America stock, as the conglomerate owns 13% of the financial services company. Buffett's company owns over 1 trillion (that's right, trillion) shares, with a total value of $29.4 billion.
Bank of America is a global leader in personal, corporate and investment banking, as well as wealth management. The company has about 68 million customers, including individuals and businesses. Its customers are located in the U.S. and in over 35 countries worldwide.
Kraft Heinz (KHC)
Berkshire Hathaway is also the single largest shareholder of Kraft Heinz, maker of Kraft macaroni and cheese, Heinz ketchup and hundreds of other food products. Over a quarter (26.51%) of the company is owned by Berkshire Hathaway, whose 325 million shares are worth over $11 billion.
Kraft Heinz is home to dozens of beloved consumer brands worldwide, including familiar U.S. brands like Oscar Mayer, Velveeta, Lunchables, Jell-O, Grey Poupon and Ore-Ida. The company's products can be found in almost every American kitchen and in many households worldwide.
Coca-Cola (KO)
Four hundred million shares of The Coca-Cola Co. are owned by Berkshire Hathaway, making it the largest single holder of shares. The $24 billion worth of stock represents 9.25% of the international beverage maker's shares.
Coca-Cola needs no introduction since the company's flagship soft drink has become synonymous with the carbonated beverage market as a whole. Between single-serve bottles and cans and fountain beverages in restaurants and fast-food chains, Coca-Cola products are enjoyed in over 200 countries and territories worldwide, to the tune of 2.2 billion servings every day.
Occidental Petroleum (OXY)
Berkshire Hathaway owns over a quarter (25.33%) of Occidental Petroleum Corp., or 224 million shares valued at over $13 billion.
Occidental Petroleum is an energy and chemical company that operates in the U.S., the Middle East, Latin America and Africa. The company is involved in the exploration, development, production, processing, transportation, storage and marketing of oil, natural gas, natural gas liquids, and condensate, as well as the gathering, processing, transportation and marketing of carbon dioxide and power. It also manufactures and markets chemicals and vinyl.
Buffett's Process
Notice that the companies that Buffett buys for Berkshire Hathaway are primarily household names. Occidental Petroleum may be the exception, but most consumers certainly use the products it produces. Another thing they have in common is that they are leaders in their sector, and they have been around for a long time. Buffett does not typically invest in startups or early-stage companies — he wants to be sure the companies he buys are going to be around for the long haul.
Diversification is another hallmark of Buffett's style. It may not be apparent from looking at just the top five investments at Berkshire Hathaway, but the entire portfolio includes positions in nearly every sector.
Buffett is more concerned with the company itself than with the stock price. In his 2023 letter to shareholders, he emphasized that he and his partner Charlie Munger have a goal of making "meaningful investments in businesses with both long-lasting favorable economic characteristics and trustworthy managers." He goes on to say that he and Munger are not stock pickers, but business pickers.
Investing Like Buffett
If you want to invest like Buffett, there are two ways to go about it. You can invest in the same stocks he does, buying and selling when he makes moves. The downside here is that the moves he makes can alter the price of a stock because they are so large. And if you're following his lead, you're buying and selling after he does, so it's likely you'll get a less favorable price for your transaction than he does.
The other way is simply to buy Berkshire Hathaway, Buffett's conglomerate. If you go this route, be aware that there are two types of Berkshire Hathaway shares. In 1996, Buffett was under pressure to split BRK stock as it was considered to be out of reach of most investors. Instead, Buffett issued a new class of stock, BRK-B, at one-thirtieth the price of Class A shares.
Berkshire has never split its Class A shares, and Buffett has said he never will. Class B shares were split 50-for-1 in January 2010, as, again, a way to keep the stock affordable to the average investor.
BRK-B shares closed at $355.93 per share on Aug. 25, 2023. On the same day, BRK-A shares closed at $540,000 per share.
While Buffett's individual success at investing may never be duplicated, there's a lot to be learned from his methodology and experience.
Data was compiled on Aug. 27, 2023, and is subject to change.
Editorial Note: This content is not provided by any entity covered in this article. Any opinions, analyses, reviews, ratings or recommendations expressed in this article are those of the author alone and have not been reviewed, approved or otherwise endorsed by any entity named in this article.
Our in-house research team and on-site financial experts work together to create content that's accurate, impartial, and up to date. We fact-check every single statistic, quote and fact using trusted primary resources to make sure the information we provide is correct. You can learn more about GOBankingRates' processes and standards in our editorial policy.