Can Nvidia Stock Reach $1,000? NVDA Stock Forecast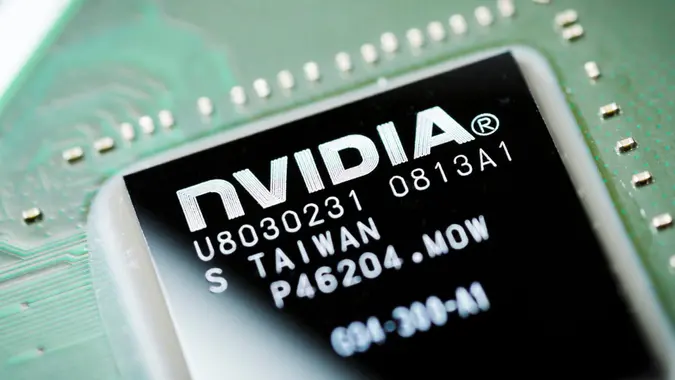 Antonio Bordunovi / Getty Images
Semiconductor maker Nvidia's market capitalization nearly reached $1 trillion in May, putting it on a par with tech juggernauts like Apple, Microsoft and Alphabet. The company's shares jumped more than 24% on May 25, catapulting the stock into the rarefied air of the $1 trillion club. By Nov. 28, that market cap had grown to nearly $1.19 trillion.
What's behind Nvidia's rise? And can it continue? Here's what you need to know.
See: 3 Things You Must Do When Your Savings Reach $50,000
What Does Nvidia Do?
Nvidia (Nasdaq: NVDA) makes the high-powered computer chips necessary for artificial intelligence, metaverse, advanced graphics and other power-hungry applications. As these technologies become more and more popular and widely accepted, the need for the chips developed and manufactured by Nvidia and similar companies will increase.
Nvidia began 30 years ago and quickly became known for gaming, graphics and parallel computing. The company continued to innovate, emerging as a leader in machine learning and AI technology.
Why Did Nvidia's Stock Jump So High?
Nvidia reported a quarterly profit of over $2 billion during the first quarter of 2023, more than $6 billion in the second quarter and more than $9 billion in the third quarter. As eye-popping as those numbers are, the drivers of the stock's price increase were likely the company's better-than-expected earnings and strong guidance during the first three quarters of the year.
What Is the Forecast for Nvidia Stock?
As of Nov. 28, Nvidia shares are trading at roughly $477 and are up 226.24% for the year. As with most stocks that see a big rise in their price in a short time, there's not a lot of consensus among analysts as to where the stock price may be in a year.
According to Yahoo Finance, of 46 analysts who provided a 12-month price forecast for Nvidia, the average estimate was $641.23, representing about a 33% increase over the current trading price. The range of estimates is considerable, however, with the highest Nvidia price target at $1,100 per share, a 129% increase over the current price, and the lowest estimates at $439.00 per share, representing a decrease of about 9% from the current price.
One thing most analysts do agree on: Nvidia is a strong buy at this time. So far in November, seven analysts rate it a strong buy, 14 rate it a buy, 15 rate it a hold, one analyst rates it underperform and one recommends selling. Of 53 analysts weighing in in October, 41 rated it a strong buy or buy.
Can Nvidia Stock Reach $1,000?
Some Nvidia stock price predictions say that Nvidia stock has the potential to reach, and even exceed, $1,000. While the average price target among the 46 analysts polled by Yahoo Finance is $641.23, at least one of the 46 believes shares will hit $1,100 within 12 months.
That analyst could be Hans Mosesmann from Rosenblatt Securities, who last August increased his target from $800 to $1,100, according to MarketWatch. Mosesmann wrote in a note reported by Barchart that "Nvidia's epic print and guide two quarters in a row is simply unprecedented and just getting started."
How High Can Nvidia Stock Go?
There's really no way to know for sure how high Nvidia stock can go. While analysts do forecast prices a year out, so many constantly-changing variables affect share prices that it's impossible to estimate where the cap might be.
What Will Nvidia Stock Be Worth in 2030?
Nvidia stock forecasts for 2030 are purely speculative and riddled with "if" and "then" logic regarding the markets Nvidia operates in, its competition and the company's financial performance. However, 24/7 Wall St. weighed in with a Nvidia stock prediction of $242 at the low end, to $2,005 at the high end. Coin Price Forecast, which makes algorithm-based forecasts, predicts shares will be worth $1,915 by the end of 2030.
Is Nvidia Stock Overpriced?
Nvidia stock has more than doubled since the beginning of the year. This would lead most investors to wonder if the stock has reached its pinnacle, with nowhere to go but down.
One way to determine the value of a stock is to compare its price-earnings ratio to competitors. This ratio compares the price of the stock to the company's earnings and indicates how much an investor "pays" for a dollar of earnings by buying the stock. A lower P/E ratio means the stock is more of a "bargain" than one with a higher P/E ratio.
Looking at the P/E ratios of other mega-cap tech companies will provide some insight into whether Nvidia is overvalued. As of Nov. 28, Microsoft's (MSFT) P/E ratio was 36.98. Apple's (APPL) P/E ratio was 31.13. Alphabet (GOOGL) had a P/E ratio of 26.18. The P/E ratio of Nvidia on Nov. 28 was 63.50.
Looking at more direct competitors, AMD (AMD) had a P/E ratio of 1,112.09 on Nov. 28. Taiwan Semiconductor Manufacturing (TSM) had a P/E ratio of 18.45.
Based on this metric, it's easy to see that Nvidia stock is cheap compared to AMD but high compared to Taiwan Semiconductor Manufacturing and the major tech stocks. This would indicate that a great deal of the company's future potential is already baked into the stock price.
What Are the Risks of Buying Nvidia Stock?
All investors know (or should know) that there's no such thing as a sure thing when it comes to investing in the stock market, and that no one has a crystal ball. Investing involves risk, and any stock can lose value, sometimes without warning, for a variety of reasons.
Technology stocks can be especially volatile since the industry moves so quickly. Even though Nvidia is currently well positioned for what is expected to be continually increasing demand for high-end applications like artificial intelligence and machine learning, it's possible that this nascent technology could fail to live up to its potential. Or, as some experts are predicting, it could prove to be detrimental or even dangerous in some way. A decline in demand for these technologies would be a threat to Nvidia's forecasted revenues.
Another risk Nvidia faces is that another technology company comes along with a better, faster or cheaper way to do what it is currently doing — namely, providing the technology that drives AI tools, metaverse applications, high-end gaming and graphics products, and more. Getting to a market-leading position in a sector like technology is difficult, but staying there is even harder. Unless the company continues to innovate and create new products, it risks being overtaken in the market, most likely by a smaller, more nimble and more agile competitor.
Another phenomenon that could cause Nvidia stock to drop has nothing to do with the company's past performance or even future prospects. If a large number of investors believe that the stock has hit a high price, they may sell and take their profits. If enough investors do this, particularly institutional investors like mutual fund managers, and new investors wait on the sidelines, fearing the stock is overvalued, the price could drop.
Is Nvidia a Good Long-Term Investment?
Nvidia appears to be a solid long-term investment because of its strong performance, high demand for its products and its position as a market leader. However, it's also a good example of the investment truism that "past performance is not indicative of future results." This doesn't mean that the stock isn't a buy right now, or that it won't continue to rise, but investors should evaluate the stock in accordance with their own risk tolerance and asset allocation strategy in order to make an informed decision.
Daria Uhlig contributed to the reporting for this article.
Data was compiled on Nov. 28, 2023, and is subject to change.
Our in-house research team and on-site financial experts work together to create content that's accurate, impartial, and up to date. We fact-check every single statistic, quote and fact using trusted primary resources to make sure the information we provide is correct. You can learn more about GOBankingRates' processes and standards in our editorial policy.