Pass the Popcorn — Retail Traders Expect a Movie Revival Post Pandemic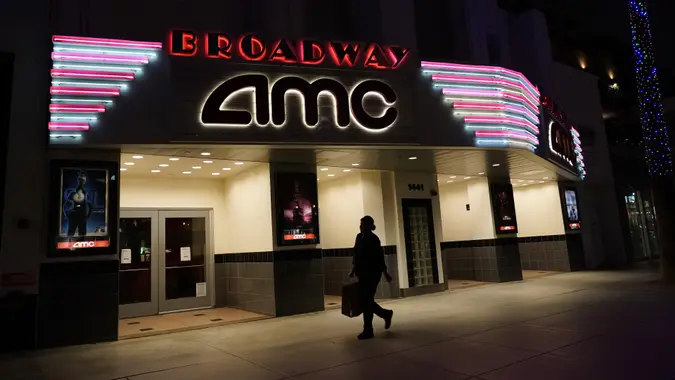 Marcio Jose Sanchez/AP/Shutterstock / Marcio Jose Sanchez/AP/Shutterstock
One might not think investing in a movie theater stock in the middle of the pandemic is a safe move, even if that brand is the largest, and one of the most well-established, entertainment brands in the U.S. But retail traders made a bundle overnight as AMC Entertainment Holdings (NYSE: AMC) stock popped in after-hours trading, closing under $5 Tuesday evening and rising more than 15 points to open at $20.32. Mid-morning, it sits up nearly 200%.
See: Popular Brands That Could Disappear in 2021Find: Biggest Stock Market Surprises at the Start of 2021
The jump is linked, in part, to $917 million in financing secured through debt and equity in the last six weeks, Motley Fool reports. The funds bring AMC back from the brink of bankruptcy, according to the report. "This means that any talk of an imminent bankruptcy for AMC is completely off the table," CEO Adam Aron announced.
AMC bolstered its coffers by $506 million by offering 164.7 million new shares. It also converted $100 million of second-lien debt into equity, on top of an earlier infusion of $100 million in first-lien debt. It also raised $411 million through commitment letters of new debt through 2023.
In addition to the funding, AMC has solid prospects for growth, including a potential move to streaming in the future. Additionally, as vaccination roll-out begins improving, people will want to go back to the movies — it's an entertainment experience few can replicate at home. Currently, select theaters in the chain are renting out entire theaters to private groups as large as 20 people.
See: Most Expensive Movies That Might Never Get to TheatersFind: Should You Take Stock Tips from Internet Gamblers? This Group's Latest Pick Soared 50% (Almost) Overnight
Besides savvy business decisions, there's another factor causing the stock to jump this morning. A group of rogue retail traders who chat on the famous Reddit thread WallStreetBets has been going "all-in" on the stock since yesterday. The WSB conversation has also drifted over to Twitter, with a user named @WSBChairman tweeting about the hashtag #SaveAMC.
A group of traders at Citadel have shorted the stock, and members of the WSB subreddit seem intent on taking the larger firm down.
$AMC

is shorted by Citadel, the Market Maker. WallStreetBets is gonna take down one of the biggest hedge firms in the country. They are racing to close their positions before they get exposed.

GOGO ????????$AMC pic.twitter.com/QO3Z4wslsg— Jojo WS (@Mehmet_Damat) January 27, 2021
See: Gaming the Market? The Retail Investor's Quick Guide to Short SellingFind: Tesla CEO Elon Musk Loses Billions, Touts Etsy and GameStop, Lands Rockets
WSB also touted GameStop earlier this week, with the stock reaching a high of $350.55 this morning, up from less than $40 a share last week. On Twitter, WSB has caught the attention of billionaires Elon Musk and Chamath Palihapitiya.
dear journal, today was busy:

1. bought some YOLO calls on $gme2. announced i'm running for governor of CA?3. bought more Li, Ni and Co supply for batteries4. finished details of a new insurance company i co-founded

details of #4 coming tmr morning. lmk what you think…— Chamath Palihapitiya (@chamath) January 27, 2021
Some finance writers are calling the phenomenon a "meme stock" bubble.
My new column, on the war over GameStop.

The easy way to frame this is as yet another example of amateur traders hysterically buying anything that goes up. But I think something much more interesting, and complicated, is going on. https://t.co/e6kaXbnlTE— James Surowiecki (@JamesSurowiecki) January 26, 2021
However you want to identify the rapid rise of stocks like GME and AMC, many retail traders have made lots of money riding the wave this week while the shorts seem to be struggling.
More From GOBankingRates: