Is Now the Time To Invest in Roblox?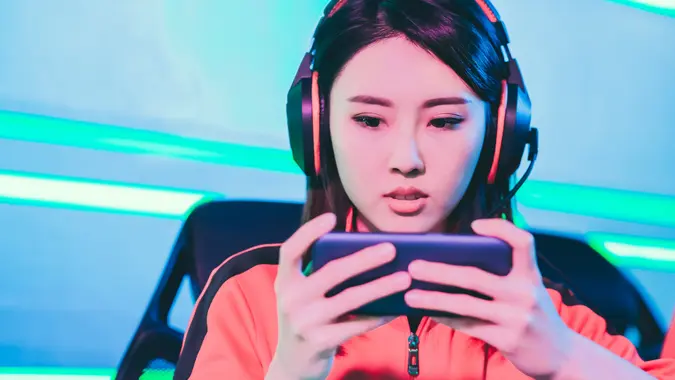 ©Shutterstock.com
Roblox is a worldwide gaming platform where players create their own three-dimensional gaming worlds. The platform is free to use but does offer in-game purchases and monthly memberships that allow for upgrades.
About Roblox
Roblox gamers can create games about:
Theme parks
Car racing
Homebuilding and design
Superheros
Roblox is popular among the youth demographic. It also offers the chance for gamers to create their own avatar, hang out with friends online, and chat with others in the Roblox community.
The Roblox gaming platform is available on:
Smartphones and tablets
Computers
Xbox One
Oculus Rift
HTC Vive
Why Roblox Is Different
There are dozens of gaming platforms and hundreds if not thousands of video games on the market for people to play. Roblox sets itself apart from the competition by putting the game creation in the hands of its users. Gamers of all ages can participate in creating a game on the platform or pay to play games that other users created.
Roblox Stock
Roblox became a publicly traded company on March 10, 2021, following an explosive year of growth during the COVID-19 pandemic. With children and families spending more time at home, the platform saw a revenue increase of 82% that reached $924 million in 2020. Roblox has more than 32 million daily users and was valued at $29.5 billion before going public.
How Much Is It Worth?
As of midday Tuesday, July 27, 2021, Roblox stock was valued at $75.97 per share.
| Roblox Statistics | Value |
| --- | --- |
| Roblox Stock 52-week high | $103.87 |
| Roblox Stock 52-week low | $60.50 |
| Share Volume | 3,151,347 |
| Market Cap | 46,629,308,617 |
Is It a Safe Investment?
Roblox is very popular with the world's youth, making it an intriguing buy for investors. However, the company does face some unknowns that can affect stock value.
Advice

Investing in stocks comes with some risk. When you invest in Roblox, consider your overall portfolio and try not to invest too much in newer stocks that haven't yet established a pattern of success.
Pandemic High
Roblox saw a boom during the COVID-19 pandemic when people were home more. The question is, will that trend continue as businesses and schools reopen? So far, the stock price is up 45% over its opening day in March. This increase comes during a summer of people getting out more, so that's good news for the company and long-term investors.
Safety Concerns
Because Roblox is most popular among children under the age of 18, parents have a lot of safety concerns within the platform. Roblox is a very open community where users can interact with very few restrictions. This leaves children vulnerable to online predators.
Growing concerns among parents and people challenging the company to implement more safety measures led to Roblox enhancements to blocking capabilities for parents. While this may assuage some of these concerns, it's unclear how these changes could affect Roblox's stock value in the future.
Is It a Good Investment?
In assessing the value of Roblox for investing, it's important to assess past performance and future value.
Past Performance
While Roblox has seen its value grow during its first four months as a publicly traded company, there isn't enough data yet to make an informed decision. It is also unclear how many pandemic factors contributed to Roblox's popularity among users and early success in the stock market. Are people investing because the stock is new and exciting? Are they long-term investors or will they jump ship to new stock in the near future? Only time will tell.
When you look at the company's performance outside of the stock market, it's easy to get excited about the prospective value. However, while Roblox saw a period of explosive growth, it's now evening off to potentially level off.
Advice

If you want to treat Roblox as a long-term investment, don't panic and sell if you see the value dip. Instead, consider waiting for the stock to recover.
Future Value
Because Roblox saw explosive growth in an unprecedented economy, it's unclear how the company will maintain traction as schools and businesses reopen. The average amount of time people spent on the platform during the peak of summer in 2020 was 100 minutes per day. This decreased by 30% to 70 minutes per day in the first quarter of 2021.
Players spending less time on the platform means less money being spent on games and upgrades. Roblox is working to offset this by attracting an older demographic of players to add to their customer base, but it's unclear if that will be successful or not.
How To Buy Roblox
You can purchase Roblox by setting up an online brokerage account or using an IRA to choose your stock market investment. There are also many easier and more interactive ways to invest in the stock market, like:
If you have another preferred way to buy stock, Roblox is probably available on that platform, too.
Our in-house research team and on-site financial experts work together to create content that's accurate, impartial, and up to date. We fact-check every single statistic, quote and fact using trusted primary resources to make sure the information we provide is correct. You can learn more about GOBankingRates' processes and standards in our editorial policy.