The 10 Most Valuable Video Game Companies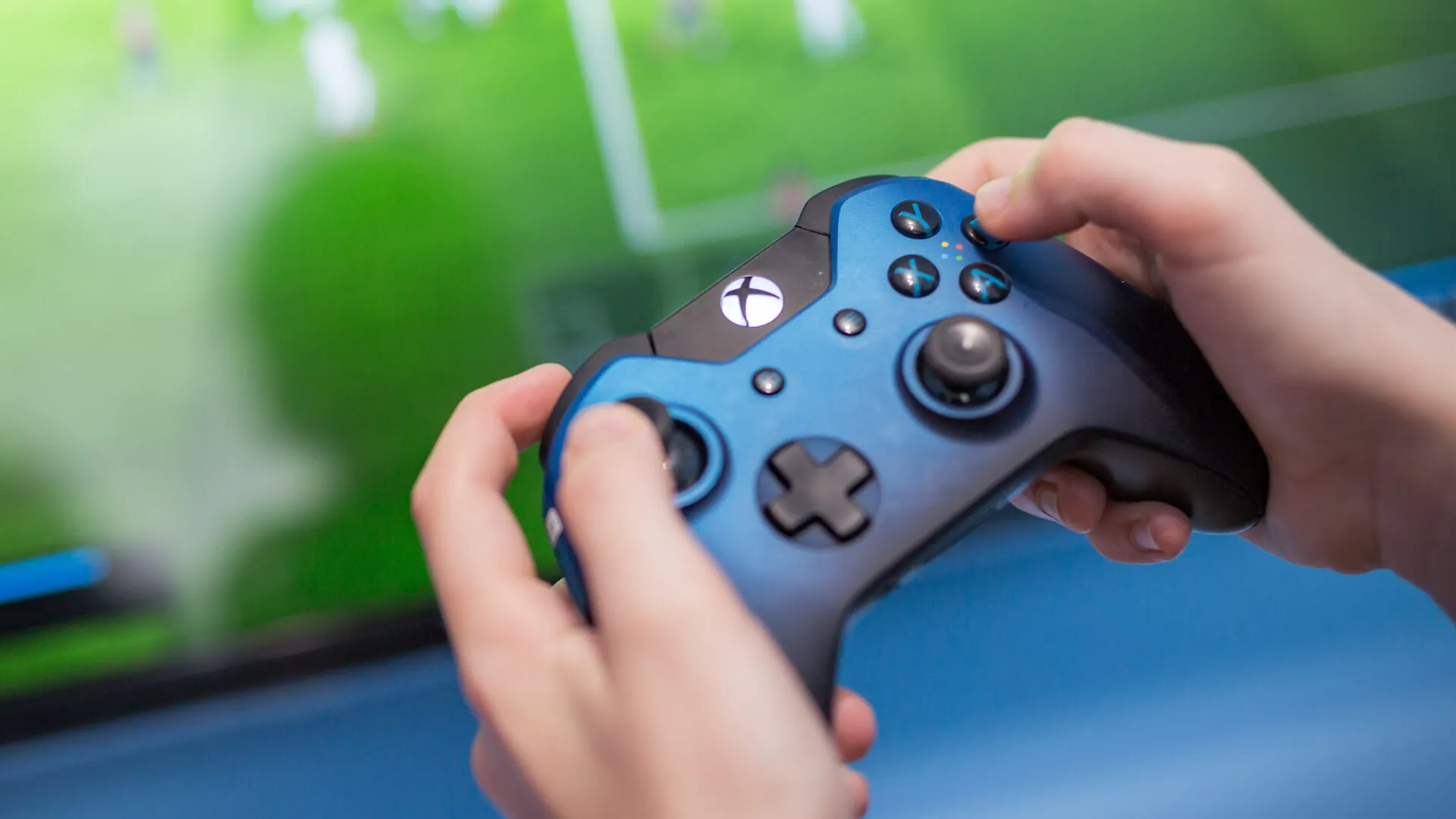 Video games were always a great rainy day distraction. So it makes sense that when a virus transforms an entire year into one big rainy day, the video game industry would clean up — and that's exactly what happened in 2020. 
According to Statista, the U.S. video game industry reached a market size of $66.88 billion last year, an all-time high by a longshot. Now that the world is opening the drapes and squinting out into the sunlight again, the market size is projected to drop — but only to $65.49 billion. That's still about $10 billion more than the market size in 2019 ($55.54 billion) and more than $6 billion more than the previous all-time high set in 2018 ($59.1 billion).
In short, the video game industry picked up legions of new spending customers during the pandemic and got the players they already had to spend more time on their devices and in front of their screens. Now that the pandemic is passing, there will likely be some dropoff, but it looks like the industry is doing a good job of guarding nearly all of the big gains earned in 2020. "The industry" is made up of individual companies that saw the pandemic as a golden opportunity — and most of them capitalized. Here's a look at the biggest of them all. 
Last updated: July 19, 2021
CD Projekt
Market cap:

$5.04 billion

Revenue:

$2.14 billion
According to CD Projekt's own financial report, the company took in only $521.27 million in sales revenues in 2019. One year later in 2020, that number vaulted all the way to $2.14 billion. At its peak in September 2020, the Warsaw-based game maker had a market cap of $10.42 billion, according to Yahoo Finance. Those gains, however, proved fleeting. Today, it's less than half that.
The company first launched in 2002 and is best known for "The Witcher" series and "Cyberpunk 2077."
Square Enix Holdings Co.
Market cap:

$5.90 billion 

Revenue:

$3 billion 
The top Square Enix franchises are among the biggest titles in the world — "Final Fantasy," "Dragon Quest" and "Tomb Raider," to name a few. 
Fiscal year 2020 delivered the highest revenues in company history for the Japanese game maker, according to GamesIndustry.biz. Statista projects that the company will earn $2.4 billion in net sales in 2021 just through its digital entertainment segment, smashing all previous records.
Make Your Money Work Better for You
Ubisoft Entertainment SA
Market cap:

$6.95 billion

Revenue:

$2.22 billion
Ubisoft has a lower market cap and fewer revenues than the giants of the industry, but the French game publisher boasts world-class franchises like "Assassin's Creed," "Just Dance," "Rayman," "Tom Clancy's" and "Far Cry."
The company has been in the news for all the wrong reasons lately, first with an ugly harassment lawsuit. That was immediately followed by the announcement that Ubisoft would be delaying two big titles right when it should have been preparing for the crucial fall/winter holiday shopping season. "Riders Republic" was pushed from early September to late October, and "Rainbow Six Extraction" was pushed out of 2021 altogether into January of next year.
Take-Two Interactive Software
Market cap:

$18.7 billion

Revenue:

$3.37 billion
Take-Two Interactive Software is best known for 2K Games and Rockstar, but it has published some of the best-rated titles in the game, as well. According to GameRant, the cream of the crop includes "World of Goo," "Tales From the Borderlands" and "Space Station Silicon Valley."
Take-Two had an astonishing run in 2020, its stock soaring by 70% between the March crash and August just a few months later. By October, it was up 48% over its pre-crash February highs. This summer, however, Take-Two stunned fans and investors when it didn't unveil any new games at the E3 showcase in June. Shareholders responded by dumping enough stock to cause a 7% drop in just five days. 
Check Out:
Make Your Money Work Better for You
Electronic Arts
Market cap:

$40.27 billion

Revenue:

$5.63 billion
Founded in 1982 at the dawn of the home console era, EA gave the world beloved titles like "The Sims," "Tiger Woods PGA Tour," the "FIFA" series, "Battlefield," "Medal of Honor" and "Madden NFL." EA stock soared in mid-July when BMO Capital Markets upgraded the stock to outperform. EA's "Apex Legends" had performed much better than the investment bank's analysts had expected, according to MarketWatch, particularly its new "Arenas" mode.
See:
Roblox
Market cap:

$44.2 billion

Revenue:

$1.15 billion
Roblox is not like the other companies on this list that create hardware, software or both and sell them to gamers. Roblox is a community of millions of people who develop their own games and share them for others in the community to play.
According to Forbes, the company has $1.6 billion in total cash and less than $229 million in total debt.
Read:
Activision Blizzard
Market cap:

$71.33 billion

Revenue:

$8.57 billion 
Founded in 1979 by rogue Atari employees, Activision was one of the early pioneers in the video game industry. "Pitfall" put the company on the map in the early 1980s, but it stayed relevant through the decades with blockbuster franchises like "Tony Hawk" in the '90s, and "James Bond" and "Call of Duty" in the 2000s.
Today, the company has three segments. The Activision Publishing segment publishes software for consoles, Blizzard Entertainment focuses on PC gaming and King Digital Entertainment deals with mobile gaming.
Check Out:
Nintendo
Market cap:

$71.2 billion

Revenue:

$15.8 billion
You know Nintendo from the mid-1980s when the Japanese gaming company introduced the world to Mario, Luigi and a strange, exciting world of sewer pipes, turtles and captive princesses. But Fusajiro Yamauchi originally launched the company to make playing cards almost exactly a century earlier in 1889. 
In the modern era, Nintendo gave the world not just "Super Mario Bros." and its many spin-offs, but also titles like "Donkey Kong," "The Legend of Zelda," "Pokémon" and "Metroid." From the time it first launched NES more than three decades ago, Nintendo has sold 790 million hardware units and 5 billion video games, according to Nintendo History.
Keep Reading:
Make Your Money Work Better for You
Sony Interactive Entertainment
Market cap:

N/A

 
Revenue:

$25.03 billion
As a division within Sony, Sony Interactive Entertainment's valuation is hard to nail down. TechJury estimated it as $13.4 billion in June. Coincidentally, that's precisely the dollar amount — $13.4 billion — that Americans were expected to spend on gaming over the 2020 winter holidays. That massive increase represented growth of 24% over the year before, according to Yahoo News and a report from market research firm NPD Group. The majority of that spending went to consoles, like the Sony PlayStation 5, which SIE released just in time for Christmas.
In May, Forbes called Sony Interactive Entertainment one of the keys to the Japanese company's "remarkable transition from hardware to services." Sony spun off the subsidiary after releasing the wildly popular PlayStation in 1994 as a stream to feed fresh games to its new console. It has since become one of Sony's most profitable divisions.
Check Out:
Tencent
Market cap:

$773.8 billion

Revenues:

$70 billion 
The biggest video game publisher in the world, the Chinese mega-company Tencent was founded in 1988. According to Statista, it owns 100% of Riot Games and Shark Mobs, as well as at least 80% of Grinding Gear Games and Supercell. It owns minority stakes in Epic Games, Fatshark, Funcom, Frontier Developments, Ubisoft, Activision Blizzard and more.
Its two most popular mobile gaming apps published in 2020 alone — PUBG and Honor of Kings — did $1.75 billion and $1.48 billion in revenues, respectively.
More From GOBankingRates

BEFORE YOU GO
See Today's Best
Banking Offers