Playing MarketWatch's Stock Exchange Game Kept Me from Losing $100K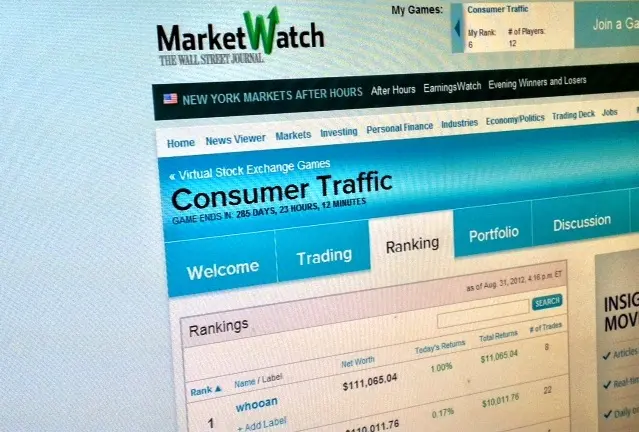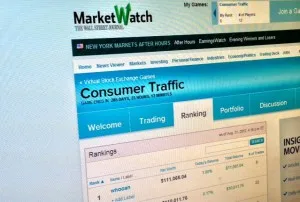 Any tenured investor can attest to the risks of investing in the stock market. The volatility of trading stocks is no game that the inexperienced need trifle with, that is until MarketWatch developed their virtual stock exchange game.
The stock market simulator truly mirrors the play of a fantasy sports league of sorts. Players enter a game, and are given $100,000 in virtual funds to gamble on the market recklessly.
Those who have been curious about trading stocks, but never had the gall to actually risk thousands in the process, can now have a taste of what trading feels like. With over 18,500 virtual stock exchange games currently in play, it's easy to see how this real-time simulator can teach rookie investors the ropes of Wall Street.
Four Lessons Learned Playing the MarketWatch Game
The Go Banking Rates team jumped on the opportunity to claim bragging rights in the virtual stock exchange game. A game was created and players immediately began initiating trades.
I'm a very timid gambler and only ever bring a maximum of $100 to the craps tables when visiting Las Vegas, so when the chance to spend a virtual $100,000 arose, I found myself out of my element — despite only toying with fake money.
The game was schedule to span one month, but I soon realized that I made a number of mistakes from the onset. Here are four stock market approaches that don't work:
#1. Clinging to Brand Loyalty
Sticking to my favorite household brands went two ways — some presented moderate risk with large cap ventures (e.g. Johnson & Johnson) while others kicked me in the rear. I chose stock from a lot of my favorite brands, like Apple and Google, which continue to do well.
This strategy, however, sent repeated blows to my virtual stock exchange portfolio as their performance dipped lower and lower each day — namely, the 100 shares I have in Netflix and the 200 shares I coughed up for Facebook. My support for these brands were clearly not doing me any good, yet there they sat in my portfolio.
#2. Conducting Shallow Research
I also bought stock impulsively on days that showed 13-15 percent growth. I bought really really high, naively anticipating value to continue upward. Had I performed the adequate research, however, I would have noticed that a particular stock went through a pattern of highs and eventually leveled out.
Ultimately, I lost thousands in the MarketWatch game for not taking the time to learn that particular stock's behavior.
#3. Neglecting to Diversify
I aimlessly browsed through the stocks on the stock market simulator, trying to get myself out of a rut. At two weeks into the game, I barely saw any gains at all compared to other players.
Then I noticed that most of the stocks in my portfolio were heavy in one particular industry. I had invested dominantly in technology (I even took a chance at Research in Motion, which got me nowhere) and only had one or two investments in the consumer goods market.
I used the MarketWatch's Map of the Market to identify other sectors that I could buy into. It was a bit too late for me to catch up, and that one oversight cost me headway in the game.
#4. Keeping a Pulse on the Portfolio
Unlike the other players in the virtual stock exchange game, I had a tendency toward the "set it and forget it" approach. While this method of investing is often recommended when deal with the real stock market, I neglected to consider the length of time the game was in play.
With the inconsistencies of the stock market's highs and lows it was unwise to build wealth using a long-term strategy in such a short period of time. While timing the market can be an even riskier game to play, considering the time you're allowing your money to work for you is important in selecting smart investments.
I allowed my investments to waste away with my inaction, and as a result, so did my prospects of making money.
Virtual Stock Exchange Game Preparation
From the first day of the virtual stock exchange game to the end, I remained steady at 6th place. While I'm relieved to have avoided slipping into the dead last position, 8th place, my low standing is evidence that next time around I'll need to perform a preemptive strike with the right combination of investment tactics.
The MarketWatch game creators provide a quick guide to navigating the game, including a short outline of the rules and how success is measured, which can be found in the Learning Center. Perhaps I should've used this from the beginning.
But just by fashioning a checklist of the points above, first-time investors can begin to grasp what the stock market is all about.