Should You Bet Big on Home Builders Like Warren Buffett Did?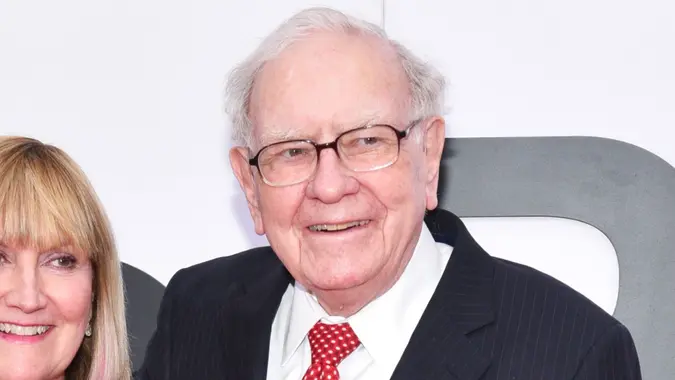 Erik Pendzich / Shutterstock.com
Coattail investors' — those that replicate the market moves of an ultra-successful investor — ears perked up Aug. 15 when it was reported Warren Buffett's Berkshire Hathaway had bought a combined $814 million of stock in major homebuilders.
As CNN indicated, this housing investment came at a time when the trusted market gauge, Home Depot, announced a second quarter sales drop of 2%. It also came while home prices and mortgage rates are still high and consumer sentiment low.
The investment giant picked up shares from D.R. Horton (DHI), Lennar (LEN.B) and NVR (NVR), according to information in a filing it made with the Securities and Exchange Commission (SEC). Most of the investment was made in D.R. Horton, the nation's largest homebuilder that's upping its stake in single-family rentals.
Buffett currently sits at No. 6 on the Bloomberg Billionaires Index and fifth on Forbes Real-Time Billionaires List with a net worth of about $118 billion. Known for his concentrated portfolio that produces strong returns over the long term, Buffett has the experience, the clout and the wealth to bet big and single-handedly sway market trends.
Many see these stock purchases as a positive sign for the struggling real estate market. But should you follow Buffett's lead?
Betting Big Like Buffett
The mere fact that Berkshire has made such a big splash in the home building industry speaks volumes. However, whether you should dive in depends on how confident you are that a housing rebound is on its way.
According to The Wall Street Journal, current homeowners — already locked into low mortgages — are unwilling to sell their homes, making new construction "the only game in town." Builder confidence fell in August but rose in the seven previous months this year.  
Publicly traded home builder shares have outperformed expectations this year and The WSJ is quick to point out that the three largest home builders, which include D.R. Horton and Lennar (and PulteGroup), did ever better.
Investors like Buffett are wagering that the housing market is due to not only rebound, but boom. Not surprisingly, all three housing companies saw rises in stock prices after news of Berkshire's interest was announced.
Spending around $814 million on stocks might seem like a confident gamble, but as Investor's Business Daily noted, the investments totalled less than 0.25% of Berkshire's stock portfolio, which was valued at $353.4 billion on June 30. The best bet for you might be to go in similarly small, but do go in.
Berkshire Hathaway bought the following stock in the second quarter, according to its latest 13F filing (all fund managers with at least $100 million in assets must publicly disclose their stock holdings to the SEC each quarter using a Form 13F):
DHI: 6 million shares worth $726.5 million as of June 30. At 0.2% of Berkshire's portfolio value, DHI is the holding company's 28th largest position.
NVR: 11,112 shares worth $70.6 million as of June 30. At 0.02% of Berkshire's portfolio value, NVR is the holding company's 37th largest position.
LEN.B: 152,572 Class B shares worth $17.3 million as of June 30. At 0.01% of Berkshire's portfolio value, LEN.B is the holding company's 45th largest position.
More From GOBankingRates