As Stock Market Cools, Experts Advise How To Brace for the Worst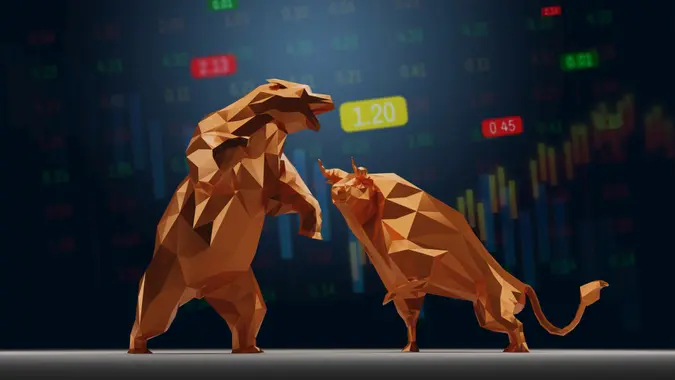 undefined undefined / Getty Images/iStockphoto
The stock market bulls that came raging out of the pen to start 2023 appear to have lost their steam, leaving some watchers worried that the rally has already peaked and stocks will spend the rest of the year in defense mode.
The Future of Finances: Gen Z & How They Relate to Money
Find: 3 Things You Must Do When Your Savings Reach $50,000
After a hot start to begin 2023, the Dow is now down about 1% for the year, CNN reported. At one point in mid-January, the average of 30 blue chips was up almost 4% for 2023. And while the S&P 500 and Nasdaq are up about 4% and 10%, respectively, year-to-date, they've also retreated from last month's highs.
Much of the damage occurred last week — Wall Street's worst of the year — amid signs that inflation pressures aren't easing as quickly as the Federal Reserve and investors might have hoped.
Many investors now expect the Fed to raise interest rates yet again at its March meeting. A month ago, the market had priced in a 15% chance that the central bank might leave rates as is, CNN noted. But that expectation has fallen to nearly zero. With more rate hikes coming, stocks are unlikely to keep pushing higher, analysts say.
"There is absolutely no reason for the stock market to surge from this point," John Norris, managing director at Oakworth Capital, told CNN. "Inflation will eventually subside, but there is the uncertainty of not knowing when the Fed will stop."
U.S. Economy Sending Mixed Signals
Meanwhile, economic data released on Feb. 27 was a mixed bag for the U.S. economy, Yahoo Finance reported. New orders for manufactured durable goods in January underperformed expectations, while pending home sales for the month outperformed expectations.
A bigger worry is corporate profits. As Yahoo Finance noted, data from Bespoke Investment Group shows that the percentage of companies lowering guidance is more than double the percentage raising guidance, signaling "lots of trouble for these smaller-cap companies that report late in the season."
The lowered outlooks are driven in part by nagging worries that the economy will take a hit from continuing rate hikes.
"Even if the economy avoids recession, 2023 will be a difficult year for corporate profits," said David Kelly, chief global strategist with JPMorgan Asset Management. "If there is a recession, profits will likely fall sharply."
Investors are advised to tread carefully in the coming weeks and months.
"A holiday-shortened week was more than enough time for bears to remind everyone that January's rally didn't mean stock-market volatility had been permanently exiled," Chris Larkin, head of trading and investing at E-Trade, told CNBC. "Investors are coming to grips with rates being higher for longer."
If you wonder where to put your investment dollars, a good place to start is with companies that produce "durable revenues," according to Lauren Goodwin, an economist and portfolio strategist at New York Life Investments.
"Investors should avoid cyclical industries like manufacturing and retail where labor costs are rising faster than sales and stick with value companies who can defend their margins," Goodwin wrote in a note shared with GOBankingRates.
Take Our Poll: Are You Concerned the US Debt Ceiling Issue Will Endanger Social Security?
More: Living Paycheck-to-Paycheck Down 4% — What Consumers Are Doing Right
Another thing you might want to avoid is getting your hopes up for a sustained rebound from last year's dismal performance.
"Expectations for returns need to be lowered, expectations for volatility need to be raised and, above all, additional investment discipline will be required," Seema Shah, chief global strategist at Principal Asset Management, noted in a report this week.
More From GOBankingRates