Suze Orman Says Investing in Stocks Provides 'Proven' Financial Security Against Inflation & Recession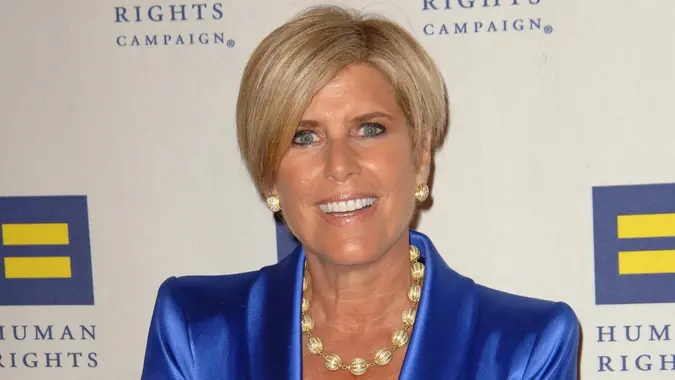 Picture Perfect/Shutterstock / Picture Perfect/Shutterstock
Personal finance expert and New York Times bestselling author Suze Orman said while she understands that investors are jittery because of inflation, investing in stocks for long-term goals "remains a smart investment strategy."
Orman argued in an April 17 LinkedIn post that patience pays off with stocks. She cited a Fidelity analysis which tracked a hypothetical $10,000 investment in the S&P 500 stock index made on Jan. 1, 1980 through the end of 2022.
"If the money was left untouched, the $10,000 invested in 1980 was worth $1.26 million at the end of 2022," Orman wrote. "But if an investor had gotten nervous at any point and had moved out of stocks from time to time, and managed to miss just the 5 best days for the S&P 500 during that 42-year investing stretch, the $10,000 would have grown to just $782,000."
"Clearly, patience paid off. This example is also a helpful reminder that recessions and bear markets don't undermine success."
This is why she recommended practicing what she termed "investing patience" — perhaps especially difficult given the current inflationary environment and potential looming recession. According to Fidelity's analysis, research indicated investors who stick with a disciplined long-term investing strategy tend to outperform those who constantly jump in and out of the market.
"But sometimes taking the long view can be challenging — particularly during tumultuous times in the financial markets or even in your own life," Fidelity suggested.
"Emotions — excitement when the market is up or fear when the market is down — can wreak havoc on your investment decisions, leading you to buy high and sell low or miss out on rapid recoveries that begin during uncertain times. However, history shows that when investors attempt to time the market to maximize gains and minimize losses, they often end up doing the exact opposite," Fidelity's analysis read, in part.
Take Our Poll: Would You Move for a Job That Paid You a $10,000 Signing Bonus?
Orman also reminded her readers that inflation — standing at 5% in March — is still a far cry from the Federal Reserve's goal of 2%. "The bottom line is that inflation always was, and always will be a long-term threat to financial security. And over the long term, stocks have proven to be the best way to earn inflation-beating gains," she added.
Finally, Orman also pointed out that while stocks are great long-term investments, she is not suggesting to only own these.
"The point is that having a portion of your investments invested in stocks has always been a smart way to plan for the potential for living costs to keep rising over the years," she said.
More From GOBankingRates