Truist Financial Corp Stock (TFC): Is It A Good Buy?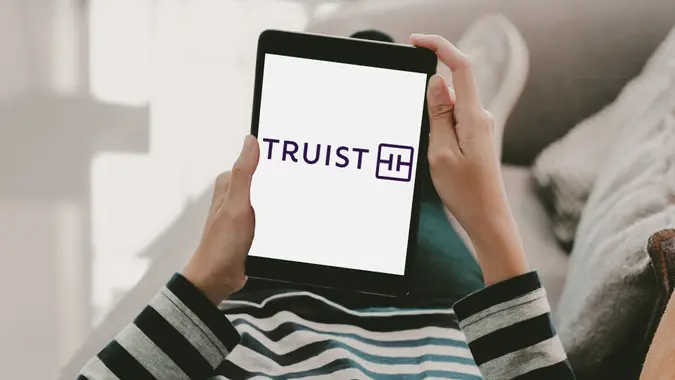 Being a financial holding company, Truist Financial Corporation operates through Truist Bank and nonbank subsidiaries. 
It offers a vast array of banking services to consumer and commercial clients, including automobile lending, bankcard lending, asset management, investment brokerage services, payment solutions, private equity investments and more. 
The company's services also include commercial finance, government finance, investment banking, and capital markets services. Truist Financial Corporation operates in three segments; Insurance Holdings, Corporate and Commercial Banking, and Consumer Banking and Wealth. 
As is evident, Truist Financial Corporation has a wide reach in the finance space. But does that make the Truist stock a good investment? Find more details below. 
Truist Financial Corporation Stock Current Price
The Truist stock is currently trading at $58.67 and has a market cap of $78.318B as of Dec. 30, 2021. The stock is expected to reach a target of $67.62 in a year.  
Is Truist Stock a Good Investment?
To determine whether a stock is a good investment or not, investors typically look at financial ratios. Here's a detailed look at the financial ratios of the Truist stock. 
P/E Ratio
The price-to-earnings ratio — P/E ratio for short — is a key metric investors use to determine if a stock is worth an investment. The P/E ratio is defined as the amount investors are willing to pay for each dollar of earnings in a stock. 
Since it gives a sense of the popularity of the stock and investors' interest, it's one of the most used financial ratios for investment. Investors can use the P/E ratio to compare a stock to: 
Its past performance 
The average PE ratio in the respective industry 
The average PE ratio in the market as a whole
Truist has a P/E ratio of 13.87. The figure is comparable to the market's average P/E ratio and shows that the stock is sufficiently valued by investors. 
P/S Ratio
The P/S ratio, or price-to-sales ratio, compares a stock's price to its sales. A lower score is considered better. Some people prefer the P/S ratio over other metrics since it's not as easy to manipulate it through deceiving accounting tricks. 
However, it's important to keep in mind that the P/S ratio is a good metric when judging a stock from a relative standpoint with similar companies since different sectors have different P/S ratio ranges. 
The Truist stock has a P/S ratio of 3.562, which is lower or comparable to most other stocks in the same industry. For instance, JPMorgan Chase has a P/S ratio of 3.991 while Bank of America Corp has a P/S ratio of 4.430. 
In terms of competition, Wells Fargo has the best P/S ratio of 2.713. 
Value Grade
The value grade also helps determine if a stock is worth the investment. Investors must consider stock valuation since investing revolves around buying low and selling high. Buying a stock that's going up means purchasing stocks that were undervalued initially. 
The A+ Investor from AAII grades a stock's value score. The score is the average of the following percentile ranks: P/S ratio, shareholder yield, P/B ratio, price-earnings ratio, enterprise-value-to-EBITDA ratio — also known as EV/EBITDA — and the price-to-free-cash-flow, or P/CF, ratio. 
Stocks with a value of 0 to 20 are considered deep value, while those with a score of 21 to 40 are good values. Since Truist Financial Corp has a 33 value score, it falls in the Value category. 
Judging from these financial ratios, the Truist stock seems like a good investment. 
Should You Invest in Truist Stock?
You should invest in the Truist stock if you are the type of investor who relies on dividends to grow your wealth. The company went ex-dividend last on Nov. 9, 2021. The ex-dividend date is important for investors since buying a stock after this date means a late settlement. Thus, it will not show on the record date. 
The company paid the dividend to investors on Dec. 1, 2021 to those who bought the stock before Nov. 10. 
The next dividend payment of Truist Financial Corporation will be $0.48 a share. In 2020, the company gave $1.92 to its shareholders. 
What the Next 12 Months Holds
If you take a look at the last 12 months of dividend distributions, you'll notice that the company has a 3.0% trailing yield on its existing stock price. 
When investing in such companies, investors should know that dividends come from a company's earnings. If a company is paying more in dividends than it is earning in profit, the investment could be unsustainable. 
Since Truist Financial Corporation pays 43% of its earnings as dividends, investors can consider the stock sustainable. Along with this, another thing that makes Truist Financial Corporation stock an attractive option is the company's consistent growth. 
The company is growing rapidly and reinvesting most of its profits in the business. It's a dependable investment combination because it creates sustainable financial value for investors down the line. 
Truist Stock Hedge Fund Interest 
Recently, Truist Financial Corporations has seen a decrease in hedge fund interest. At the end of the third quarter of 2021, the stock was in 34 hedge fund portfolios. Truist Financial Corporation has noticed a decline in interest from all hedge funds tracked by Yahoo Finance, which means that the stock has underperformed in this regard. 
Final Take
The Truist Financial Corporation stock is trading at an attractive price at the moment and has seen a significant increase in price since the market's last close. Therefore, investors can consider investing in Truist stock. 
But if you're a hedge fund investor, this stock is not for you since Truist stock has experienced a decrease in hedge fund interest from stakeholders. 
Good To Know

Financial ratios can be beneficial in systematically examining the potential of a stock and its success relative to its past performance and the current performance of other stocks in the same industry. According to Forbes, ratios like P/E, P/S, and PEG are very helpful in finding the financial health of a company before investing in its stocks. But make sure you're not only considering financial ratios since company news and annual income reports also influence the success of a stock. 
Our in-house research team and on-site financial experts work together to create content that's accurate, impartial, and up to date. We fact-check every single statistic, quote and fact using trusted primary resources to make sure the information we provide is correct. You can learn more about GOBankingRates' processes and standards in our editorial policy.