10 Value Stocks To Invest In Now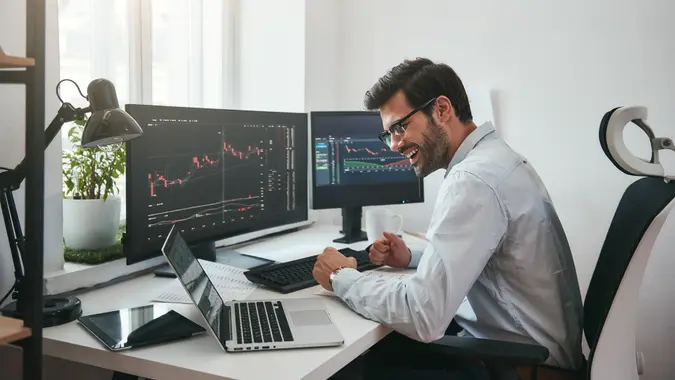 dima_sidelnikov / iStock.com
A value stock is one that seems to be undervalued based on a combination of factors, such as its valuation history, current stock price, dividend yield, dominant market share and others. Of course, this definition begs the question: Why wouldn't investors only buy value stocks?
See: Demand for Gold Is Up. Here's Everything You Need To Know.
The reason is that so-called "value stocks" generally aren't newsmakers — some would even classify them as "boring." Think about the stocks you hear on the financial news all day; typically, they are the exciting, high-flying stocks like Tesla and GameStop that make huge moves. Tesla, for example, gained over 700% in 2020, while GameStop popped over 400% in a single week in early 2021.
Meanwhile, oil and gas companies, utilities and other more traditional companies tend to lumber along under the radar. But that doesn't mean these names can't generate big profits.
What Are the Best Value Stocks?
Here are 10 stocks that can be considered values in today's market:
Comcast Corp. (CMCSA)
M&T Bank Corp. (MTB)
Qualcomm Inc. (QCOM)
Meta Platforms Inc. (META)
Global Ship Lease Inc. (GSL)
Insteel Industries Inc. (IIIN)
American Tower Corp. (AMT)
T-Mobile US Inc. (TMUS)
Exxon Mobil Corp. (XOM)
Camping World Holdings Inc. (CWH)
1. Comcast Corp. (CMCSA)
Stock price as of May 15: $40.20
Comcast is a global media and technology giant. Its primary businesses — which focus on connectivity services, entertainment platforms, content and theme park experiences — serve hundreds of millions of people worldwide, according to company information on its website.
Despite challenges such as shrinking cable viewership, Comcast netted 75,000 additional customer relationships and added a record 1.3 million wireless customer lines in 2022, according to the company's fiscal-year 2022 earnings presentation. A healthy balance sheet let Comcast return a record $17.7 billion to customers through dividends and stock repurchases.
Analysts reported by Yahoo Finance rate the stock a 2.3 on a scale of 1, which is a "strong buy" rating, to 5, which is a "sell" rating. The average price target is $44.90. BofA Securities upgraded its recommendation to "buy" in May, and Deutsche Bank, Benchmark and Citigroup all maintained their "buy" ratings.
2. M&T Bank Corp. (MTB)
Stock price as of May 15: $114.89
M&T Bank Corp. is a holding company for M&T Bank, which ranks in the top 20 among U.S. full-service commercial banks. Its operating segments include business banking, commercial banking and real estate, residential mortgageand retail banking. M&T also provides trust and wealth management, institutional brokerage and securities and investment management services.
The financial institution's stock has suffered this year, as have many other bank stocks. However, the bank reported that despite bank failures earlier this year, its own deposit base is intact. Morningstar equities strategist Eric Compton wrote in an April article that he believes M&T's recent profitability dip was already priced into the stock.
MTB is down over 20% this year, and with an 8.87 price-earnings ratio, it could be trading at a bargain price right now. In addition, M&T's dividend yield is a respectable 4.67%.
3. Qualcomm Inc. (QCOM)
Stock price as of May 15: $106.28
Qualcomm is a major player in the wireless and patent management industries, with interests in 5G and chipsets, among other technologies. Despite supply chain bottlenecks and shortages, Qualcomm stock held its own until prices dipped at the end of 2021. Qualcomm hasn't yet seen the rally CEO Cristiano Amon told Fox Business he expected this year, but a 3.08% dividend yield eases the wait.
With a P/E ratio sitting at 11.20, Qualcomm stock is a solid value. Analyst price targets average $133.81, and analysts say the stock is more than 20% undervalued as of May.
4. Meta Platforms Inc. (META)
Stock price as of May 15: $238.86
Meta, formerly known as Facebook, took a beating in 2021 and the first three quarters of 2022 but has been on an upswing since last October. However, despite vulnerabilities such as privacy issues and unease around artificial intelligence, some believe the recent sell-off was unwarranted because of Meta's unrivaled dominance as a market leader, Seeking Alpha reported. The steady increase over the last six months seems to bear that out.
Over 3.5 billion people, representing 47% of the world's population, use a Meta social media platform at least once a month, according to Statista. Analysts rate META a "strong buy" and predict an average price target of $272.27, which is well above the stock's price of $238.86 when the markets closed on May 15.
5. Global Ship Lease Inc. (GSL)
Stock price as of May 15: $19.24
Global Ship Lease owns container ships and leases them to shipping companies. The London-based company provides maintenance, crews, lubricants, insurance and technical operations for its charters but does not share fuel costs, and it has no direct exposure to the freight market.
GSL's revenue has grown steadily over the last three years, rising from $261.1 million in 2019 to $604.49 million in 2022. Profits have more than doubled in that time, and the company has paid off a significant amount of debt.
Analysts give GSL a "strong buy" rating. The average price target is $29.50. The stock appears to be seriously undervalued and could see 106% annualized returns over the next five years based on projected earnings growth.
6. Insteel Industries Inc. (IIIN)
Stock price as of May 15: $30.30
Insteel Industries manufactures steel wire reinforcement products for concrete construction. As the largest company of its kind in the U.S., Insteel focuses on nonresidential construction, with residential construction making up 15% of its sales.
Despite raw material shortages, labor shortages and a weak residential construction market, Insteel finished its 2022 fiscal year with its highest-ever annual revenue and net earnings. Analysts rate the stock a "strong buy." With a price target of $37 and a P/E ratio of 7.47, Insteel is an undervalued stock that could produce 129% annualized returns over the next five years, according to Yahoo Finance.
7. American Tower Corp. (AMT)
Stock price as of May 15: $195.46
American Tower Corp. is a real estate investment trust that may not be familiar to casual investors, but it is just beginning to take root across the globe. American Tower has the largest portfolio of broadcast towers in the U.S. and is expanding its wireless infrastructure as demand soars.
American Tower stock, like the market overall, has been volatile over the past year, but analysts see it making solid gains. The average price target among analysts polled by Yahoo Finance is $241.27, about 23% above the current price.
8. T-Mobile US Inc. (TMUS)
Stock price as of May 15: $144.62
T-Mobile is America's third-largest wireless carrier following its 2020 merger with Sprint. Over the next several years, T-Mobile expects to expand its network capacity and speed by 14 and 15 times, respectively, and provide 5G service to 99% of Americans.
These are lofty goals, to be sure. But the company had its strongest year ever in 2021 and fared well in 2022, finishing the year with record postpaid net account additions and service revenues, establishing the carrier as America's fastest-growing broadband provider.
On June 21, 2022, the company announced it had reached an agreement with Dish to give its customers access to T-Mobile's 5G network. This resulted in what Mike Katz, T-Mobile's chief marketing officer at the time, said is a "multibillion-dollar revenue commitment for our business." It's also partnering with SpaceX to provide cell coverage across the U.S., including to remote locations where signals tend to fail, according to Zacks.
An average price target of $179.73 supports analysts' "buy" consensus.
9. Exxon Mobil Corp. (XOM)
Stock price as of May 15: $105.07
Big oil companies are prototypical value stocks, as they generally trade at low multiples and pay high dividends. But ExxonMobil was already on the move when winter set in in 2021, and the momentum has continued amid the ban on Russian oil due to that country's invasion of Ukraine, albeit with a few hiccups.
Oil and gas prices hit multiyear highs in March 2022, and gas prices hit an all-time high in June of that year, boosting earnings across the energy industry. Although prices have dropped since then, ExxonMobil's stock is up 14.38% year over year and is paying a 3.46% dividend.
10. Camping World Holdings Inc. (CWH)
Stock price as of May 15: $25.82
Investors with an appetite for risk might consider Camping World as a long-term investment. While much of the COVID-19 fear that drove travelers to RVs has faded, high airfares and hotel rates could keep demand high for the foreseeable future.
Analysts are bullish on the oft-maligned stock, giving it a "buy" rating and predicting an average price target of $27.78.
What Is a Value Stock?
A value stock is one that is trading for less than its worth. These stocks typically represent companies that haven't yet caught the attention of investors or, as Merrill Edge phrased it, have fallen out of favor with investors despite having solid fundamentals. As a result, they're priced low compared to the overall market and comparable stocks.
Value Stocks FAQ
Still have questions? You're not alone. Here's what people are asking about value stocks.
Why would you buy a value stock?

Value stocks appeal to investors who want to get in early, before a stock has been "discovered," and hold for the long term as the stock grows. Investors looking for deals also like value stocks.

Are value stocks a good investment?

Value stocks can be a good investment, especially when the economy is early in a recovery phase. However, there's never a guarantee. Holding stock for a long time can earn you significant gains — as Warren Buffett would attest — but it also means you're exposed to price fluctuations. In addition, value stocks often represent newer companies with limited track records.
Research value stocks before you buy, and never invest more than you can afford to lose.

Should I buy growth or value stocks?

Which type of stock is better, growth or value, depends on your investment style, your goals and your tolerance for risk.
Growth stocks might be the better choice if you take a hands-on approach to managing your portfolio. They're priced relatively high, so you're buying high with the intention of selling even higher. It's a riskier way to invest, but it can pay off with faster and higher growth.
More conservative investors and those who like to "set and forget" their holdings are better off with value stocks. Value investors buy low and wait for the stock to grow over the long term.
Daria Uhlig contributed to the reporting for this article.
Data was compiled on May 16, 2023, and is subject to change.
Our in-house research team and on-site financial experts work together to create content that's accurate, impartial, and up to date. We fact-check every single statistic, quote and fact using trusted primary resources to make sure the information we provide is correct. You can learn more about GOBankingRates' processes and standards in our editorial policy.