10 Value Stocks To Invest In Now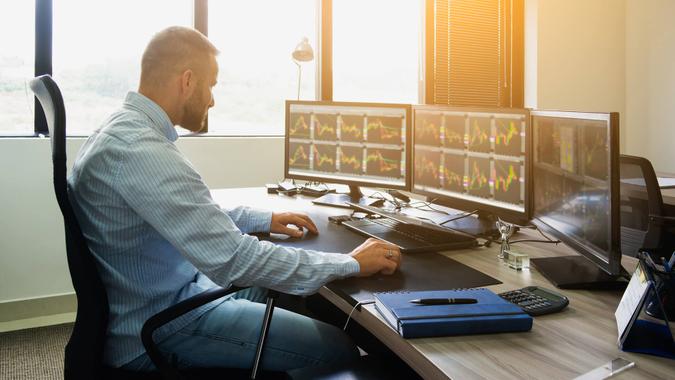 wsfurlan / iStock.com
A value stock is one that seems to be undervalued based on a combination of factors, such as its valuation history, current stock price, dividend yield, dominant market share and others. Of course, this definition begs the question: Why wouldn't investors only buy value stocks?
The reason is that so-called "value stocks" aren't generally newsmakers — some would even classify them as "boring." Think about the stocks you hear on the financial news all day; typically, they are the exciting, high-flying stocks like Tesla and GameStop that make huge moves. Tesla, for example, gained over 700% in 2020, while GameStop popped over 400% in a single week in early 2021.
Meanwhile, oil and gas companies, utilities and other more traditional companies tend to lumber along under the radar. But that doesn't mean these names can't generate big profits. Here's a look at 10 stocks that can be considered values in today's market.
1. Rent-A-Center Inc. (RCII)
Stock price as of June 20: $20.52
Rent-A-Center leases furniture, appliances and electronics to consumers across a network of over 2,000 stores and offers pay later and rent-to-own options. The retailer's recent acquisition of Acima Holdings, which provides rent-to-own financing at over 15,000 retail stores, should enable Rent-A-Center to expand its partner base. In its first-quarter 2022 earnings report, Rent-A-Center attributed the acquisition to a 31% year-over-year increase in revenue.
Analysts reported by Yahoo Finance rate the stock a 1.6 on a scale of 1 (strong buy) to 5 (sell). The average price target is $46.75 in a range of $27 to $72, which is unchanged since last month and suggests the $20.52 price as of June 20 represents an opportunity to buy a dip.
2. M&T Bank Corp. (MTB)
Stock price as of June 20: $162.34
M&T Bank Corp. is a holding company for M&T Bank, which ranks in the top 20 among U.S. full-service commercial banks. Its operating segments include business banking, commercial banking and real estate, residential mortgage and retail banking, but M&T also provides trust and wealth management, institutional brokerage and securities and investment management services. The financial institution's stock suffered last year, as did many other bank stocks. However, interest rates are rising, and bank profits are likely to follow.
MTB is up 5.70% so far this year and 13. 54% over the past year — performance that compares favorably to the Dow Jones U.S. Banks Index, which is down over 24% for the year. M&T's price-earnings ratio is 12.40 and the stock pays a 2.96% dividend yield.
3. Qualcomm Inc. (QCOM)
Stock price as of June 20: $120.99
Qualcomm is a major player in the wireless and patent management industries, with interests in 5G and chipsets, among other technologies. Despite supply chain bottlenecks and shortages, Qualcomm stock held its own until prices dipped at the beginning of the year. Looking forward, Qualcomm CEO Cristiano Amon told Fox Business he expects more balance between demand and supply in the second half of the year, and a gradual easing of the crisis after that, allowing Qualcomm to ramp up production.
With the stock trading near its 52-week low and its P/E ratio sitting at 12.74, Qualcomm stock is a solid value. Average analyst price targets range from $150 to $471.60, with predictions averaging $202.67.
4. Meta Platforms Inc. (META)
Stock price as of June 20: $163.74
Meta, formerly known as Facebook, has taken a beating over the last six months, and shares are trading at their lowest price in over two years. However, despite vulnerabilities such as privacy issues, some believe the recent sell-off is unwarranted because of Meta's unrivaled dominance as a market leader, Seeking Alpha reported.
Over 3 billion people, representing about 45% of the world's population, use a Meta social media platform at least once a month. Analysts rate META a "buy" and predict an average price target of $296.63, which is a slight downgrade compared to May but still well above the stock's closing price of $157.05 on June 21.
5. CVS Health Corp. (CVS)
Stock price as of June 20: $88.66
CVS Health is a "boring" retailer/pharmaceutical stock with a pedestrian 15.79 P/E ratio and an attractive 2.32% dividend yield. Analysts have a consensus "buy" rating on the stock with a median price target of $119, over 34% above the current share price.
In one sense, investors can rely on CVS being a defensive stock. Consumers will always need drugs and healthcare products in any type of economy, and at-home COVID tests and vaccines are likely to figure prominently for some time to come — a fact reflected in CVS' first-quarter 2022 earnings and revenue, which beat analysts' expectations. Additionally, CVS' dividend increase went into effect in February.
A $10 billion stock buyback CVS has in store could also boost prices. However, CVS has a lot riding on its recent acquisition of Aetna and launch of Aetna Virtual Primary Care practices.
6. NRG Energy Inc. (NRG)
Stock price as of June 20: $36.33
As a utility with a P/E ratio of 2.25 and a 3.85% dividend yield, NRG Energy is clearly categorized as a value stock. NRG is turning its focus toward more futuristic power technologies, and it has room to grow.
The stock was on the rise following its May 6 earnings release, where the company reported earnings and revenue that beat Wall Street estimates. Analysts reported by Yahoo Finance give the stock a "buy" rating and an average price target of $45.50, a slight upgrade over last month, and a high target of $52.
As the Biden administration pushes forward on its green energy and infrastructure priorities, companies like NRG may be able to expand their reach into new technologies.
7. American Tower Corp. (AMT)
Stock price as of June 20: $236.17
American Tower Corp. is a real estate investment trust that may not be familiar to casual investors, but it's been printing money as 5G technology is just beginning to take root across the globe. American Tower has the largest portfolio of broadcast towers in the U.S. and is expanding its wireless infrastructure as demand soars.
American Tower stock, like the market overall, has been volatile this year, but analysts see it making solid gains. The average price target among analysts polled by Yahoo Finance is $286.22, representing a 21% rise from current levels. The stock also pays a 2.42% dividend yield, helping to keep it in the "value" camp.
8. T-Mobile US Inc. (TMUS)
Stock price as of June 20: $127.59
T-Mobile is America's third-largest wireless carrier following its 2020 merger with Sprint. Over the next several years, T-Mobile expects to expand its network capacity and speed by 14 and 15 times, respectively, and provide 5G service to 99% of Americans.
These are lofty goals, to be sure, but the company had its strongest year ever in 2021 and achieved industry-leading momentum in wireless, according to a statement accompanying its earnings release for the fourth quarter.
On June 21, the company announced it had reached an agreement with Dish to give its customers access to T-Mobile's 5G network, resulting in what T-Mobile Chief Marketing Officer Mike Katz said is a "multibillion-dollar revenue commitment for our business."
An average price target of $166.20 supports analysts' "strong buy" consensus.
9. Exxon Mobil Corp. (XOM)
Stock price as of June 20: $86.12
Big oil companies are prototypical value stocks, as they generally trade at low multiples and pay high dividends. But ExxonMobil was already on the move when winter set in last year, and the momentum has continued amid the ban on Russian oil due to that country's invasion of Ukraine, albeit with a few hiccups.
Oil and gas prices hit multiyear highs in March, and gas prices hit an all-time high in June, boosting earnings across the energy industry. ExxonMobil's stock is up over 40% since the beginning of the year and is paying a hefty 4.09% dividend. Several major investment firms, including Credit Suisse and Goldman Sachs, maintained or upgraded their "buy" or "outperform" ratings in June.
10. Camping World Holdings Inc. (CWH)
Stock price as of June 20: $22.81
Investors with an appetite for risk might consider Camping World as a long-term investment. While much of the COVID-19 fear that drove travelers to RVs has faded, high airfares and rampant flight cancellations could keep demand high for the foreseeable future.
Analysts are bullish on the oft-maligned stock, which is currently trading near its 52-week low, giving it a "buy" rating and predicting an average price target of $34.63.
Daria Uhlig contributed to the reporting for this article.
Data is accurate as of June 21, 2022, and is subject to change.
Our in-house research team and on-site financial experts work together to create content that's accurate, impartial, and up to date. We fact-check every single statistic, quote and fact using trusted primary resources to make sure the information we provide is correct. You can learn more about GOBankingRates' processes and standards in our editorial policy.