The 5 Best Portfolio Analysis Tools for 2022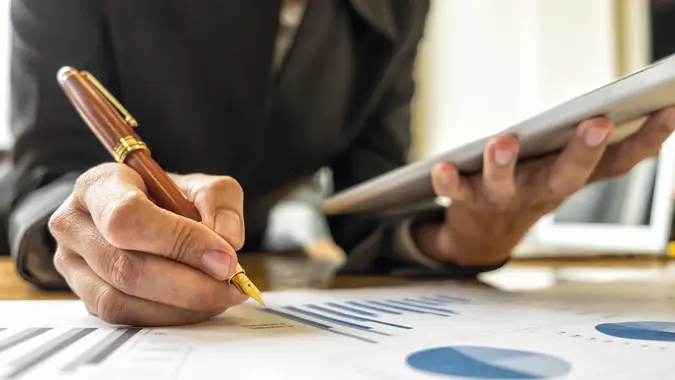 veerasakpiyawatanakul / Getty Images/iStockphoto
If you have your investment portfolios in different accounts, you know how challenging and time-consuming it can be to keep tabs on everything. Fortunately, several powerful portfolio analysis tools can make your financial management a lot easier.
Some of these tools are free, while others are paid. With several analysis tools, it can be overwhelming to tell which one is the best on the market. Keep reading to learn more about the best portfolio analysis tools.
5 Best Portfolio Analyzer Tools
If you want to organize your investment portfolio, you may want to consider the following portfolio analysis tools.
1. Personal Capital
Personal Capital is one of the best portfolio analysis tools you can use. One of its selling points is that opening an account is free. It also enables you to link all of your accounts. Plus, you can aggregate of all your financial data right on your dashboard. By categorizing your investments by asset class and sorting your investment data, Personal Capital provides insight into all of your investments and the fees you're paying.
Pros
The basic version is free
You get access to all your finances in one place
Provides access to expert financial advisors
Cons
Signing up for the free version opens you up to targeted ads
Their tracking tools aren't as sophisticated as other portfolio analyzers
2. Quicken Premier
Quicken has been in the finance business for decades now. With Quicken Premier, you can aggregate all your financial accounts and analyze them all in one place. This software is built to not only track the performance of your investments but also provide you advice on when to buy or sell stock.
Quicken Premier enables you to minimize the taxes you generate through investments. Additionally, you get to customize their management reports on your performance, rates of return and capital gains. Quicken Premier is a handy tool that you can use on your mobile device or the web.
Pros
You can export transactions to Excel.
Access to Morningstar's Instant X-Ray tool
It helps you minimize your investment taxes.
30-day money-back guarantee
Cons
Paid subscription service
Comes as a package deal with many financial services you won't need as an investor
3. Morningstar Portfolio Manager
The Morningstar Portfolio Manager comes with a wide variety of analysis tools to provide you with information about all your investments. This service is particularly suited to mutual funds. Morningstar's tools can help you narrow down the list of stocks to find exactly what you're looking for. You also get basic data about your investments, including the daily changes and current prices.
Morningstar is especially popular for its Instant X-Ray feature, which is part of its premium package. With this feature, you get detailed information regarding your portfolio's asset allocation.
Pros
The Instant X-Ray feature offers in-depth analysis.
Limited ads
14-day money-back guarantee
Cons
Costly at $199 a year
Limited features for the free version
Good To Know

Not all portfolio analysis tools are created the same. The tool that works for another person may not work for you. When choosing one, your needs and preferences should come first.
4. Portfolio Visualizer
Portfolio Visualizer is a robust tool that offers a wide variety of services. It can be a little intimidating at first because of how technical it is, but it's easy to use and understand. One of its best tools is one that offers Monte Carlo simulations. They offer backtesting allocations to help you select the best asset allocation for you.
This analysis tool will analyze nearly all your securities and asset classes. With Portfolio Visualizer, you can analyze alternative asset allocations such as real estate, gold and all manner of precious commodities.
Pros
It's free.
You'll get at least eight optimization strategies.
The backtest portfolio analyzes performance over the past couple of years.
Cons
A bit technical for new investors
Customer service is through email only
5. Kubera
Kubera can help you track your net worth and portfolio. It's a great financial tracking tool for anyone with alternative assets, including cryptocurrency. Kubera is one of the best analysis tools that will work with your entire portfolio. Additionally, you can rely on it for privacy.
Pros
Good for alternative assets, including cryptocurrency
Easy to customize 
Guaranteed privacy
Cons
No mobile version
No free plan
Final Take
Managing your investment portfolio does not have to be a headache anymore, now that there are plenty of portfolio analyzer tools to choose from. While many of these options are free or offer features that are free, consider what value you might get out of each service for managing your particular investments. 
Outsourcing investment management to analysis tools will help you simplify the task. Plus, you can get expert financial advice regarding your investments with these tools.