I'm a Financial Expert: Here's How Investing in Gold Protects Your Money Compared to Treasuries, Annuities, Crypto and Mutual Funds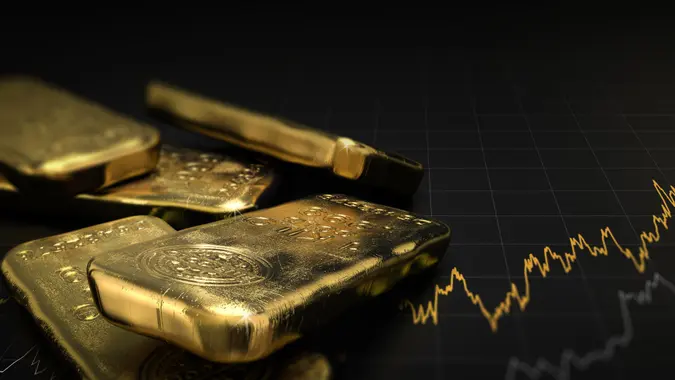 Olivier Le Moal / iStock.com
Costco can't seem to keep gold bars in stock, according to news reports. Even with a limit of two bars per customer, priced at just under $2,000 per 1 oz. bar, Costco CFO Richard Galanti told investors, "[W]hen we load them on the site, they're typically gone within a few hours."
The news speaks to a recent trend of people seeking greater security for their investments during uncertain times. But is buying gold bars a good way to hedge against inflation and protect your retirement income?
GOBankingRates spoke to Jonathan Rose, CEO of Genesis Gold Group, about the benefits of investing in gold, how to store it and how you can use the investment to protect your retirement funds.
Benefits of Investing in Gold
"The trend I've seen this year is people want to have something tangible in their hand," Rose said. "They want the security of having something they can hold and touch."
He noted that, after the bank failures last spring, people were flocking to Genesis to move their money to a safer haven — such as gold and silver.
Not Tied to the Market
One of the biggest benefits, Rose said, is that the value of precious metals, unlike stocks, equities, and mutual funds, are not tied to the overall financial market.
"Crypto, stocks, and equities are all paper-based assets and items that really correlate to events in the marketplace that can have a negative impact on their value," he explained. "On the other side of that scale, you have precious metals."
Solid History of Appreciation
In addition, if you're looking for an investment that should appreciate faster than inflation, gold has a proven track record. "You should look at the track record of absolutely anything you're investing in," Rose said, pointing out that gold should be considered a long-term investment.
"If you look at gold over five years, the metal has appreciated 55 to 60%, which is pretty outstanding," he said.
Gold may exhibit volatility in the short-term, often based on supply and demand, but when the rest of the financial markets are uncertain, gold provides a tangible asset that's likely to appreciate.
"Obviously, we don't have a crystal ball," Rose said, "But we have a pretty good roadmap."
Liquidity
"Gold is probably just as liquid as the cash you're holding onto," Rose told GOBankingRates.
If you're wondering whether you should choose gold coins or gold bars, often called gold bullion, it depends on where you intend to store it and how you plan to use it. "Generally speaking," Rose said, "coins are considered an international currency, and far easier to transport."
Gold vs. Gold Stocks and ETFs
Of course, if you believe gold is a good investment but aren't ready to deal with physical assets, you can invest in gold mining stocks or ETFs that track the market price of gold.
But this path comes with inherent drawbacks, according to Rose. "When you invest in a gold mining stock, you're really investing in the management of the company," he said. "Are they really going to mine any gold to make a profit?"
Likewise, you can buy an ETF that tracks the price of gold. But these kinds of investments are still also tied to the market as a whole. Plus, they lack the liquidity and tangibility of gold that appeals to many investors and enthusiasts.
"You're not going to be able to hold that [investment] in your hand and redeem it for actual gold. Only gold is worth gold," he said. "People like the fact that having something tangible gives them peace of mind."
How To Roll Over Your Retirement Funds into Gold
If you have an IRA, Roth IRA, or 401(k), you can roll that money into gold bars for added security, Rose explained.
His company, Genesis, helps people roll over their retirement accounts, tax-deferred, into gold bars or coins. "It's still an IRA, but the difference is rather than investing in small cap stocks, you now have physical metal," he said.
Other customers opt to cash out their retirement account and take delivery of the precious metals. "Those people can either keep it at home in a safe, or keep it at a local bank," he said. Genesis can also provide secured storage through the Delaware Depository.
Getting Started With Buying Gold
Rose said that Genesis customers require a starting investment of at least $25,000. Most investors seeking a way to protect their retirement funds begin with much more than that. But you don't need thousands to get started investing in precious metals.
"Everybody has to start somewhere," Rose said. He will direct customers with less money to a local coin shop to purchase silver coins within their budget.
Or, if you have $2,000 and a Costco membership, you can always wait for the wholesale club to restock their inventory.
More From GOBankingRates