This Man Lost $14,000 in an Investment Scam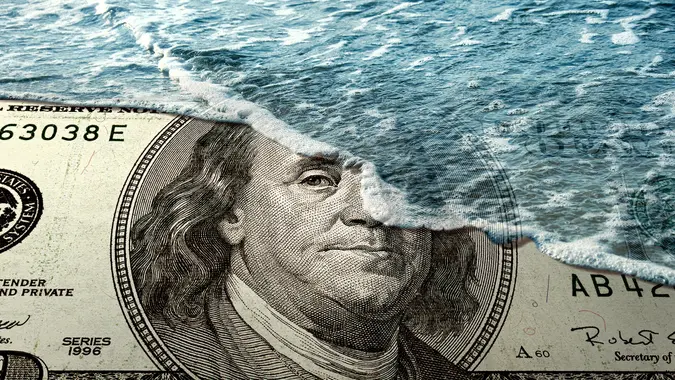 imagedepotpro / Getty Images/iStockphoto
When it comes to investing, Nick Morrison is no novice. He's been buying and selling stocks on online platforms such as E-Trade for about 15 years.
So when he saw ads for a binary options trading platform, they caught his attention. He had dabbled with options trading through his E-Trade account, but he liked the opportunity that binary options trading offered to make money quickly. "You can do very well if everyone's on the up and up," Morrison said.
Click through to read more about how to choose the best investments.
But the website he chose to trade on wasn't on the up and up. It was a sophisticated scheme that stole more than $1 million from thousands of investors, including Morrison. By the time he realized he'd been scammed, Morrison had lost about $14,000.
What Are Binary Options?
With binary options, you make a prediction about whether a particular market or security will go up or down by a certain time or date. You don't actually buy the underlying asset. If your prediction about the asset is correct, you get a fixed return — or you get nothing if your prediction is wrong.
"You have to have patience with trading," Morrison said. But with binary options trading, you can make a prediction about whether the price of an asset will go up or down over the next few minutes. As a result, you learn quickly whether you've made or lost money, can settle your trade, go back and trade again, he said.
Binary options can be legally traded on registered exchanges, said Dan Rutherford, director of the Office of Customer Education and Outreach at the Commodity Futures Trading Commission. In the U.S., there are only three designated contract markets where binary options can be traded: Cantor Exchange, Chicago Mercantile Exchange and the North American Derivatives Exchange (NADEX).
"The problem is that there are a lot of offshore entities — companies that commit fraud — that use the same sort of financial product as a scam," Rutherford said.
More on Choosing Good Investments: 25 Money Experts Share the Best Way to Invest $1,000
How a Phony Binary Options Trading Site Fooled a Savvy Investor
The ads Morrison saw for a binary options trading platform led him to a website that looked legitimate. "The platforms looked great online," Morrison said.
What impressed him most was the real-time market data the site featured, which matched the scrolling ticker information he saw on his E-Trade account. "To me as a trader, there's nothing more important than real-time trade information," Morrison said.
The site also had several training videos that explained how to use its platform to trade binary options. It had https:// in the URL, indicating that it was secure. It even had copyright information. "Those little things you look at [to tell if a site is legitimate], they looked good," Morrison said.
A Small Investment Could Lead to Big Earnings
The site allowed investors to start with a small investment of as little as $100 and use a credit card to fund trades. Morrison used his debit card because he said he rarely uses credit and opened an account with $250. He lost his first trade but then started winning. So he put $1,000 into his account.
"If you're savvy, you can really start to win these trades and do very well," Morrison said. In fact, he started placing trades one night around 7 p.m. and had made $7,000 by 11 p.m. One of the cons of online trading can be its addictive nature.
He then decided to cash out $1,000 from his account and got the money within three to four days. But he also started getting calls from a broker at that point. "That's when everything started getting crazy for me," Morrison said.
High-Pressure Tactics Lured Him in More
The broker who called Morrison praised his investing skills and offered him the opportunity to take advantage of the trading platform's silver, gold or platinum packages. Morrison opted for the gold package, which required an investment between $5,000 and $10,000. In return, he was guaranteed six insured trades — which meant he wouldn't lose any money on those trades even if his market prediction was wrong.
Morrison invested $7,500 because he thought he had nothing to lose. He actually made enough correct predictions that his account balance grew to more than $20,000.
But then he got a call at 11 p.m. one night from a broker overseas telling him about an opportunity to make money with a binary options trade on gold. The broker told Morrison that it was a hot deal and he had to get in on it right then. Morrison agreed to invest $2,000 and told the broker he wanted to use one of his insured trades for the transaction.
However, the broker changed the trade to $5,000 and didn't insure it. And Morrison lost that money. Then, another broker called and offered him an opportunity to get five insured trades with a $10,000 investment and a $10,000 matching investment from the company. "Luckily, that night I decided against it," Morrison said.
Related: Safe Investments: 9 Low-Risk Options for Your Money
He Realized He'd Been Scammed
The next morning, Morrison realized he didn't like the high-pressure sales tactics of the company, so he decided to start taking money out of his account. He then started getting calls every 10 minutes from brokers pressuring him to invest $10,000 to get the insured trades and the $10,000 matching investment. "These guys would not leave me alone," Morrison said.
Then his bank called to say that a $10,000 withdrawal had been requested from his account and wanted to confirm whether he had authorized the withdrawal. "I was like, 'Absolutely not,'" Morrison said. "These guys tried to ping my debit card. The bank was about to take money out of my savings."
So Morrison tried to reach the primary broker he'd been in contact with but was told he was unavailable. When he said he wanted to withdraw the money from his account, he was told he had to talk to his managing broker. Whenever Morrison called, the managing broker was supposedly busy. Yet, he continued to get calls from other brokers trying to get him to invest more.
"Looking back, I feel like it was … all fake," Morrison said. "There was never a platform. They were never placing trades. It was like a play — a production — and they were very good at it."
When he realized he was never going to get back the $14,000 he invested, Morrison gathered as much information about the phony platform as possible. He got names of brokers and even promised to wire more money to get account information for the operation.
Morrison provided the information he collected to the Commodity Futures Trading Commission, which oversees options markets and launched an investigation into the phony trading platform. The CFTC recently filed a complaint against two people for operating a fraudulent binary options scheme.
Learn More: Everything About Investing That You're Too Embarrassed to Ask
How to Avoid Investment Scams
If you become a victim of a binary options or similar investment scam, you likely won't get your money back, Rutherford, of the CFTC, said. That's why it's important to spot investment scams to avoid becoming a victim in the first place.
Rutherford said you can find out whether an investment company or financial professional is registered and legitimate by using the CFTC's SmartCheck tool at Smartcheck.gov. "Focus first on the individual who is selling the product," he said. "Don't think about the investment before you check out the person who is selling it."
Also check the investment company's website to see where it is located. Search the address online and use the street view option when viewing it on a map. "A lot of times what you see is a vacant lot or a townhouse," Rutherford said, and a situation like that would be a red flag.
Most importantly, be wary of any investments that promise big returns that you can't get anywhere else in the market or strategies using a secret methodology, Rutherford said. These are telltale signs of scams.
If you think you are a victim, don't invest any more of your money, Rutherford said. And don't fall for claims from any groups claiming they will help you get your money back for a fee. Report anything suspicious using the "submit a tip" feature on the SmartCheck site.
Click through to read more about safe stocks for first-time investors.