3 Best REIT ETFs To Buy In 2022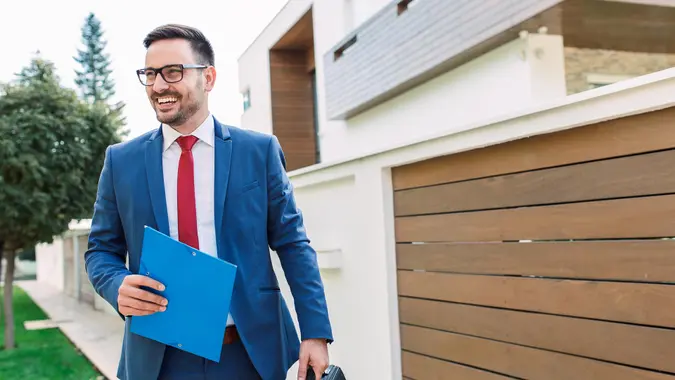 Jelena Danilovic / Getty Images/iStockphoto
Real estate investment trust exchange-traded funds are becoming more popular as real estate values continue to soar, and many expect this trend will continue moving forward. But what are REIT ETFs, and what are the three best options on the market?
What Are REITs?
REITs are a form of an investment fund. Their portfolios include real estate holdings designed to provide price appreciation and income for investors. These holdings can range from single-family homes to strip malls to commercial buildings that span several acres.
Real estate ETFs incorporate diversified REIT holdings. These investments generate strong returns, too. REITs produced an average return of more than 16% in the fourth quarter of 2021, outpacing the 11% generated by the S&P 500.
3 Real Estate ETFs To Buy Right Now
The three best real estate ETFs to buy in 2022 include:
1. Vanguard Real Estate ETF (VNQ)
Net assets: $84.11 billion
Expense ratio: 0.12%
Performance: VNQ is up over 13% over the past year.
Holdings: A heavily diversified list of REITs with a focus on office buildings, hotels and other properties.
The Vanguard Real Estate ETF is the largest real estate ETF on the market by total assets. It provides a diversified list of REIT holdings designed to track the returns of the MSCI US Investable Market Real Estate 25/50 Index. The fund provides investors with a high level of income, though they can also expect some price appreciation.
Vanguard offers some of the lowest expense ratios in the business. The average expense ratio on Vanguard ETFs is 0.06%, though the VNQ has a slightly higher annual cost of 0.12%. Nonetheless, the fund's fees are half of the industry average, which is 0.24% annually.
2. Charles Schwab US REIT ETF (SCHH)
Net assets: $7.09 billion
Expense ratio: 0.07%
Performance: SCHH has grown more than 16% over the past year
Holdings: A diversified portfolio of REITs excluding mortgage and hybrid funds. Some of the fund's largest holdings include Prologis REIT Inc., American Tower REIT Corp. and Crown Castle International REIT Co.
The Charles Schwab US REIT ETF invests in a wide range of real estate investment trusts. The fund excludes non-REIT stocks that are commonly part of the portfolio in other real estate funds. One of the biggest draws to the fund is its expense ratio, which is far below the industry average at 0.07%.
Investors won't give up performance in exchange for access to the low fees either, considering that it produced more than 16% gains over the past year.
The SCHH is no small fund. It's the second-largest real estate ETF on the market by total assets, giving a nod to its popularity among investors. The fund also trades hands more than 2.7 million times in the average trading session, so investors won't experience liquidity issues when it's time to exit their positions.
Good To Know

Real estate holdings provide the basis for gains in REITs. Therefore, these investments perform well when the real estate market is up and may perform poorly when real estate values are down.
3. Real Estate Select Sector SPDR Fund (XLRE)
Net assets: $5.69 billion
Expense ratio: 0.10%
Performance: XLRE has climbed more than 17% over the past year.
Holdings: The fund invests in real estate management and development companies in addition to REITs, but it doesn't invest in mortgage REITs.
The XLRE is the third-largest real estate ETF on the market by total assets, and shares of the fund trade hands more than 6.5 million times during the average trading session.
Investors can diversify their holdings further with the fund because unlike many of its competitors, it doesn't invest only in REITs. It also invests in real estate management and development stocks.
The fund's goal is to track the Real Estate Select Sector index as closely as possible before accounting for fees, and its expense ratio is significantly lower than the industry average at just 0.10%.
The fund has earned a five-out-of-five-star rating from Morningstar, validating its historical ability to outperform its peers.
REIT ETF FAQs
You'll find answers to some of the most common questions about investing in real estate ETFs below:
Are REIT ETFs a good investment?

REIT ETFs are a great investment for the right investor. Known for providing meaningful dividends and relatively stable growth, they're an excellent option for risk-averse investors who depend on their investments' income. However, investors who are more interested in price appreciation than income should nest their investment dollars in another investment vehicle.

Is Vanguard Real Estate ETF a good investment?

The Vanguard Real Estate ETF is the largest on the market by total assets and has a long history of providing meaningful income for investors. However, there's no such thing as an investment option that's perfect for all investors. As with most other REIT ETFs, Vanguard is best for risk-averse investors who are more focused on income generation than price appreciation.

How do you buy real estate ETFs?

1. Log in to your account with your favorite online stock brokerage. 2. Search for the ticker associated with the fund. For example, investors interested in the Vanguard Real Estate ETF should search their broker's website for "VNQ." 3. Click the "Buy" button and fill out all required fields. 4. Verify everything is correct. 5. Place your order.

Do REITs pay dividends?

The U.S. Securities and Exchange Commission requires REITs to pay at least 90% of their taxable income to shareholders, so these funds are generally associated with large dividend payments.
Information is accurate as of April 22, 2022.
GOBankingRates is a personal finance and consumer interest rate website owned by ConsumerTrack Inc., an online marketing company serving top-tier banks, credit unions and other financial services organizations. Some companies mentioned in this article might be clients of ConsumerTrack Inc., which serves more than 100 national, local and online financial institutions. Rankings and roundups are completely objective, and no institution, client or otherwise, paid for inclusion or specific placement. Any opinions, analyses, reviews or recommendations expressed in this article are those of the author alone and have not been reviewed, approved or otherwise endorsed by the companies included in the article.
GOBankingRates bases its assessment of "best" and "top" products on the above-stated parameters to create a baseline for comparison. This assessment is an approximation of "best" and "top" designed to help consumers find products that might be appropriate for them. There could be other options available as well. Consumers should consider various options appropriate for their circumstances.
Our in-house research team and on-site financial experts work together to create content that's accurate, impartial, and up to date. We fact-check every single statistic, quote and fact using trusted primary resources to make sure the information we provide is correct. You can learn more about GOBankingRates' processes and standards in our editorial policy.