The Top Betting Sites and Wager Options for Super Bowl LV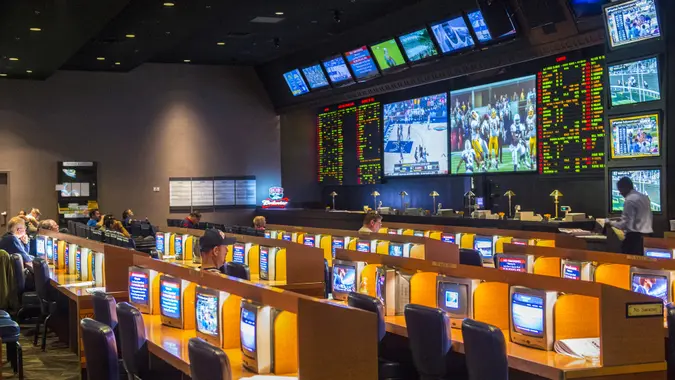 Kobby Dagan / Shutterstock.com
The Super Bowl is the marquee sports event for the year in the United States, and that goes for gamblers as well. This year's matchup of the defending champion Kansas City Chiefs against Tampa Bay Buccaneers and six-time champ Tom Brady will be no exception.
The legal betting handle for the 2020 Super Bowl was around $300 million, according to Legal Sports Report. Considering that sports betting is legal in only 10 states, that's only a tiny percentage of the overall amount bet on the game. Some estimates place that number at around $6.7 billion for 2020.
Did You Know: Everything You Can Buy for the Cost of One Super Bowl Ticket
Per The Sports Geek, legal betting in Nevada sportsbooks has increased 90.39% from 2004 to 2020.
In 2021, 23 states have approved legal betting on sports in some fashion. You don't need to be a resident of that state, but you do need to physically be within the state's borders when you place the wager. Of course, gambling comes with risks, and you could easily lose the money you're wagering, so you should only gamble with money you can afford to lose.
Find Out: How Much Will Advertisers Spend On This Year's Super Bowl?
First, we'll talk about some of the best sites for betting legally, then we'll offer a quick primer on some of the types of wagers you can make.
FanDuel and DraftKings are two of the most popular sites for betting — they focus on "daily fantasy games" but also offer standard bets. Other well-established betting sites include MyBookie, Bovada, BetNow, BetUS, BetOnline, William Hill and Fox Bet.
In the News: Super Bowl Gives Free Tickets to 7,500 Vaccinated Healthcare Workers
That's a lot to sort through, but if you focus on the most reputable sites with good customer service, here are a few of the best:
MyBookie: The Sports Geek names this as the best online betting site. It offers a "welcome bonus" to new bettors, a Super Bowl squares contest and a solid app.
Bovada: This is one of the biggest names on the block, but it lacks an Android app.
DraftKings: With a strong app and name recognition, DraftKings is a good option for the casual bettor.
FanDuel: FanDuel also has a good app and is growing in reach.
Read: How Much Will You Save Watching the Super Bowl From Home?
Now that you've picked how you'll make your bets, let's dive into the kinds of wagers that are out there:
Point spread: This is the most popular wager, betting who will win the game. The odds are handicapped — the Chiefs opened as a three-point favorite over the Buccaneers.
Over-under: Another common bet is what the combined score of the two teams will be, usually whether it will be higher or lower than a certain number. Super Bowl LV opened with an over/under of 56.
Prop bets: These are the bets you hear the most about, usually involving outlandish comparisons such as how long the National Anthem rendition will take, what the coin toss outcome will be, if one quarterback's attempted passes will be more than a basketball score on the same day, etc.
Live betting: These wagers are more intense because they involve odds that are changing during the course of play. You can still bet the outcome of the game, but also stats for a certain period (how many yards rushing will Team X have at halftime), etc. For the best experience with live betting, you should use a betting app because the odds are always updating.
Fun Fact: Past Super Bowl Stars Who Scored Big Endorsement Deals
More From GOBankingRates
Disclaimer: If you are struggling with a gambling addiction, call or text the National Problem Gambling Helpline at 800-522-4700.