How Much Will Advertisers Spend On This Year's Super Bowl?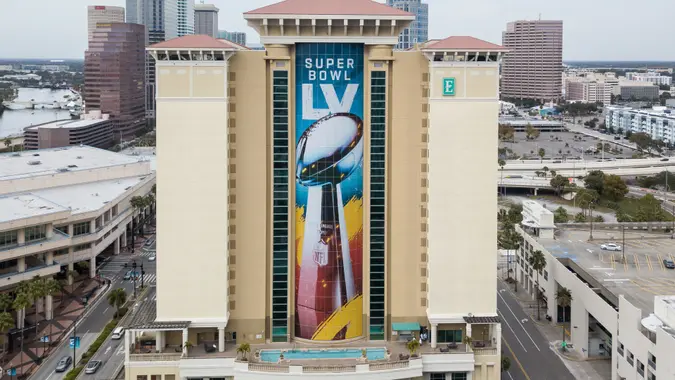 fitzcrittle / Shutterstock.com
As with everything else in a world wracked by COVID-19, Super Bowl LV is fraught with questions.
Despite postponements and positive tests throughout the year, the NFL regular season and playoffs have been completed. The Kansas City Chiefs and Tampa Bay Buccaneers have advanced to the Super Bowl, which is scheduled for Feb. 7 in Tampa, Florida, and is expected to be played with about 22,000 fans present.
Read: Everything You Can Buy for the Cost of One Super Bowl Ticket
But with the shadow of more than 400,000 deaths from the pandemic hanging over the game, the atmosphere for the Super Bowl is sure to be different. That carries over to what many consider the best part of Super Bowl Sunday: the ads.
Will companies trot out light-hearted, humorous spots to highlight their products, or will that come across as insensitive? Maybe the best guide for tone is the 2002 Super Bowl, which came on the heels of 9/11 and had fewer outlandish commercials. Perhaps we'll see something like the 2011 Budweiser Super Bowl tribute ad, which took a more somber tone.
Make Your Money Work Better for You
Who will the top advertisers be? It's likely that movie studios, restaurants, travel firms and retail companies will dial back since they've been hit worst by the pandemic.
In the News: Super Bowl Gives Free Tickets to 7,500 Vaccinated Healthcare Workers
And which companies will opt out entirely this year? Some Super Bowl advertising mainstays have confirmed they won't purchase air time this year, and for the first time since 1983, Anheuser-Busch won't have an ad for flagship beer Budweiser. The beverage producer still has four minutes of commercials for other products such as Bud Light and Michelob Ultra, the Chicago Tribune reported.
Notably, Anheuser-Busch is donating the money it would have spent on Budweiser ads to coronavirus vaccination awareness efforts.
Last year's Super Bowl LIV raked in a record $435 million in ad sales, MarketingDive.com reported, and this year's game is on track to match that. As of early December, CBS had sold 80% of its spots for this year's game, and the network notably has opted against a price hike, largely because of the pandemic. CBS/Viacom is charging roughly $5.6 million for a 30-second spot, which is the same rate as what Fox charged last year.
Make Your Money Work Better for You
Find Out: How Much Will You Save Watching the Super Bowl From Home?
Is it possible that CBS wouldn't sell out all its ads? It's highly unlikely.
The ad numbers have soared this century. In Super Bowl XXXIV in 2000, the total ad spending was $132.3 million, per The Wall Street Journal.
Some advertisers who are already confirmed for this year's game include yogurt maker Chobani, social app Triller, online marketplace Mercari (focusing on decluttering), Frito-Lay, Mountain Dew, Pringles, Scotts Miracle-Gro, Mars-Wrigley, Turbo Tax, Toyota, Anheuser-Busch, WeatherTech and online car dealer Vroom.
Did You Know: What Is Tom Brady's Net Worth?
Fitting with the times, online gig-matching platform Fiverr will make its Super Bowl ad debut.
Other big-name firms that are not in the game this year include Pepsi (which still sponsors the halftime show), Coca-Cola, Little Caesar's, Olay, Avocados from Mexico, Hyundai and Ford.
Check out some of the early releases from Adweek.com.
More From GOBankingRates
Make Your Money Work Better for You