How Rich Is NFL Quarterback Tom Brady?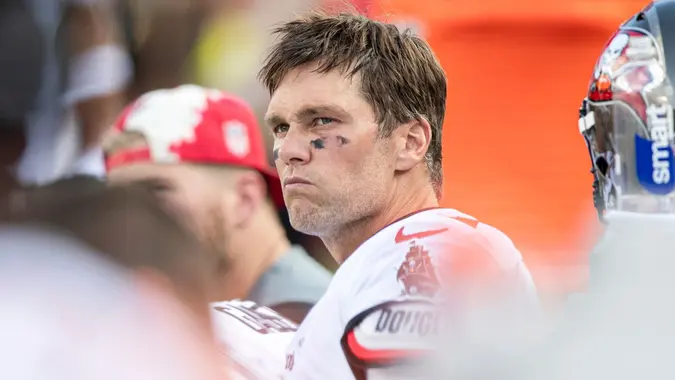 Alex Menendez / AP / Shutterstock.com
After announcing his retirement on Feb. 1, 2022, superstar quarterback Tom Brady changed course, citing "unfinished business" on the field in a March 13 tweet. "These past two months I've realized my place is still on the field and not in the stands. That time will come. But it's not now," he wrote.
Find Out: 50 of the Highest-Paid NFL Players Who Aren't Quarterbacks
Learn More: How Much Is Star Quarterback Aaron Rodgers Worth?
But the decision has seemingly come at a cost. Upon Brady rejoining the Tampa Bay Buccaneers for his 23rd season, rumors began to circulate regarding his relationship with supermodel wife Gisele Bündchen. Then, on Oct. 4, outlets including Fox News began reporting the couple were hiring divorce lawyers, a move that could effectively lead to the end of their 23-year marriage.
Of course, a split would also mean the splitting of fortune, as according to Yahoo Sports, the couple have accumulated numerous financial assets and real estate holdings since they wed in February 2009.
Tom Brady's Net Worth and Career
Brady currently holds seven Lombardi trophies, five Super Bowl MVP awards and has a net worth of $250 million according to Celebrity Net Worth. He also led the New England Patriots to a record six Super Bowl victories in 20 seasons with the team, adding one with the Buccaneers after his 2020 campaign.
Make Your Money Work for You
The QB's longevity as an NFL player is rare. According to Statista.com, the average NFL quarterback's career is just 4.44 years. That stat isn't slowing Brady down. After moving on to the Tampa Bay Buccaneers as a free agent in 2020, he led the Buccaneers to an 11-5 record in the regular season, then to their second Super Bowl championship in franchise history. It was the seventh title for Brady, following six with New England. The Buccaneers' 31-9 win over the Kansas City Chiefs in Super Bowl LV came at Raymond James Stadium in Tampa, Fla. — the Bucs' home stadium.
In his stellar career with the Patriots, he led the team to a record nine Super Bowl appearances. Brady has earned $230 million in salary over his career and another $150 million in endorsements, according to Celebrity Net Worth. His history of endorsements includes Under Armour, UGG, Tag Heuer and Aston Martin.
See: The Highest-Paid NFL Defensive Players of 2022
Compare: 12 Best Free Sports Streaming Sites
As a sixth-round pick out of Michigan in 2000, Brady earned $231,500 in his rookie season. In his second season, he replaced the injured Drew Bledsoe and led the Patriots to a Super Bowl upset over the St. Louis Rams. In August 2002, he signed a four-year extension worth nearly $30 million. His numbers only went up from there.
Make Your Money Work for You
If and when Brady retires for good, he will leave the NFL as the holder of most major statistical quarterback records. A three-time NFL Most Valuable Player, Brady is the all-time leader in pass attempts and touchdown passes. His 6,778 pass completions are No. 2 on the list (Drew Brees, 7,142) as are his 79,204 yards passing (Brees, 80,358). Brees retired following the 2020 season.
Brady also has the most-ever games started and playoff games.
Jami Farkas contributed to the reporting for this article.
More From GOBankingRates
Make Your Money Work for You