How Much Will You Save Watching the Super Bowl From Home?

5 min Read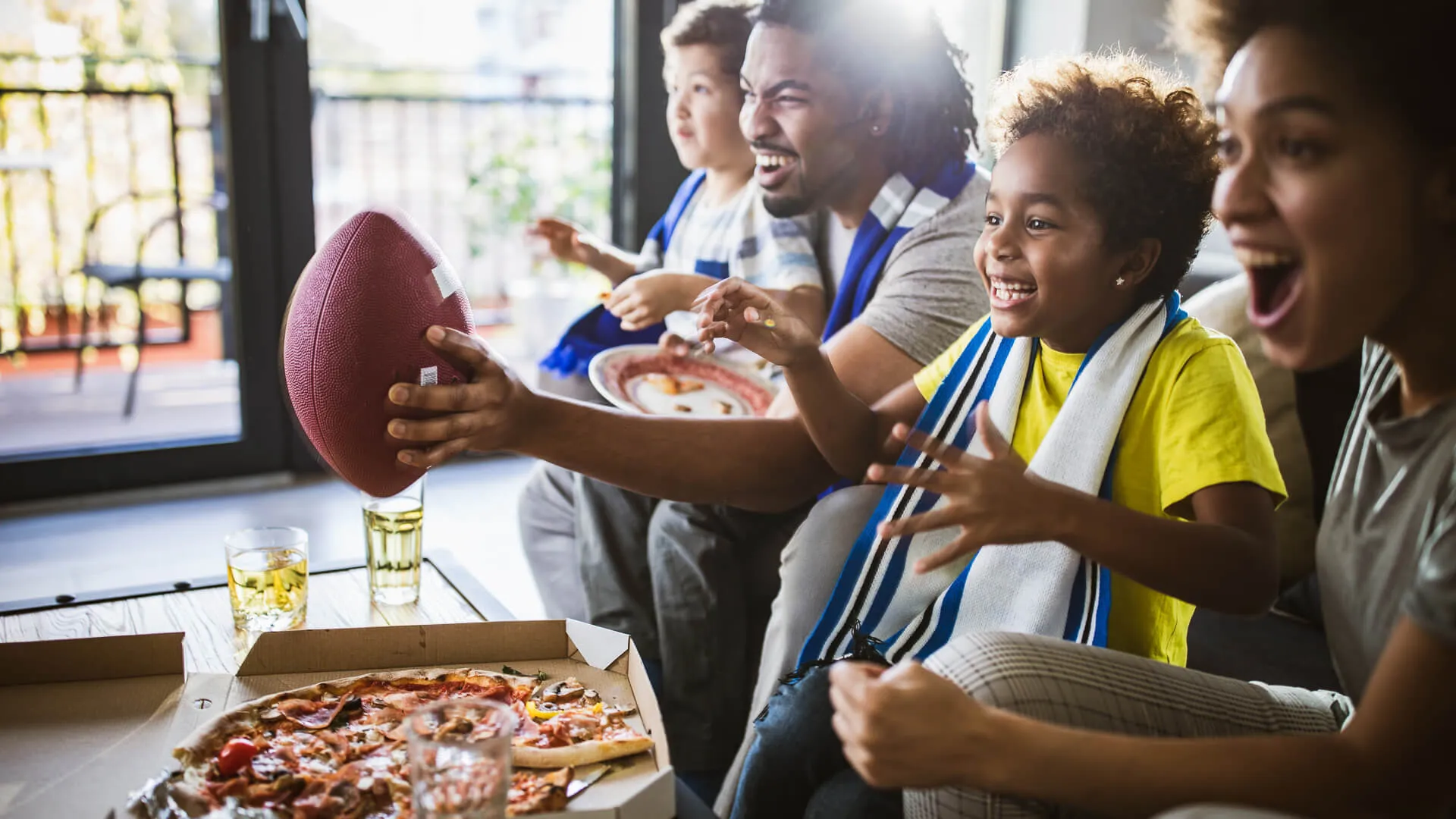 The pandemic has had its downsides for everyone — but its not entirely devoid of a silver lining. Sure, you may be stuck working at home, but sometimes it's nice not to have a commute, right? And though you probably miss having a night out at the movies, being able to put the money you'd usually spend on over-buttered popcorn away is definitely a tiny advantage in a difficult time.
Find Out: Here's the Highest-Paid NFL Player in Every Position
That same perspective applies to the Super Bowl. Because of COVID-19 restrictions, you're almost certainly going to be watching the big game from home instead of attending the game or a blowout Super Bowl party. And although we're all craving more human interaction, there are some positives to watching from home, especially for the thrifty at heart.
Read on to see just how much you'll save by watching from home.
Last updated: Jan. 18, 2021
Make Your Money Work for You
Cost of Attending the Game in Person
Going to the Super Bowl in person means going all out, as you'll see by these eye-popping prices:
Tickets: With far fewer seats available because of COVID-19 protocols, the average ticket price is currently listed at $12,885, per Vivid Seats.
Hotel: The average price for two adults to stay for a week in the Tampa area is roughly $1,800.
Flights: Ticket prices are sure to go up as the game gets closer, but right now an average ticket from New York City to Tampa, Florida, is $350.
Concessions: The average price for a hot dog and beer is $16 at Raymond James Stadium. We'll adjust a little for Super Bowl-sized inflation, and say that two people can order a hot dog and beer for $50.
Parking: The average price for parking near Raymond James Stadium is $25; factor in typical price-gouging for the big game and we'll guesstimate $45.
Merchandise: A Super Bowl game jersey will cost at least $120.
Total: $28,135 for two. Ouch!
Did You Know: The 25 Richest NFL Team Owners
Cost of Throwing a Party
Having a big bash at your own home isn't recommended this year because of COVID-19 protocols. But if would have done so in the past, this is about what you would have spent:
Food: Costs of catering a party vary wildly, but per RoamingHunger.com, we'll estimate $20 per person. If you're having 25 people at your party, it'll cost you $500.
Decorations: You'll need the right cocktail napkins, plates and decorations, so budget $100.
Cleanup: A cleanup service can charge $25 per hour. Unless you're throwing a knock-down, drag-out rager, you can get away with spending $50.
New big-screen TV: Remember that big-screen TVs go on sale right before the Super Bowl, so you might get a better deal. But you can score an 82-inch Samsung TV for $1,700 at Best Buy right now.
Total: $2,350
Find Out: 27 Richest No. 1 NFL Draft Picks
Make Your Money Work for You
Cost of Attending a Party
It's certainly less of a headache to let someone else throw the party. And it's cheaper, too! This year, this likely won't be an option, but here are the costs during a more traditional season for comparison:
Bringing a dish: You have to bring your to-die-for homemade hummus dip, right? Make enough for the whole crew, with veggies and chips for dipping, and it'll run you $15.
New jersey: You're dressing to impress, so be sure to rock a new authentic jersey. That'll cost you around $100.
Uber/Lyft to and from the party: We advocate for responsible partygoing, so take a ride instead of drinking and driving. We'll estimate that at $50.
Total: $165
Read More: The Biggest Bargain on Every NFL Roster
Cost of Watching at a Bar or Restaurant
Some areas of the country allow some indoor dining, or you could go to an outdoor establishment if the weather is nice.
Food: Appetizers, entrees and dessert for two — $50.
Drinks: $40
Hidden costs: It's hard to put a price on not being able to hear the announcers or not being able to see the TV from where you're sitting.
Transportation/parking: Let's estimate $50, either for a ride-sharing service or driving and parking.
Total: $140, plus those pesky hidden costs.
Fun Facts: Which NFL Hall of Famer Has the Highest Net Worth?
Cost of Ignoring the Game Completely
Maybe your team isn't in the Super Bowl and you don't want to watch. Alternate entertainment has its costs, too:
Going to a museum: Museum prices vary widely, but $25 per person is a safe bet.
Going to a zoo: Same as with museums, but start at $30 per person.
Going shopping: Hey, the malls and stores are way less crowded, right? It's up to you what you're going to spend, of course, but your shopping spree would have to be pretty extravagant to match the cost of attending the Super Bowl.
Did You Know: How Much Drew Brees, Tom Brady and Other QBs Make Per Career TD Thrown
Make Your Money Work for You
Cost of Watching at Home
Compared to some of the other options, watching the game from the safety of your own home can really pay off:
Cable subscription: $96.18 per month
Pizzas: $40 for two large pizzas
Other snacks: $10 for nachos, $5 for guacamole, $5 for good salsa
Beverages: $17 for a six-pack of beer, $5 for 2-liter bottle of soda
Peace of mind: Not having to listen to your friend yammer on about how "The Pats woulda made it if Tommy had stayed" — priceless.
Total: $178.18. That's $27,956.82 in savings if you had considered going to the game, and $2,171.82 in savings if you usually throw a party. It's a little bit more expensive than a trip to a bar or restaurant because you have to pay for the TV bill, but in this case, you won't have to share the nachos.
More From GOBankingRates