Motorcycle Loans 2023: Navigating the Road to Ownership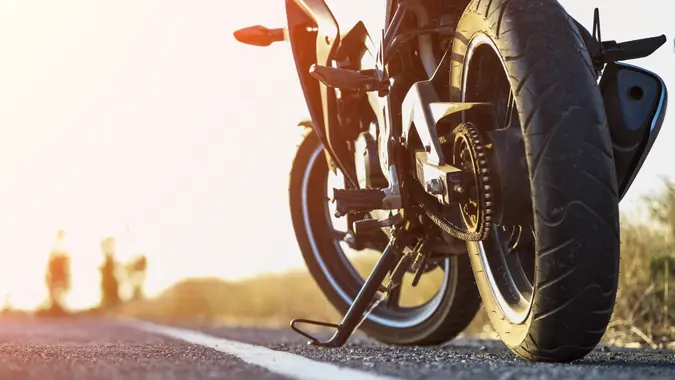 ©Shutterstock.com
If you're considering purchasing a motorcycle, you may be wondering what the options are for financing. Here's everything you need to know about motorcycle loans and the seven best motorcycle loan providers for 2023.
Best Motorcycle Loans for 2023
Here's a look at the top seven motorcycle loans for 2023: 
While some of these providers only offer secured loans, others, such as SoFi, may offer you an unsecured loan option.
Secured vs. Unsecured Loans

In a secured loan, your loan provider will require you to provide some sort of collateral. This is so they can make back their investment if you are not able to make your payments. In the case of a secured motorcycle or car loan, the vehicle itself is the collateral. In the event that you do not make your monthly payments, the loan provider can repossess the vehicle to get their money back.

In an unsecured loan, the loan provider cannot repossess your vehicle. However, because this sort of loan is more risky for the loan provider, it may be more difficult to get approved. In addition, unsecured loans can have higher interest than secured loans, making them more expensive.
1. Best for Bad Credit: Southeast Financial
Southeast Financial, known for its specialty vehicle financing, is a top pick for individuals with bad credit looking to finance a motorcycle. Even with a less-than-stellar credit score, borrowers have a good chance of securing a loan up to $50,000, though it may come with higher interest rates.
Despite that, Southeast Financial offers loan terms of up to 240 months. Terms of this length could make monthly payments more manageable for those on a tight budget. They finance both new and used motorcycles of up to 10 years of age, making them a versatile option.
2. Best for Manufacturer Financing: Harley Davidson
Harley Davidson, a well-renowned motorcycle manufacturer, also provides financing for their bikes. If you're looking to purchase a Harley Davidson, this manufacturer financing option is worth considering.
Harley Davidson offers competitive rates, especially for those with excellent credit. They also have occasional promotional offers that could result in lower interest rates or more manageable payments.
3. Best for Unsecured Loans: SoFi
SoFi, a reputable online lending platform, is an excellent choice for those seeking unsecured loans between $5,000 and $100,000. SoFi's unsecured personal loans can be used for motorcycle financing, making them a suitable alternative for those who don't want to risk their motorcycle as collateral.
The application process is simple and entirely online, making SoFi a convenient choice. Loan APRs are higher than a secured loan, but they don't charge origination fees, prepayment penalties or late fees.
4. Best for Low Rates: LightStream
LightStream stands out for offering some of the lowest rates in the market, starting at 8.49% APR. Keep in mind that the rate that you qualify for will depend on your credit and AutoPay options. LightStream offers motorcycle loan terms between 36 and 84 months. Loan amounts range from $5,000 all the way to $100,000.
5. Best for Military Members: Navy Federal Credit Union
Navy Federal Credit Union is a top pick for military members seeking a motorcycle loan. Available to veterans, active-duty military, Department of Defense civilians, and their families, Navy Federal offers motorcycle loans up to $30,000 with competitive rates for both new and used motorcycles. They also provide discounts to active duty and retired military members.
6. Best Credit Union: Consumers Credit Union
Consumers Credit Union stands out as the best credit union option for motorcycle loans. They offer very competitive rates and flexible loan terms, with both new and used motorcycles eligible for financing. Unlike many other providers, Consumers Credit Union does not have a vehicle age limit for financing used motorcycles. This makes them a good pick if you want to buy a vintage motorcycle.
Since they are a credit union, borrowers may experience a more personalized service compared to traditional banks. However, loans are only offered to credit union members.
7. Best Large Loans: NASA Federal Credit Union
NASA Federal Credit Union is the ideal choice for those looking for large motorcycle loans. They offer loans up to $125,000, with terms of up to 180 months. While their membership is geared towards NASA employees, retirees and their families, anyone can join by signing up with the National Space Society.
Final Take
If you're looking to buy a motorcycle, you will find plenty of options for financing. Before signing, always remember to compare rates from different providers and use a motorcycle loan calculator to figure out if the provider you're considering is really giving you the best deal.
FAQ
Here are the answers to some of the most frequently asked questions regarding motorcycle loans.
Which loan is the best for a motorcycle?

The best motorcycle loan for you will depend on your needs, credit score and the type of vehicle you are trying to purchase. Here is a look at seven options you can consider:

Best for bad credit: Southeast Financial
Best for manufacturer financing: Harley Davidson
Best for unsecured loans: SoFi
Best for low rates: LightStream
Best for military members: Navy Federal Credit Union
Best credit union: Consumers Credit Union
Best large loans: NASA Federal Credit Union

Is it smart to get a loan for a motorcycle?

If you can purchase a motorcycle for cash without putting a strain on your finances then it may be a better option than a loan. Because the loan provider charges interest, a loan will always be more expensive than buying with cash. However, the right answer for you will depend on your specific financial situation.

Is it harder to get a motorcycle loan?

It is possible to finance a motorcycle with poor or fair credit. However, the interest rates you get may be higher than average. If possible, it's always a good idea to try and improve your credit before applying for financing for a high ticket purchase.

What is a good APR for a motorcycle?

Current APRs on motorcycle loans range between around 8.5% and 15%. If the APR you have been offered is significantly higher, the loan provider you are dealing with may be attempting to overcharge you.
Information is accurate as of July 12, 2023. 
Editorial Note: This content is not provided by any entity covered in this article. Any opinions, analyses, reviews, ratings or recommendations expressed in this article are those of the author alone and have not been reviewed, approved or otherwise endorsed by any entity named in this article.
*All loans are subject to credit approval by LightStream. If approved, your APR will be based on loan purpose, amount, term and your credit profile. Conditions and limitations apply. Advertised rates and terms are subject to change without notice.
Our in-house research team and on-site financial experts work together to create content that's accurate, impartial, and up to date. We fact-check every single statistic, quote and fact using trusted primary resources to make sure the information we provide is correct. You can learn more about GOBankingRates' processes and standards in our editorial policy.