Mortgage Interest Rate Forecast for 2023-2024: When Will Rates Go Back Down?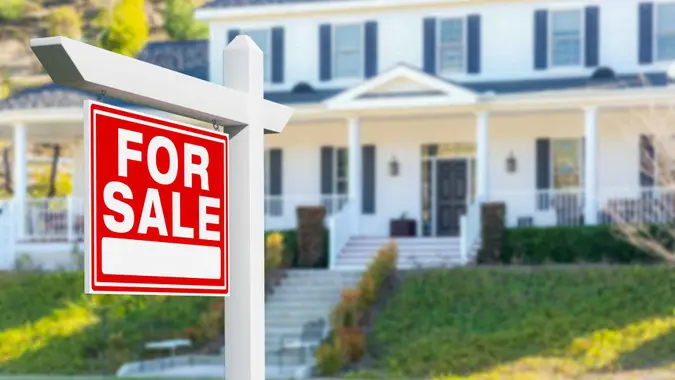 Feverpitched / Getty Images/iStockphoto
After more than two years of steady declines, rates for 30-year fixed-rate mortgage loans reached a record low of 2.7% at the end of 2020, according to data from Freddie Mac. By the week ending Nov. 10, 2022, rates had climbed to 7.08%, topping 7% for the first time since 2002. Rates dropped off again after that but have trended upward since February, reaching 7.57% the week ending October 12– the highest so far this year. The rate is 7.57% as of the week of Oct. 12.
It remains to be seen whether this trend will continue or whether economic forces will drive rates down again in 2023.
What Is the Interest Rate Forecast for 2023?
In recent months, the Federal Reserve has been regularly raising the federal funds rate. Many factors influence this decision. But the Fed's mission to tame inflation through raising rates has been a major factor. The Federal Reserve has a stated goal of pushing the inflation rate down to a target of 2%. As of writing, the Consumer Price Index, widely regarded as a measure of inflation, is down to 3.7%. That's significantly lower than a peak of 9.1% in June 2022. But the objective of hitting an inflation rate of 2% isn't quite achieved.
Since the Fed hasn't hit a target inflation rate of 2%, it seems likely they will continue to push interest rates higher. But with instability at the macroeconomic and geopolitical level, it's impossible to know if interest rates will continue to rise.
How High Will Mortgage Rates Go in 2023?
Rates have trended slightly upward over the past month, as experts had predicted they would, but analysts predict a slight decline between now and the end of the year. In its September Housing Forecast, Fannie Mae predicted a 7.0% rate for the third quarter. It forecasts a climb to 7.1% in the fourth quarter, although that figure represents a slight upward adjustment from August's forecast.
Here are some factors that will affect rates in 2023.
Inflation
Inflation hit 40-year highs in 2022. However, it's slowing, with the September consumer price index coming in at 3.7%. That's a slight increase from August. But a relatively large drop from the beginning of the year. Shelter is the primary category driving up prices, according to the Bureau of Labor Statistics.
"While inflation doesn't directly affect mortgage rates, it can indirectly cause mortgage rates to increase," Amy Shunick, corporate financial controller at Bennett, told Rocket Mortgage. "Inflation is the devaluation of the dollar, which means that the purchasing power of your dollar decreases significantly as inflation increases. As inflation increases, so does the price of everything, including mortgage rates."
Federal Funds Rate
The federal funds rate is the interest rate banks use to loan each other money. When the federal funds rate increases, banks pay more to borrow, and they pass along some of those costs to consumers by raising mortgage rates.
The Federal Reserve uses federal funds rate increases to tame inflation by discouraging consumers from spending and borrowing, which slows the economy and brings down prices. The rate increased seven times in 2022. That resulted in a total increase of 425 basis points, or 4.25%, between March 17, when the rate stood at 0.25% to 0.50%, and Dec. 15, when it stood at 4.25% to 4.50%.
The funds rate increased by another 25 basis points, to 4.50% to 4.75%, in February of this year. It rose again in March, May and July. The rate currently stands at 5.25% to 5.50%.
While federal funds rate hikes result in higher mortgage rates in the short term, they set the stage for lower rates in the long term by reducing inflation.
Will Mortgage Rates Go Down in 2023?
Mortgage rates could see a slight decline at the end of 2023. But according to Mark Fleming, chief economist at First American Financial Corp., the potential for a reduction in interest rates might not come into effect until possibly 2024, depending on decisions by the Federal Reserve regarding rate increases later in the year.
Earlier this year, many experts' mortgage rate predictions called for a meaningful drop beginning as soon as this summer if the Fed was successful in reducing inflation to a level closer to its 2% goal by midyear. That hasn't happened, nor has a recession, which might've prompted the Fed to reduce the federal funds rate — in this case, to rev up the economy by encouraging consumers to spend and borrow.
The Fed's July 26 announcement of the 5.25% to 5.50% rate target came as no surprise to 106 economists polled by Reuters, all of whom had predicted the 25-basis-point hike.
In an Aug. 28 speech, Fed Chair Jerome Powell said that "although inflation has moved down from its peak — a welcome development — it remains too high. We are prepared to raise rates further if appropriate, and intend to hold policy at a restrictive level until we are confident that inflation is moving sustainably down toward our objective."
Jessica Lautz, deputy chief economist and vice president of research for the National Association of Realtors, expressed uncertainty over where rates are headed. In an Aug. 17 NAR blog post, she wrote, "Something has to give for rates to come down, and that something is the next decision by the Fed."
In its Mortgage Finance Forecast dated Aug. 21, the Mortgage Bankers Association predicted that mortgage rates would fall to 6.2% in the third quarter and remain there through the end of the year. It should be noted that the MBA has increased its Q3 2023 mortgage rate prediction each month since March, when it forecast a 5.3% rate for that quarter.
Fannie Mae's September Housing Forecast doesn't predict lower rates until 2024. But even then, the report predicts mortgage rates will stay above 6% for the entire year.
Are Mortgage Rates Expected To Drop in 2024?
Experts do expect rates to drop in 2024. However, there's little agreement as to how much.
Fannie Mae's September economic forecast predicts that the federal funds rate will fall to 4.80% by the end of 2024, and it forecasts that mortgage rates will follow suit and finish the year at 6.3%.
The Mortgage Bankers Association is more optimistic. It predicts mortgage rates will fall to just under 5% by the end of 2024.
What Is the Mortgage Rate Forecast for the Next 5 Years?
Economists and analysts rarely make mortgage rate predictions five years out because many variables determine rates, and those variables are always changing. As a result, any forecast would be purely speculative. However, the Mortgage Bankers Association does go out two years, to 2025. It predicts a further decline, to 4.6%.
Is This a Good Time To Lock In a Mortgage Rate?
Mortgage rates haven't been moving in a straight line. That makes for a tough decision considering that lock-in periods can last 90 days. On the one hand, locking in now protects you from rate increases, which could happen, especially if the Fed implements further federal funds rate increases. On the other, you could pay more than you need to in the event that mortgage rates go down before you close on your loan. However, timing the market so that your purchase coincides with expected rate drops can be risky.
Remember that the interest rate isn't the only thing that impacts the cost of buying a home. Lower rates mean you pay less interest, but they also drive up demand for homes, which increases home prices.
A sound strategy for many buyers, especially the more budget-conscious, is to lock in only after you've had an offer accepted on a home. That way, you make a purchase decision based on the big picture in terms of affordability and simply set it in stone by locking the rate.
Should You Refinance Your Mortgage?
Whether it makes sense to refinance now depends on your circumstances. Freddie Mac recommends considering refinancing if it will result in one of the following:
Reducing your interest rate
Shortening the term of your loan
Locking in an adjustable-rate loan that's about to adjust upward
Consider potential consequences of refinancing before you make the move. For example, refinancing into a loan with a lower rate can actually cost you money if you trade a loan you've been paying down for years for a new 30-year mortgage. A shorter-term loan generally has lower rates than a 30-year loan, but the higher principal payments could divert money from other financial priorities, such as paying down high-interest debt.
With any type of refinance, lender fees and closing costs chip away at any savings you stand to gain — even if the loan is advertised as having no fees or closing costs.
Lenders have two ways to offer no-fee/no-closing-cost loans. "One way is by charging you a higher interest rate to cover the cost of making the loan. The other way is by adding the closing costs to your loan amount," according to the Consumer Financial Protection Bureau. "Both methods involve no cash to close the loan but result in a higher monthly payment."
How Do Mortgage Rates Affect Home Prices?
Record home prices in the last couple of years were the result of several factors, including record-low mortgage rates, a limited supply of homes for sale, an increase in first-time buyers and migration from expensive cities to areas where homes were already in short supply, according to Freddie Mac. What these factors have in common is their effect on demand for homes.
Higher rates make it harder for consumers to buy, so demand drops — and as demand drops, so do home prices. Low rates like consumers saw in 2020 and 2021 make it easier for buyers to purchase, which increases demand and drives prices up.
As we move forward, prices continue to be influenced by both rates and inventory.
Final Thoughts
A volatile economy might tempt you to make decisions based on how long you expect a rate to last — or what you anticipate the next move to be. Resist the urge. Trying to time the market is rarely a good strategy, whether you're investing in a home or in the stock market.
Instead, set a budget based on what you can afford when you're ready to buy. Or, in the case of a refinance, run the numbers through a refinance calculator to get an accurate picture of costs vs. savings, and base your decision on that. In either case, you'll eliminate the uncertainty around the already-stressful process of buying or refinancing a home.
Sarah Sharkey contributed to the reporting for this article.
Information is accurate as of Oct 12, 2023.
The article above was refined via automated technology and then fine-tuned and verified for accuracy by a member of our editorial team.
Our in-house research team and on-site financial experts work together to create content that's accurate, impartial, and up to date. We fact-check every single statistic, quote and fact using trusted primary resources to make sure the information we provide is correct. You can learn more about GOBankingRates' processes and standards in our editorial policy.