How Does BMO Express Loan Pay Work and How Do You Use It?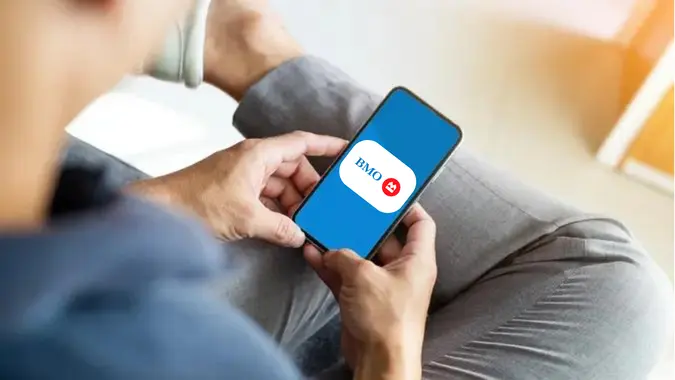 BMO Harris Bank / Shutterstock.com
BMO Express Loan Pay is an online service that lets you make payments on your loans conveniently and securely. This service is offered through BMO Bank, which was established in Chicago in 1882, making it one of the oldest financial institutions in the U.S.
Further, the BMO Express Loan Pay service is intuitive. All you need to do is sign in to your account, go to your payments or loan services and make a payment. Because it's so easy to use, you can reduce the chances of missing a loan payment and accruing late fees or damaging your credit.
Whether you're a current BMO customer or are considering getting a loan through the bank, the BMO Express Loan Pay feature could be a good option for you. That said, here's what you need to know about this service, how it works and its key features.
How Does BMO Express Loan Pay Work?
BMO Express Loan Pay is a convenient service that lets you make loan payments from the comfort of anywhere. All you need is a secure internet connection. This makes paying off your loans easier than if you were to go to a BMO Bank location.
All you need to do is create an account. You can then go to the website to manage your loans and associated payments. Using this service, you can make payments on various loan types, including personal loans, auto loans, personal lines of credit and certain business-related loans.
Any non-real-estate payments you make will be processed the same business day. However, if you submit a payment after 10 p.m. CT, it will not be processed until the following business day.
You cannot use Express Loan Pay for your real estate loans at this time. However, you can still make a same-day payment for things like home equity loans, mortgages and home equity lines of credit using the BMO Mortgage Online service.
Making Payments With BMO Express Loan Pay
When it comes to making payments on your loans, you have the following options:
Set up direct deposit
Set up automatic payments
Make a one-time payment online
Make a payment over the phone at 877-553-2265
Mail in a payment
Visit a storefront location and pay in person
Use the Express Loan Pay option for non-real-estate payments
If you'd prefer to pay more immediately without visiting a branch or sending in a payment, you can use the BMO Express Loan Pay service.
Here's how to make a payment:
Sign in to your account. You'll need your account number and the last four digits of your Social Security number. Signing in will direct you to the Express Loan Pay page.
Provide your payment. Once signed in, you'll need to choose the account you want to make a payment on. Then, select your payment method and amount.
Input your contact information. You'll also need to provide a valid phone number and email address.
Verify the details. Review your information for errors. If everything is correct, submit a payment. You'll receive a confirmation reference ID number.
After successfully making a payment, BMO will debit the funds from your linked checking account within two business days.
BMO Express Loan Payment Limits
You can only make one payment every 14 days through the Express Loan Pay service. If you need to make another payment in that time frame, you'll need to choose a different payment method.
Additionally, BMO Express Loan Pay does not allow you to set up automatic payments. If you'd prefer to pay that way, you may want to consider setting up BMO Bill Pay. This service lets you manage payments for various loan products, as well as your phone bill and credit card payments. You can also use it to set up recurring payments.
Is BMO Express Loan Pay Secure?
Yes, the Express Loan Pay service is secure. In fact, it uses several security measures to safeguard sensitive information. This includes:
Digital firewalls: A firewall essentially controls internet traffic and prevents unauthorized users from accessing your information.
Data encryption: BMO's data encryption methods scramble your data, making it more difficult for hackers to track or access your data.
Timeout feature: After 20 minutes of inactivity, the system will sign you out and require you to resubmit your login credentials.
Main Reasons To Use BMO Express Loan Pay
While the Express Loan Pay feature has many benefits, here are the main reasons why you might want to use it:
Fast and secure transactions: With the Express Loan Pay feature, you don't need to worry about making it to the bank during business hours. Instead, you can pay your bills from wherever you are — at any time.
Easy to use: The feature is intuitive and makes paying your loans simpler than ever, even if you're not tech-savvy.
Secure system: With several security measures in place, Express Loan Pay gives you the peace of mind of knowing your information is secure.
Efficient: Paying your bills online saves you time otherwise spent on going to the bank or waiting on the phone.
Free to use: This feature does not have any hidden fees, meaning you won't have to pay anything extra when making payments.
BMO Express Loan Pay Restrictions
While the Express Loan Pay option is convenient, here are some limitations to keep in mind:
Can't be used to fully pay off a loan: You cannot use this service to pay off a loan in full. If you want to make a full payment, you'll need to contact the bank at 877-553-2265.
Payment minimums and maximums apply: Payment must be between $0.01 and $5,000.
Payment cancellation: If you want to cancel a currently pending payment, you'll need to call the bank before 9 p.m. CT on the day you schedule it. Otherwise, it will go through as scheduled. It's not possible to cancel payments made between 9 p.m. and 10 p.m.
Potentially limited hours: BMO Express Loan Pay is available 24 hours a day. However, routine maintenance may make the system inaccessible during certain hours of the evening.
Paying Your Loans With BMO Express Loan Pay
Ultimately, the BMO Express Loan Pay feature is convenient, secure and intuitive. This makes it a great option for people who want to pay their non-real-estate loans from the comfort of their home. The service is also free, so there are no hidden fees to worry about.
If you're thinking about trying out a new way to pay your bills online, consider using this service. Alternatively, you can see if your current bank has an online banking section that lets you pay your loans or other bills that way.
Editorial Note: This content is not provided by any entity covered in this article. Any opinions, analyses, reviews, ratings or recommendations expressed in this article are those of the author alone and have not been reviewed, approved or otherwise endorsed by any entity named in this article.