How to Get the Best Personal Loan Rates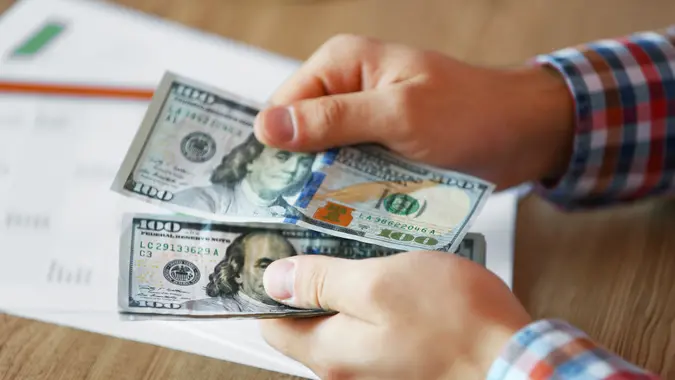 Africa Studio / Shutterstock.com
Whether you're planning for a major expense or looking for debt consolidation, a personal loan could be an ideal solution. People often use personal loans for unexpected events or purchases when they don't have enough assets to attach to a secured loan. Big banks like Wells Fargo, peer-to-peer lenders like Prosper, Lending Club and Sofi and payday lenders like Check Into Cash all offer personal loans with different terms and rates.
By comparing loan terms and understanding loan requirements, you can find personal loans that will work for you. Take a look at the chart to get an idea of what a personal loan will cost you in seven lending arenas. Keep reading to learn about your options, and find out how to get a personal loan with a great rate.
Options for the Best Personal Loan Rates
Loan Type
Example Lender
Loan Min.
Loan Max.
Terms
APR
Fees
Peer-to-Peer Loan
SoFi
$5,000
$100,000
3, 5, or 7 years
5.49% to 14.24%
None
Bank Loan
Wells Fargo
$3,000
$100,000
12 to 60 months
6.99% to 23.99%
$25 annual fee
Non-Bank Loan
CashCall
$2,600
$10,600
47, 48, 60, 72 or 84 months
97.86% to 184.36%
$75, 24% or 33% of loan
Payday Loan
Check Into Cash
$50
$1,000
2 to 4 weeks
460.08%
$45
Crowdfunded Loan
Kickstarter
N/A
N/A
N/A
N/A
5% of funds collected
3% to 5% payment processing fee
Debt Consolidation Loan
Upstart
$1,000
$50,000
3 and 5 years
7.1% to 29.99%
0% to 8% origination fee
Installment Loan
Rise
$2,600
$5,000
11 to 26 months
36% to 225%
No fees other than those provided in loan agreement
Rates accurate as of Oct. 2, 2017 for California residents
How to Qualify for the Best Personal Loan Rates
Your credit score, credit history and credit report help lenders decide if they can give you a loan and what rates and terms to offer you. The higher your credit score and the better your credit history and report, the greater your chances are of getting the best low-interest personal loans. See which banks are best for personal loans.
Your job history and average earnings are also considered by lenders when you apply for a personal loan. For example, some lenders cater to people who earn high incomes. Whatever your situation or type of loan you qualify for, here are a few simple guidelines to follow to help you get the lowest rate on a personal loan — or at least a rate that's manageable.
1. Shop Around
Potential borrowers must do their homework and not settle for the first rate they're offered, according to Leslie Tayne, finance expert and attorney at Tayne Law. First, ask about loan options at your own bank because you already have a relationship with it, and the loan officer might give you a better loan rate, said Tayne.
See: 10 Personal Loans for People With Good Credit
2. Check Your Credit Report Annually
If you regularly check your credit score and credit report, you should have an accurate idea of your creditworthiness and what rates might be available to you. Check for any missed payments as well as errors on your credit report and address them right away, said Tayne.
3. Have a Good Credit Score
Before you apply for a personal loan, you should have good credit history and a high credit score to get the best possible rates, Tayne said. If you have a low credit score, you might benefit from holding off on applying for a loan until you can raise it. One way to improve your credit score before applying for a loan is to pay off your credit card balances first.
4. Apply For Only What You Need
Your loan amount can factor into the amount of interest the lender will charge you, especially if the lender uses risk-based pricing. Risk-based pricing occurs when lenders assess the risk of making the borrower the loan. If a lender views you as a higher-risk borrower, the interest rate for the loan might be higher than for someone who poses less risk. Apply for the smallest and shortest-term loan possible to minimize the amount of interest you will pay over the life of the loan.
Loans Are Available For All Types of Borrowers
If you don't qualify for low-rate personal loans from lenders with more stringent requirements, don't worry; there are unsecured loan options for everyone, including peer-to-peer lending, installment loans and payday loans. You can even find bad credit personal loans, which could help you improve your credit score.
Up Next: Every Personal Loan Option for Your Credit Score
Lia Sestric contributed to the reporting for this article.