LoanDepot Personal Loans Review: No-Risk Quotes and Fast Approval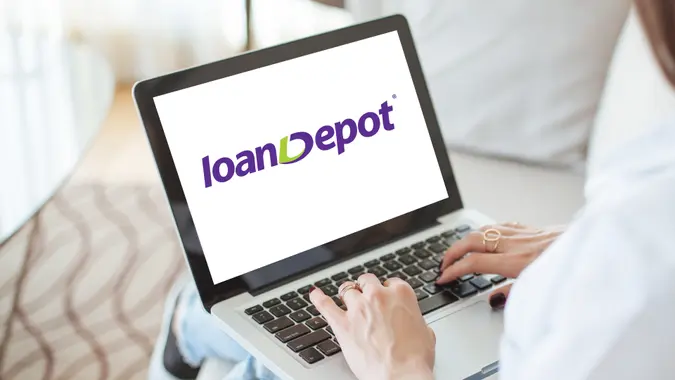 agrobacter / Getty Images/iStockphoto
Established in 2010, loanDepot has worked its way up to become the nation's second-largest non-bank consumer lender. When comparing loanDepot vs. Quicken Loans, which currently holds the top spot as the biggest consumer lender, you'll discover that loanDepot has been nominated for two of the highest honors in the LendIt Fintech Industry Awards.
Read on to learn about personal loans from loanDepot.
loanDepot Personal Loan Review
Since individuals have different needs, loanDepot offers a variety of personal loans to choose from. The loans are funded by Cross River Bank — a New Jersey chartered commercial bank that is FDIC insured. The loanDepot reviews below will take a deeper look at each of the unsecured personal loan products so you can decide which one is right for you.
loanDepot Personal Loan Products
The loanDepot loan administration team provides several types of personal loans:
1. Debt Consolidation Loan
If you have a combined debt of $35,000 or less, you might want to consider consolidating the debts into one lump sum. This includes balances owed for high-interest credit cards, short-term payday advances, medical bills, taxes owed to the IRS and student loans. Not only will you save on interest but having just one payment will make it easier to create a budget and get that debt paid off.
2. Home Improvement Loans
For smaller remodeling projects or home repairs, it doesn't make sense to take out a home equity loan. A home improvement loan is an excellent choice if you want to remodel a bathroom, replace your kitchen cabinets, add a deck off of your back door or swap carpeting for hardwood flooring. loanDepot provides home improvement loans in amounts up to $35,000.
See: Best Home Improvement Loans
3. Small Business Loans
Because personal loans don't require collateral, taking out a personal small business loan won't put your business assets at risk. You can use the money for start-up expenses like purchasing inventory, paying for a rental space and covering advertising expenses to get the word out about your company. Another option is to use the personal loan to expand your existing business. loanDepot administration can approve small business loans of up to $35,000.
4. Consumer Loans
Borrowers who require a personal loan for any reason, so long as the amount needed is under $35,000, can apply for a consumer loan. Just a few ways you can use this loan include taking a trip to see a loved one in another state, going skydiving to check that item off your bucket list, buying and installing a pool in the backyard for the kids and purchasing Christmas gifts for the family.
loanDepot Personal Loan Process
When you're ready to apply for one of the personal loans listed above, you'll be taken through the process outlined below:
Be prepared to prove that you're over 18 years old, or 19 if you live in Alabama or Nebraska, and that you are either a U.S. citizen or a U.S. permanent resident.
Gather proof of your income and be prepared to provide your email address, your Social Security number to verify your credit and the bank account number where you'd like the funds deposited.
Apply for personal loans online or call 800-656-2606 to complete the application over the phone.
Review the interest rate, annual percentage rate and fees noted in your pre-approval letter. Fees include the origination fee, which is anywhere from 1 to 5 percent of the loan amount.
Accept the terms and wait two to three business days to get through the verification stage. This gives loanDepot a chance to examine your documents and the information you provided.
Wait another two to three business days after receiving approval for the funds to be deposited in your bank account.
Use your loanDepot login to schedule payments and review your account.
Learn About: Common Personal Loans — and Options for When You Can't Qualify
loanDepot Personal Loan Pros and Cons
Before deciding if applying for a loanDepot personal loan is right for you, take a look at the following pros and cons:
Pros:
You can get a no-risk quote through a soft inquiry on your credit

.

loanDepot safeguards your personal information and never sells or rents it.

You won't need any collateral to secure the loan.

The installment loans come with fixed rates, so you'll always know how much you owe each month.

Once approved, the money is deposited right into your bank account.
Cons:
If you already have a loanDepot mortgage payment, you will need to meet the approval requirements to also qualify for the personal loan.

loanDepot does not offer no-credit-check loans. The company uses your credit profile to determine your interest rate.

loanDepot does not allow co-signers on its personal loans.

Late payments and payments that fail incur a $15 fee.
Additional Considerations
loanDepot follows responsible lending practices that include never charging potential customers an application fee. That means it won't cost you a dime to find out whether you qualify for a personal loan and what the terms of that loan are going to be. The company also complies with all federal and state licensing and lending policies, including the federal government's SAFE Act. But borrows who need a personal loan in a larger amount than $35,000 will need to shop around with other banks and credit unions, as loanDepot doesn't have jumbo personal loans at this time.