Should You Get a Holiday Loan for Christmas 2022?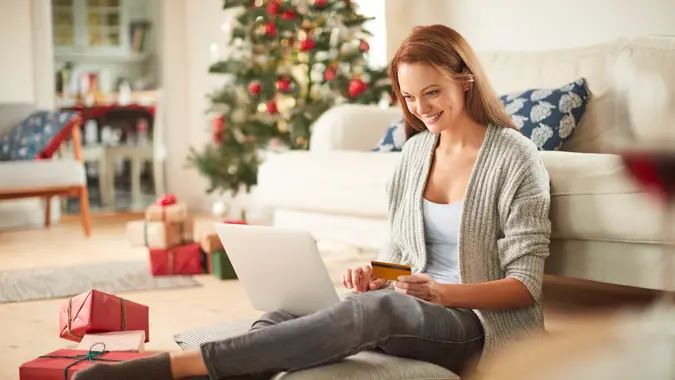 Geber86 / Getty Images
If you've racked up a lot of holiday bills this year for items such as travel and Christmas gifts, you might be thinking about getting a holiday loan to help pay those bills down. Whether this is the right move for you depends on several things, from your credit score and budget to the amount of money you spent.
If you're like most consumers, you might spend about $886 on Christmas gifts this year. That was the average expenditure in 2021, according to Statista. And many of those items will cost more than in previous years due to high inflation.
Beyond that, you might spend additional money on holiday travel, which is also more expensive this year because of historically high gasoline prices. Many consumers will use credit cards to pay for various holiday expenditures, which gets expensive unless you pay the balance down immediately.
You might be wondering whether a holiday loan or Christmas loan is a good alternative to using credit cards to cover your holiday spending. Before applying for a holiday loan, it's a good idea to educate yourself on what it involves and what other alternatives are out there. Keep reading to learn more.
How Do Holiday Loans Work?
A holiday loan, sometimes referred to as a Christmas loan, is essentially a personal loan you use to pay off holiday expenses. These kinds of loans are provided by most banks, credit unions and other lenders. They are designed to make it easier to finance the purchase of Christmas gifts, holiday parties, travel and other expenses associated with the season.
Because most holiday loans do not involve huge amounts of money, they are often unsecured loans, meaning you don't need to put down any collateral to secure them.
How Much Can You Borrow?
The amount of money you borrow for a holiday loan isn't necessarily determined by the amount you spend. The size of the loan – and the interest rate – are dependent on many factors, including your income, credit score and other outstanding debt.
But just to give you an idea of how much you might need, the average holiday debt incurred in 2021 was $1,249, according to a survey report from LendingTree. Those figures are likely to go up this year given the high inflation in today's climate.
What Terms Can You Expect?
This tends to vary, but as a general rule, holiday loans usually involve fixed payments for terms of 12 months to six years. You'll probably need a good score to qualify unless you use a high-interest payday lender, which is not advised. With most holiday loans you will lock in an interest rate over a set period of time.
An analysis from Forbes Advisor looked at personal loan terms for November 2022 from a variety of different lenders. The lenders that offered lower loan amounts — the kind you'll usually find with holiday loans or Christmas loans — offered a wide variety of terms and annual percentage rates.
For example, Discover offered APRs of 6.99% to 24.99% on personal loans starting at $2,500 for three to seven years. LendingPoint had APRs of 7.99% to 35.99% on personal loans starting at $2,000 for two to five years. Avant had APRs of 9.95% to 35.99% on personal loans starting at $2,000 for two or five years.
You might be surprised at how quickly some banks can process personal loans. With U.S. Bank, for example, you can apply online without ever having to leave your couch, no collateral required — and get your funds within one business day of closing. But not every lender works this quickly. With some, it might be several business days before the loan comes through.
What Are Some Alternatives to Holiday Loans?
You don't necessarily need to borrow money from a bank, credit union or traditional lender to finance purchases you make during the holidays. Here are a couple of other alternatives.
0% APR Credit Cards
These are a good alternative to a loan because you don't have to pay any interest on them — at least for a while. The 0% interest won't last forever. It is usually offered for an introductory period, maybe a year, before the full interest kicks in. If you want to use one to pay for holiday purchases, make sure you can pay the card off while the 0% interest lasts.
There are three basic types of 0% APR credit cards: those that charge 0% interest on purchases, those that charge 0% interest on balance transfers from other credit cards, and those that charge 0% interest on both purchases and balance transfers.
Buy Now, Pay Later
This used to be a fairly popular option back when it was called buying on layaway. It's made a comeback under a different system and the new moniker of "buy now, pay later." It basically means you can put a down payment on an expensive holiday or Christmas purchase and pay off the balance over the next several weeks or months, depending on the cost and provider. Platforms that offer the service include Affirm, Sezzle, Klarna, Afterpay, and PayPal's Pay in 4 product.
Just make you have enough money to make your payments on time or you could face late fees, insufficient funds charges, and interest on items you thought would be interest-free.
Should You Get a Holiday Loan?
If you have enough cash to cover your holiday spending — and doing so won't take a big chunk out of your everyday budget — that's the best option. In exceptional circumstances, depending on your personal financial situation, a holiday or Christmas loan could be worth considering if you can get manageable terms. Before signing the loan agreement, here are some steps to take to ensure you don't get into a financial hole:
Shop around for the best rates, terms, and payment options.
Borrow only what you need. If you do take out a holiday loan, make sure it's to cover your holiday or Christmas expenses only. Create a budget before you apply for the loan so you know how much you need, and make sure you are comfortable with the monthly financial commitment when it comes time to pay off the loan.
Value shop for Christmas gifts to make it easier to pay off the loan before it matures. Once you've checked all the items off your Christmas list, put any savings toward your loan to reduce the amount you owe. Check sites like Amazon, eBay and Walmart to see if you can score that gift at a discount. You can also save money by shopping at consignment stores and thrift shops, many of which carry quality used items at deep discounts compared to traditional retailers.
Alicia Bodine contributed to the reporting for this article.
Our in-house research team and on-site financial experts work together to create content that's accurate, impartial, and up to date. We fact-check every single statistic, quote and fact using trusted primary resources to make sure the information we provide is correct. You can learn more about GOBankingRates' processes and standards in our editorial policy.