3 Ways To Prepare For When Student Loan Forbearance Ends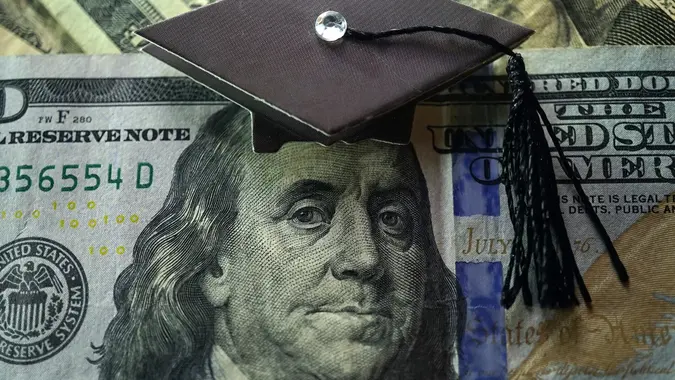 Kameleon007 / iStock.com
When the spread of the coronavirus turned the economy upside down in March 2020 and sent millions to the unemployment numbers, the U.S. Department of Education paused the requirement that borrowers of eligible federal student loans must make a minimum monthly payment. For those financially struggling, the lifeline also stopped interest from piling up, giving borrowers peace of mind that they weren't taking on more debt.
Student Loans: Financial Aid Tips & Advice
Read: Have Student Loans? It's Possible To Have Them Forgiven
As the pandemic continued throughout 2020 and 2021, Presidents Donald Trump and Joe Biden authorized extensions of the student loan forbearance. But that is about to come to an end.
Effective Jan. 30, 2022, the pause in payments will stop, bills will be generated again and borrowers must begin paying off those balances again. After a break of two years, it could be tough for some to restart. So now, with about four months to go until the bills start arriving again, what can you do to prepare for the return of the student loan payment?
See: What To Do If You Can't Afford Your Student Loan Payments
Connect To Your Account
You probably manage your account electronically and haven't visited the website in months. Now is a good time to do that to verify your contact information, including your street address and your email address, are correct. If you're enrolled in autopay, make sure your bank information is up to date.
"Many students moved home or to other locations during COVID, and their information may not be current," said Andrew Crowell, vice chairman of wealth management at financial services firm D.A. Davidson. "Don't take a chance on missing your student loan billing invoice simply because your information is not up to date."
At the same time, be aware that a handful of companies that have been managing federal student loans are pulling out of the business, meaning your loan servicer could change.
"It is best to log in to your loan servicer's website now to save or print a copy of your loan information before the transition. Get a list of all your loans, including your payment history, current loan balances, interest rates and monthly loan payment amount," said Mark Kantrowitz, a financial aid expert and author of "How to Appeal for More College Financial Aid." "Loan and payment information has a tendency to get lost during transitions."
Erik Kroll, a certified financial planner and owner of Student Loans Over 50, agreed.
"There are going to be a lot of changes with your loans, including some loan servicers changing. You don't want things to get lost in the shuffle and end up with negative consequences," Kroll said." Making sure you know who your servicer is, your address is up-to-date, etc., will help reduce the risk of any processing snafus."
Check Out: A Look at Americans' Student Loan Debt by State
Start Budgeting
Which one of these groups do you fit into?
I haven't paid a penny of my student loans during forbearance.
I've paid a little bit when I had some extra money, but not enough to equal the monthly minimum.
I spent my monthly payment on a vacation, home improvement projects or other things.
What forbearance? I never stopped making payments.
I paid more than the monthly minimum.
If you fall into one of the first three categories, it's time to start budgeting for that renewed payment. Now that you're out of the habit of paying your student loans, it's time to train yourself again with the few months you have remaining.
"The best thing to do starting right now is to get on a budget. Plan out all of your income for each month, whatever source derived, and assign each dollar of income a specific job," said Seth Connell, a financial advisor in Virginia Beach, Virginia.
"When you don't have a budget, it is easy to overspend and put yourself in a difficult position. … A budget isn't something that constrains you. It frees you. You set the parameters of it and get to tell your money where to go. Once that student loan payment comes back, working a budget will help you stay on top of things, as well as determine what extra money you can put toward paying it off early."
Add that money — or at least part of it — to the budget immediately and don't wait until February or March, when the payments come due, said Cameron L. Church, a certified financial planner. Put it away in a savings account.
"I've been encouraging everyone that I work with to start setting aside each month however much they are expecting to be paying," Church said. "It's going to be a shock to many to see that monthly payment come out of their budget for the first time in months, and if you can get in the habit of seeing it come out now, even just moving the amount to a savings account, it's going to make the transition loads easier. You don't even have to start with the full amount. You still have five months — ease back up to the full payment amount, but get it out of your spending account or it's going to get spent."
More: Your Employer Can Pay $5,250 Annually Toward Your Student Loans Tax-Free Until 2025
Make Adjustments
Once you refresh your memory with the details of your payment plan and see how the expenditure fits into your budget, it could be time to make some adjustments — whether by changing your monthly spending or the payments themselves.
"A lot of people's lives have changed since forbearance started and the payment plan they were on may not be the best for them anymore," said Colton Etherton, a certified financial planner and owner of Out of the Office Planning.
The options include applying for an income-driven repayment plan — there are four different types — or changing the one you already have if your income has decreased. The payment under an income-driven repayment plan is based on your discretionary income each month and ranges from 10% to 20% of that amount, depending on the type of plan chosen.
"The best thing a borrower can do is to not put off any of the paperwork, filing or budgeting they need to do. If a
borrower knows they will be unable to make their standard monthly payment when payments are turned back on February 1, the best thing to do now is to enroll in an income-driven repayment plan," said Lindsay Clark, director of external affairs for Savi Solutions, which helps borrowers navigate federal loans.
"An IDR plan caps the monthly payment amount at 10%-20% of their annual income and also takes into consideration their family size. This should be a no-brainer for someone that is unemployed, still with reduced hours … or has an income lower than pre-COVID as they could be eligible for a payment as low as $0 (per) month."
More From GOBankingRates
Last updated: Oct. 4, 2021