Bankruptcy Expert Claims It May Be Your Only Option if Biden's $20K Student Loan Forgiveness Plan Fails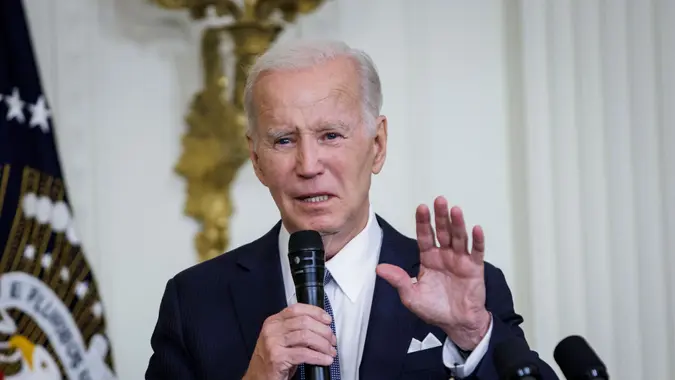 Shutterstock / Shutterstock
President Joe Biden's plan to forgive up to $20,000 in federal student loan debt per borrower could soon reach endgame if the U.S. Supreme Court rules against the plan this month, as many predict. If the plan is struck down, at least one legal expert says bankruptcy might be the only option for many borrowers.
The reason is simple: Many borrowers won't have enough funds when federal student loan payments resume sometime this summer following a pause of more than three years.
About 20% of student loan borrowers have already defaulted on a loan, according to Jonathan Petts, CEO of Upsolve, a non-profit organization that helps individuals file bankruptcy without using a private attorney. The total amount already in default is more than $124 billion.
"This demonstrates a clear need for a plan to help borrowers facing challenges with paying off their debts," Petts told GOBankingRates in an email.
He said the Biden forgiveness plan is "likely to be struck down" by the SCOTUS, which means both loan payments and interest will resume not too long after.
"Relieving debt through bankruptcy will be an option that many borrowers may be able to turn to instead," Petts said.
But before considering bankruptcy, you need to understand the rules governing federal student loans. According to the government's Federal Student Aid website, you can have your federal student loan discharged in bankruptcy "only if you file a separate action" known as an "adversary proceeding." With this action, you request that the bankruptcy court find that repayment would impose undue hardship on you and your dependents.
Bankruptcy courts don't use a single test to determine undue hardship, according to Federal Student Aid. But they might look at the following factors to determine whether requiring you to repay your loans would cause an undue hardship:
If you're forced to repay the loan, you would not be able to maintain a minimal standard of living.
There is evidence that this hardship will continue for a significant portion of the loan repayment period.
You made good faith efforts to repay the loan before filing bankruptcy.
Qualifying for a bankruptcy discharge used to be all but impossible for most borrowers. But last November, the U.S. Department of Justice announced a "fairer and more accessible" bankruptcy discharge process for student loan borrowers.
In a Nov. 17, 2022 press release, the DOJ said the new process provides Justice Department attorneys with "clear standards" for recommending discharge to the bankruptcy judge without "unnecessarily burdensome and time-consuming" investigations.
"The new process will also help borrowers who did not think they could get relief through bankruptcy more easily identify whether they meet the criteria to seek a discharge," the press release said.
The relaxed rules make it much easier for cash-strapped borrowers to relieve their student loan debts through bankruptcy, according to Petts.
"In essence, the Department of Justice has altered how it assesses for 'undue hardship' for individuals filing for bankruptcy to determine whether to discharge student loans as well," he said. "This will make it easier to conjunctly file for Chapter 7 bankruptcy AND get your student loan debt discharged at the same time for many people."
Take Our Poll: Are You Concerned About the Safety of Your Money in Your Bank Accounts?

One thing to keep in mind is that your credit score can take a big hit when you file for bankruptcy, which makes it more difficult to get loans or even rent an apartment. Your decision to do so depends on your own financial situation.
"While filing for bankruptcy inevitably will lower the credit score of individuals filing, being discharged from significant amounts of debt in some cases provides a strong platform for having a fresh financial start and eventually rebuilding that credit," Petts said.
More From GOBankingRates