Biden's Latest Student Loan Plan Faces Major Opposition — How It Impacts Borrowers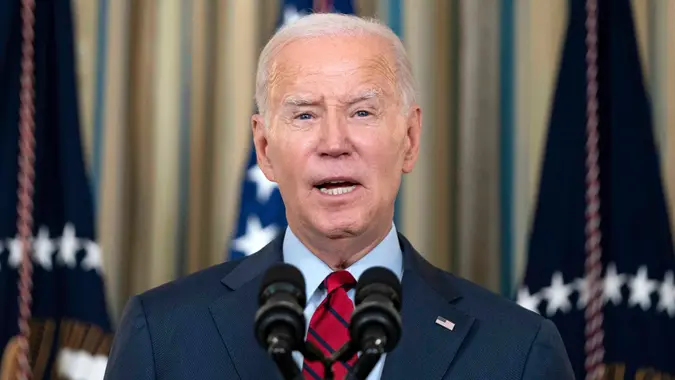 ©iStock.com
Following the Supreme Court's striking down of President Biden's student loan relief program in June, the administration announced a new income-driven repayment (IDR) program, the Saving on a Valuable Education (SAVE) Plan. But now, a group of Republican Senate leaders introduced a Congressional Review Act to overturn it, calling the plan "reckless."
On Sept. 5, 17 Republicans introduced the resolution, saying the plan would "result in a majority of bachelor's degree student loan borrowers not having to pay back even the principal on their loans, costing taxpayers as much as $559 billion."
Zack Geist, the founder of Student Loan Tutor, said that, in his opinion, it is a long shot that this measure will pass and revert the update launched by the Department of Education on July 1st, 2023, when they announced it.
"In addition to this, there was a public forum and the Revision to REPAYE has been in the works since September 2022," said Geist. "The fact that these lawmakers are trying to backtrack two months after the plan was announced to be implemented and less than a month before payments are resuming for 42+ million borrowers after a three-and-a-half-year pause of payments is a true sign of how disconnected the lawmakers are to real-world situations that borrowers with student loan debt face."
Geist added that if the SAVE program is blocked, it will have to pass the current Democratic Majority in the Senate and President Biden could veto the bill.
"Borrowers would still be able to enroll in REPAYE, which still has a lot of benefits, but it's unlikely that SAVE will not be implemented," he added.
On the same day as the CRA introduction, the Department of Education announced that more than 4 million student loan borrowers are enrolled in the SAVE Plan, including those who transitioned from the previous Revised-Pay-As-You-Earn (REPAYE) plan. In addition, the department has received more than 1.6 million IDR applications through StudentAid.gov since July 30, and nearly one million of those applications are for the SAVE plan, the department said in the announcement.
The SAVE Plan provides the lowest monthly payments of any IDR plan available to nearly all student borrowers and replaces the REPAYE plan. It went into effect in July 2024 and cuts monthly payments to $0 for millions of borrowers making $32,800 or less ($67,500 for a family of four) and saves all other borrowers at least $1,000 per year, according to the Education Department.
Regarding Republicans' opposition to the program, a Department of Education spokesman told GOBankingRates: "Instead of supporting student loan borrowers, Congressional Republicans who are out of touch with their own constituents are trying to deny them from accessing millions in savings on their monthly loan payments through the Saving on A Valuable Education (SAVE) plan, the most affordable repayment plan ever. The SAVE plan is another huge step forward in President Biden's tireless fight to reduce the burden of student debt on borrowers and create a more affordable pathway for millions of students who dream of earning college degrees and achieving the American dream. This Administration will not bow to political stunts that will hurt working families, and we will continue fighting to fix the broken student loan system and make higher education more affordable."
Another change is that the SAVE Plan increases the income exemption to 225% of the poverty line from 150%.
"At this point, student loan borrowers can't afford to take their eye off of the ball of preparing for payments resuming, no matter what legislative maneuvering is taking place in the background," said Bridget Haile, chief customer officer at Summer.
This action -which could fail to pass or be vetoed- should not deter from enrolling in the SAVE plan or making other preparations for resuming payments, getting out of default, or getting set up with a new loan servicer, added Haile.
"Employers have an opportunity to provide resources and support to their employees with student loans, from contributing directly to marching payments toward retirement plans under Secure 2.0, all of which can be very impactful during this unprecedented time," she said.
The Department of Education launched a beta website on July 31 for the Biden administration's new income-driven repayment (IDR) plan called the Saving on a Valuable Education (SAVE) Plan in preparation for a full launch in the coming weeks, a spokesperson for the Department of Education told GOBankingRates at the time.
Michael Micheletti, chief communications officer at Unlock Technologies, said that when you evaluate all of these plans around student loan forgiveness, one common theme continues to float to the surface.
"That is if the order constitutes a significant budgetary outlay for the federal government, then Congress holds the budgetary responsibility, not the president," he said. "What this means is that student-loan holders who are set to have their payments restart in a few weeks are once again unsure if they will get the relief they have been asking for since the start of the pandemic."
More From GOBankingRates