FedLoan Servicing Federal Student Loans Guide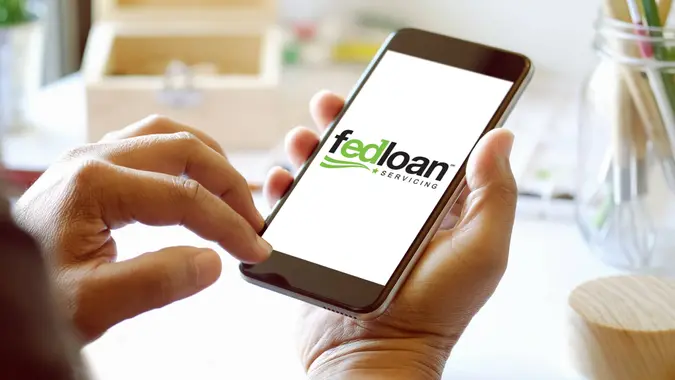 ©Shutterstock.com
When you choose federal student aid, your loan could be managed by FedLoan Servicing, which services federal student loans only, not private student loans. Here's what you need to know about your federal student loan from FedLoan Servicing.
FedLoan Servicing Federal Student Loans Guide
Also known as the Pennsylvania Higher Education Assistance Agency, FedLoan Servicing is one of four providers of federal student loan services approved by the U.S. Department of Education. When you take out a loan, the DOE assigns you a loan provider; you do not get to choose your own.
Here's a guide to the services provided by FedLoan Servicing:
FedLoan Servicing Programs and Eligibility
FedLoan Servicing handles two main types of federal student loans: Federal Family Education Loan Programs and Direct Loans. FFELP loans were primarily purchased by the DOE from third-party lenders for the 2008-2009 and 2009-2010 academic years. Direct Loans were issued directly from the DOE, without the involvement of third-party lenders.
When you have one of these types of loans and are assigned to FedLoan Servicing, you'll be eligible for these services:
Payment Options
The following payment options are available under FedLoan Servicing:
Direct debit
Online payment
Payment via mobile app
Payment via phone
Payment via mail
Payment via third-party bill-pay services
You can also schedule an advance FedLoan servicing payment on the website. One of the main advantages of the FedLoan Servicing direct debit option is that you get a 0.25 percent rate reduction on your student loan.
Tax Information
IRS Form 1098-E: Amount of interest paid
IRS Form 1099-C: Cancellation of debt, if applicable
Tax Summary Statement: When amount is not reported to IRS
Tax information on student loans is important because if you make a FedLoan payment that applies to interest, you can deduct up to $2,500 on your tax return.
Learn: 15 Ways to Pay Off Student Loans
Loan Payoff Information
You can call FedLoan customer service at any time to request your payoff information. The FedLoan Servicing phone number is 800-699-2908. You can also get this information via the FedLoan website.
Consolidation Options
When you have multiple student loans, it can be more convenient to house them under one service provider. When you consolidate, you could qualify for lower payments, if you extend the repayment period. And when you have variable-rate loans, those will become fixed under the MyFedLoan consolidation program. You could also qualify for repayment and forgiveness programs.
Federal Student Loan Repayment and Forgiveness Options
Federal direct student loans are eligible for the following repayment and forgiveness programs:
Pay As You Earn: Student borrowers
Revised Pay As You Earn: Student borrowers
Income-Contingent Repayment: Student or parent borrowers
Public Service Loan Forgiveness: Borrowers who serve in eligible professions
The first three options are income-based repayment plans; under the PAYE and REPAYE programs, for example, your monthly payment will not exceed 10 percent of discretionary income.
PSLF wipes out your remaining student loan balance if you have made 120 monthly payments on your loan and you work full time for a qualifying employer, typically a governmental or nonprofit employer. Working as a teacher, a nurse or a member of the military could also qualify you for debt reduction or elimination.
Additional repayment plans offered by FedLoan Servicing include the following:
10-year standard repayment
10-year graduated repayment
25-year extended standard repayment
25-year extended graduated repayment
15-year income-sensitive repayment
The MyFedLoan website can help you select the best repayment option for you based on which of the following goals you input:
Lowest monthly payment
Paying as little as possible over the life of your loans
Quickest payoff strategy recommendations
Payments driven by your income
Lower payments now that increase over time
Work toward Public Service Loan Forgiveness
Related: How to Qualify for Student Loan Forgiveness Programs
Commonly Reported Problems With FedLoan Servicing
FedLoan Servicing is not without controversy, as they currently have a 97 percent negative rating from users of the Better Business Bureau website. Individual accounts seem to suggest that the company causes frequent headaches for customers, from long phone wait times to tripping up customers for making minor paperwork errors. Additionally, the U.S. Department of Education itself has noted that even written promises from FedLoan Servicing regarding loan forgiveness are not official, non-binding and can be rescinded at any time.
FedLoan Servicing is one of a limited number of federal student loan service providers, and they do provide numerous features and benefits for customers in light of the various drawbacks presented. Whether you're assigned FedLoan Servicing or another service provider by the DOE, stay informed about any complaints or issues for your protection.
Up Next: 20 Companies That Help Employees Pay Off Student Loans