How to Get the Best Student Loan Interest Rates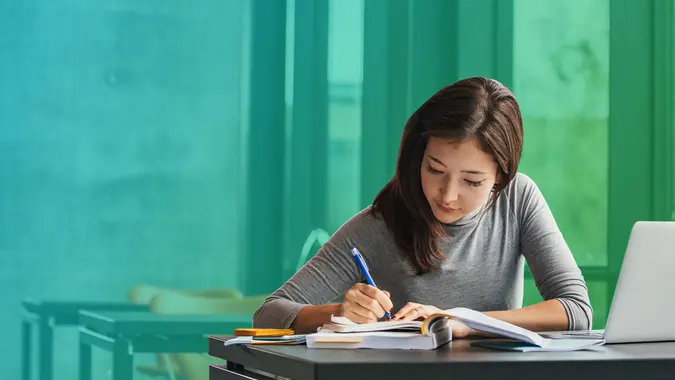 Jacob Lund / Shutterstock.com
If you're wondering how to pay for college, there's a number of student loans out there to consider. This year when Princeton Review surveyed college applicants and their parents, 98 percent said that financial aid will be needed to pay for college. Many will probably consider taking out student loans. Make sure you know what you need to do to in order to get the best rates if you plan to take out student loans to finance your education.
Federal vs. Private Student Loans
Student loans generally fall into two categories: federal and private. Federal student loans are funded by the federal government. Private student loans are made by lenders, such as banks, credit unions, state agencies or schools. To determine which is best for you, you'll need to consider a variety of factors, including a comparison of federal student loan interest rates with private student loan interest rates. Whether you opt for federal or private funds, your goal should be to find low-interest student loans.
Learn: How Student Loan Consolidation Works
Federal Student Loans
To be eligible for the majority of federal student loans, applicants must demonstrate financial need, be U.S. citizens with valid Social Security numbers, and show they are qualified to obtain a college education by having a high school diploma or General Educational Development certificate, or GED. Students must also be enrolled at least half-time. Loan amounts range from $5,500 up to $20,500, less any subsidized amounts received for same period, depending on grade level and dependency status.
In order to apply for federal student loans, you must complete a Free Application for Federal Student Aid. To make sure you get as much aid as possible, make sure you meet all FAFSA deadlines. Missing a deadline could cost you thousands in financial aid.
The federal student loan interest rate varies based on the type of loan for which you apply. The only exception is the Federal Perkins Loan, which has a fixed interest rate of 5 percent and is designated for students with exceptional financial need and awarded based on availability of funds at the school.
For subsidized direct loans, The U.S. Department of Education generally pays interest while the student is in school and during certain other periods. For unsubsidized loans, borrowers are responsible for paying all interest.

Federal Student Loan Interest Rates
Loan Type
2016 Interest Rates
2017 Interest Rates
2018 Interest Rates
Direct Subsidized Loans
4.29%
3.76%
4.45%
Direct Unsibsidized Loans
4.29%
3.76%
4.45%
Direct Plus Loans
6.84%
6.31%
7%
The U.S. Department of Education has not officially released student loan rates for 7/1/17 – 6/30/18; financial aid expert Mark Kantrowitz has calculated these estimates.
Private Student Loans
To be eligible for a private student loan you must have established a good credit history. Interest rates on the best private student loans vary depending upon the borrower's creditworthiness, which means most students need someone to cosign the loan for them. Often, private student loans have higher interest rates than federal loans, but there are some available with good terms and competitive rates.
With private student loans, borrowers are able to use their funds for a much broader range of expenses rather than being limited to paying for tuition, housing and books. In addition, you can typically borrow more than you would be able to with a federal loan.
There are many student loan companies from which you can choose: Citizens Bank, Discover and Sallie Mae have been identified by Student Lending Analytics as some of the best student loan companies. Here's a comparison of the interest rates they have offered.
Private Student Loan Interest Rates
Lender
2016 Interest Rates
2017 Interest Rates
Loan Amount
Citizens Bank Student Loan
2.94%-9.19%
4.49%-10.49%
Up to $90,000
Discover Undergraduate Student Loans
3.37%-9.49%
3.99%-12.49%
Up to 100% of your school-certified cost of attendance minus other financial aid
Sallie Mae Smart Option Loan
2.50%-9.59%
3.00%-11.85%
Up to 100% of your school-certified cost of attendance minus other financial aid
See: How Student Loan Forgiveness Can Save You Thousands
How Student Loan Interest Accrues
Interest accrues on your loan from month to month and is calculated using a formula that consists of multiplying your loan balance by the number of days since the last payment, times the interest rate factor, which is determined by dividing your loan's interest rate by the number of days in the year.
Daily Interest Formula
Outstanding principal balance x number of days since last payment x interest rate factor = interest amount
Variable vs. Fixed Interest Rates
If you take out a private student loan you can choose between a fixed interest rate and a variable interest rate. A fixed interest rate is set during the time of application and does not change during the life of the loan, whereas a variable interest rate may change quarterly during the life of the loan. Having a rate that changes may cause the monthly payment to increase or the number of payments to increase.
Read: 8 Best Student Loan Repayment Plans
Refinance Your Student Loans
If you do not get the rate that you like or with the lender you want initially, you can refinance your student loans after you graduate to change your lender and the terms of your loans. Refinancing involves repaying an older debt by taking on a new loan with different terms than your original loan. Often the goal of refinancing is to get a lower interest rate. Just as with taking out your original student loan, interest rates will vary depending on your credit and the length of repayment, with shorter terms typically yielding lower rates.
According to the Federal Reserve Bank of New York, at the end of 2016 outstanding student loan balances for Americans totaled 1.3 trillion dollars. As more people utilize student loans to finance their undergraduate education, they need to understand how to get the best student loan interest rates so they can pay student loans off faster and save money.
Related: Apply for a Personal Loan Today