Why Refinancing Your Student Loan Just Got More Expensive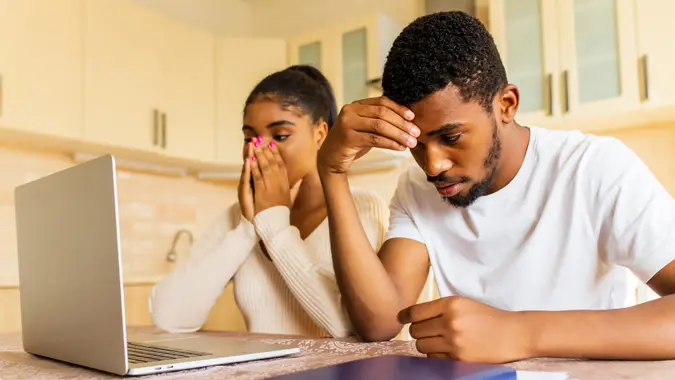 IURII KRASILNIKOV / Getty Images/iStockphoto
As if federal student loan borrowers don't have enough to worry about with the recent end of President Joe Biden's debt forgiveness plan, there's this: Borrowers could face higher interest rates on loans if they choose to refinance.
That's the case even for borrowers with strong credit scores, according to a recent Fox Business blog post by Credible, a multi-lender marketplace. Last week, rates for "well-qualified" borrowers using the Credible marketplace rose for both five-year variable-rate loans and 10-year fixed-rate loans.
Here are the changes for borrowers with credit scores of 720 or higher who used the Credible marketplace to select a lender on July 6, 2023:
Rates on 10-year fixed-rate refinance loans averaged 7.17%, up from 6.61% the day before and 5.34% a year earlier. Rates for this term hit their lowest point of 2022 during the week of Jan. 10, when they were at 3.44%.
Rates on five-year variable-rate refinance loans averaged 6.93%, up from 6.86% the day before and 3.23% a year ago. Rates for this term hit their lowest point of 2022 during the week of July 4, when they were at 3.12%.
It's no surprise that rates have been ticking higher, given the Federal Reserve's series of interest-rate hikes designed to tame inflation. But it could not have come at a worse time for student loan borrowers.
Because the U.S. Supreme Court struck down Biden's loan forgiveness plan, tens of millions of federal student loan borrowers who had hoped for debt relief must now pay their full loan balances unless the White House succeeds in offering other forgiveness programs.
Federal student loan payments are set to resume in October 2023 following a payment pause that began in March 2020. Interest on the loans will start accruing again on Sept. 1.
Many borrowers might look to refinance their loans with a private lender as a way of getting better loan terms. This looked like a good option while interest rates were still low. But now that they're on the rise, it doesn't look nearly as desirable.
If you qualify to refinance your student loan, the interest rate you're offered depends on factors such as your credit score, the type of loan you're seeking (e.g. fixed or variable rate) and the loan repayment term, according to Credible.
Those with good credit scores typically get the best rates. If you have bad credit, however, you might need to apply with a cosigner.
On the bright side, you might qualify for interest-rate discounts when refinancing if you meet certain criteria. As previously reported by GOBankingRates, here are four student loan interest-rate discounts that can help lower your monthly payments:
Automatic Payment Discounts. Borrowers can cut 0.25% or more off their federal direct loans by signing up for autopay.
Loyalty Discounts. You might get an interest-rate discount at your current bank if you have an active checking, savings or other account.
On-Time Graduation Discount: Graduating from college within the stipulated time frame might qualify you for a private student loan discount. Students who qualify could get a 1% or 2% reduction on the loan.
On-Time Payment Discounts. Some lenders offer rate discounts when you pay your loans on time over the course of a few years.
More From GOBankingRates