Resuming Student Loan Payments Will Rock the US Housing Market, Expert Says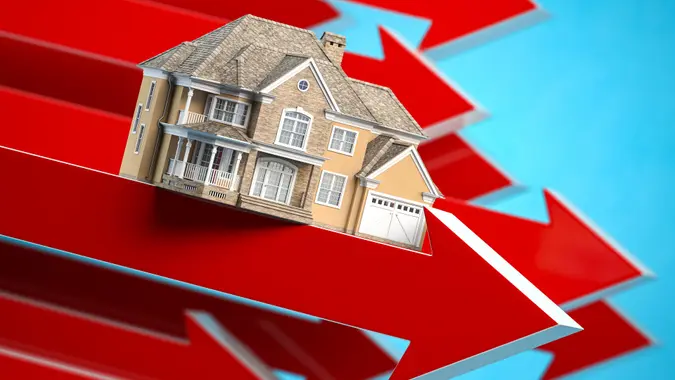 Bet_Noire / iStock.com
With nearly 44 million student loan borrowers in the U.S., the resumption of payments in October is sure to shake things up. As millions of Americans adjust their budgets to account for this added monthly expense, numerous aspects of the economy are set to be affected, one of which is the housing market.
Here's a look at how the restart of student loan payments will affect the housing market for buyers, sellers and current homeowners.
How the Resumption of Student Loan Payments Will Affect Current Owners
Homeowners that have both a mortgage and student loan debt will have more expenses to juggle come October.
"Depending on factors like their debt amount, monthly mortgage and personal finances, homeowners might grapple with risks," said Kurt Carlton, co-founder and president of New Western, a private marketplace for residential investment properties. "For instance, juggling both a mortgage and student loan payments might push some to default. This could trigger foreclosures, tarnishing their credit and complicating their future borrowing endeavors."
How the End of the Student Loan Pause Could Affect Prospective Buyers
Prospective buyers should reassess their finances to ensure they can still afford a home while keeping up with student loan payments.
"They should consider factors such as their current income, expenses, credit score and debt-to-income ratio," Carlton said.
He added that the upcoming change in income-driven student loan payments under the Saving on a Valuable Education (SAVE) program may help some borrowers improve their debt-to-income ratio, making it more feasible to afford a home.
"With the introduction of the SAVE program, many borrowers will see reduced affordability burdens, but they should still be prepared to manage their monthly payments," Carlton said. "Understanding the new repayment structure, potential changes in monthly costs and the impact on their debt-to-income ratio will be essential for borrowers to navigate the transition effectively."
How the End of the Student Loan Pause May Affect Home Prices
Carlton believes that the resumption of student loans will only have a minimal impact on home prices.
"Amid worries about the resumption of student loan payments, the housing market's stability might be less affected due to robust demand from other demographics," he said. "While a subset of the 43 million Americans with student loans may struggle financially, there are over 200 million adults completely free and clear from this debt."
"The current 4 million real estate transactions required for equilibrium should be easily met; however, the real apprehension centers on the younger generation's challenge in leveraging homeownership for wealth-building, especially those weighed down by loans from the types of degrees that do not translate to higher earnings," Carlton continued. "These loan holders risk being priced out of certain markets or forced into more affordable housing options, such as renting."
How Homebuyer Demographics Can Change
Carlton believes that we may see the proportion of older buyers increase once the student loan payment pause ends.
"Consider the surge of first-time buyers, who've grown from 37% in 2021 to a whopping 50% now. A typical starter home requires a $65,000 income. A mere $500 change in loan payments can make or break their eligibility," he said. "If rising costs edge out these young buyers, we might see homeownership trending slightly back to an older demographic."
More From GOBankingRates