Smart Things To Do With Your Student Loan Right Now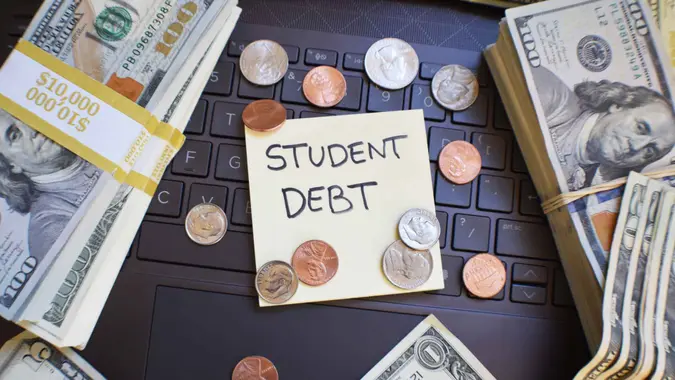 Darren415 / Getty Images/iStockphoto
No matter how the U.S. Supreme Court rules on President Joe Biden's federal student loan forgiveness plan, millions of borrowers will resume payments sometime in the next few months. If you're one of those borrowers, now is the time to plan ahead to soften the financial blow when the payment pause ends.
The current payment pause is set to expire 60 days after either June 30, 2023, or whenever the Supreme Court decides on the loan forgiveness plan. Based on that deadline, payments are likely to resume sometime in late August 2023.
But as GOBankingRates reported, the U.S. Department of Education is considering a transition period that would push the payment pause into the fall. Documents obtained by Politico indicated that department officials have told loan servicers to prepare to begin charging interest on federal loans in September. The documents also show that officials are eyeing October as the first month in which any borrower will be required to make a payment.
Whenever the pause ends, you still have time to do smart things with your student loan. Here's a look at five of them.
Take Advantage of High Savings Rates
If you're one of the fortunate borrowers who don't need to pay bills with money that would ordinarily go toward student debt, now is a good time to put that money into high-yield savings accounts. Even if it only sits in the account for four or five months, you can still earn a decent return.
Take Our Poll: Do You Think Bankruptcy Is an Acceptable Way To Escape Student Loan Debt?
The best savings interest rates for May 2023 all offer annual percentage yields of 4% or higher. Varo Bank's high-yield savings account leads the way with an APY of up to 5%, followed by UFB Direct's high-yield savings account at 4.81%.
Pay Down Credit Card Debt
The federal student loan payment pause was first implemented during the early days of the COVID-19 pandemic to provide financial relief during a period of economic uncertainty. The idea was that you could put the money toward essentials like housing and food — or use it to pay down other debts. More than three years later, those rules still apply. If you have a lot of high-interest credit card debt, now is a good time to pay it off so it doesn't become a burden when student loan payments resume.
Start Making Payments Now
Even though student loan payments have been paused, you can still make payments if you want to. Doing so now has at least one major advantage: You get 0% interest during the payment pause. This means that if you make loan payments during the zero-interest period, the full amount will be applied to your principal balance once you've paid all the interest that accrued prior to March 13, 2020, along with any fees for defaulted loans, according to the Federal Student Aid website.
Research the Fresh Start Program
President Biden's Fresh Start program recently placed $34 billion worth of delinquent or defaulted student loan accounts into "current" status. The program will run for one year after the payment pause ends. As an eligible borrower, you might receive access to student loan forgiveness programs, deferment and forbearance.
Consider Refinancing
Refinancing your federal loan with a private lender didn't make sense as long as there was the possibility of loan forgiveness under the Biden plan. But with that plan in serious jeopardy, now might be a good time to refinance before interest rates go up again.
A lot depends on your personal financial situation. If you are unemployed or otherwise struggling to pay bills, you might be better off keeping your loan with the federal government because of the protections it provides. As CNBC reported, the Education Department lets you postpone your bills without accruing interest if you can prove economic hardship.
More From GOBankingRates