Student Loan Forgiveness: Biden's Income-Driven Plan is Taking Applications — Here's How to Apply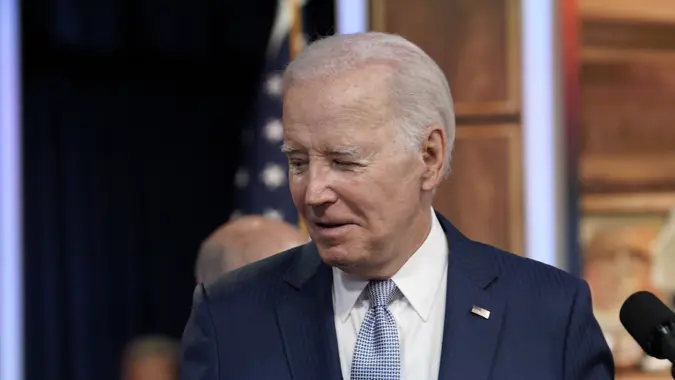 Shutterstock / Shutterstock
The Department of Education launched a beta website on July 31 for the Biden administration's new income-driven repayment (IDR) plan called the Saving on a Valuable Education (SAVE) Plan, in preparation for a full launch in the coming weeks, a spokesperson for the Department of Education said.
The SAVE Plan is the most affordable student loan repayment plan ever created. It will eliminate monthly payments for low-income borrowers, save other borrowers at least $1,000 per year on payments, and ensure borrowers don't see their balances grow from unpaid interest, the spokesperson added.
"During the testing period, eligible borrowers can apply for the SAVE Plan, but some website functionality may be limited as the Department's technical team monitors site performance and refines and tweaks the application as needed, the spokesperson shared. "This testing period will allow the Department to monitor site performance through real-world use, test the site ahead of the official application launch, refine processes, and uncover any possible bugs prior to official launch."
When fully live, millions of borrowers will be able to complete the new application in ten minutes or less and will never have to reapply. In addition, the new IDR auto-recertification feature will prevent borrowers from the risk of missing their annual IDR recertification date, which has caused millions of borrowers each year to delay their time toward forgiveness and incur additional interest charges. 
"This new plan is a critical step in delivering on President Biden's commitment to supporting students and borrowers and helping more American families get out from under the burden of student loan debt. No president has fought harder for student borrowers, and the SAVE plan will give millions of borrowers breathing room on their monthly bills now and for years to come," according to the spokesperson.
Under the beta launch of the SAVE plan, borrowers who visit StudentAid.gov will be able to apply for the SAVE plan, and applications submitted during the beta will be processed so applicants will not need to reapply. The full launch is expected later in August.
Borrowers will receive an email confirmation after their application is submitted and, if they are eligible for the SAVE plan, their enrollment and new monthly payments will be in effect in time for payments to resume this fall.
Anyone who signed up for the REPAYE repayment plan will be automatically enrolled in the new SAVE plan in the coming weeks, so they do not need to reapply.
To apply for the SAVE plan, borrowers will need to log into StudentAid.gov using their FSA ID. The new IDR application allows borrowers to choose to have their income accessed securely from the IRS by Federal Student Aid and automatically and securely recertified every year, so most do not need to reapply annually.  
The SAVE Plan provides the lowest monthly payments of any IDR plan available to nearly all student borrowers and will replace the existing Revised Pay-As-You-Earn (REPAYE) plan. It went into effect in July 2024 and cuts monthly payments to $0 for millions of borrowers making $32,800 or less ($67,500 for a family of four) and saves all other borrowers at least $1,000 per year, according to the Education Department.
Another change is that the SAVE Plan increases the income exemption to 225% of the poverty line, from 150%.
More From GOBankingRates